Nok Boards Collaborate With Borealis On Recycling Agreement
Eco-friendly skateboard brand Nok Boards have signed a partnership with snowboard brand Borealis to have access to their old or unwanted snowboards with the view to recycle them to create their skateboards.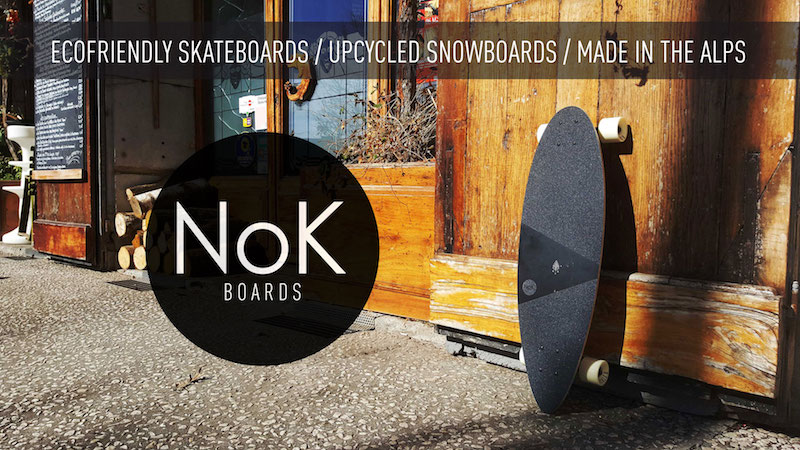 Press Release: Created in 2017 in Grenoble, in the foothills of the French Alps, Nok Boards is an eco-friendly skateboard brand. Its objective is to offer, high-quality, beautiful and sustainable products to ecologically minded consumers, buyers who are getting more and more responsible and aware of what they purchase. Accordingly, it recycles old snowboards to make Its skateboards.
Nok Boards was co-founded by two sports and nature enthusiasts. Adrien Reguis and Vincent Gelin. Both had been working with Rossignol for more than a decade, designing and developing the company's snowboards. That's where they gained extensive experience and knowledge of the sports industry, and the problem of unwanted equipment.
There are millions of defective or unsold winter products out there, and unused snowboards are very hard to recycle, despite often being of high-quality and high-performance material.
"Most of the time, they are thrown away, burnt, lost or forgotten in cellars as nobody knows what to do with them, says Adrien".
"We use snowboards as our main source of materials, as the source of our creativity," says Vincent.
"We work closely with snowboard brands to offer them sustainable solutions to their end-of-life products. Rossignol Snowboards has followed us since the beginning and stays a solid partner".
Now the company has signed a partnership deal with Borealis, the French eco-focused snowboard brand for its old equipment. "The first time we met Borealis founder Benjamin Hall, it was 4 years ago during the Rock On Snowboard Tour. He entered the market with very original shapes and designs. His eco-friendly concept appealed to us immediately and we spent a few beers talking about gear, sustainability and tricks! ".
The two brands complement each other very well in their eco-friendly approach to business and now old or unwanted Borealis snowboards will gain a second life with NoK Boards, and NoK skateboards will benefit from Borealis snowboards' eco-construction, a winning combo!
Pushing the snowboard industry towards a more circular economy is a good thing, but supporting efforts that protect our mountains is just as good, or even better! That's why NoK Boads created the NoK Family, a community of snowboarders who are sensitive to climate issues, with Xavier De Le Rue as its first ambassador, supported by Marion Haerty, Clément Bochatay and many other.
The idea is simple: riders offer their broken or worn-out boards to NoK which then transforms them into unique longboards or cruisers and provides 30% of the benefits to partner charities such as POW (Protect Our Winters) and Mountain Riders.
BREAKING NEWS:NoK Boards will launch a crowdfunding campaign on Ulule, from to June 1stto June 30th, with many surprises!
Find out more on www.nokboards.com