Skateistan's Johannesburg Skate Park Celebrates Second Birthday
Skateistan is an award-winning international non-profit organization empowering children through skateboarding and education in Afghanistan, Cambodia and South Africa. The skate school in Johannesburg has now reached its second birthday opening in 2016 with the aim to bring women and girls together through skateboarding.
Press Release: Skateistan's Johannesburg Skate School is celebrating its second birthday this summer. To mark the occasion, the organization, which aims to empower children through skateboarding and education, has released a new version of a short film about the opening of the Skate School. Get Used To It, produced by Blam Studio, is a short, hopeful film which examines the challenges faced by women and girls in post-apartheid South Africa and the role that skateboarding can play in building girls' confidence and providing them with a safe space to play, learn and mix with other children.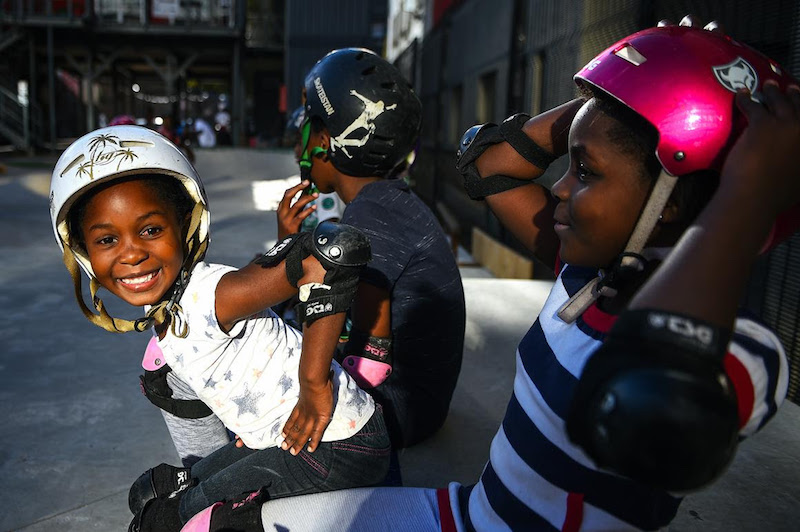 Skateistan first came to South Africa in 2014 and was originally based in Troyeville, where it continues to run outreach programs. The first Skate School was opened in the Central Business District in summer 2016 and consists of a Skate Park and classrooms, so children can take part in educational programs as well as learning to skate. Skateistan programs include Skate and Create, where children spend an hour skateboarding and an hour in arts-based education classes, Back-to-School where children receive help with school work and Youth Leadership, where high school students learn leadership skills and help younger children with skating and school work.
Skateistan in Johannesburg encourages girls to take part in its programs by engaging in community outreach, running girls-only sessions and by employing female staff as role models. One such role model, who is featured in the film, is Kelly Murray, who has been with Skateistan in Johannesburg since 2014.