Skateboard Manufacturer Reeson Produces Its Very First Surfboard
REESON officially started in 2005, as a skateboarding company, on Sardinia Island in the middle of Mediterranean Sea. The brand now represents a fresh active, skateboarding, lifestyle and positive lively brand and have just produced their first surfboard with skateboarder Enrico Carta.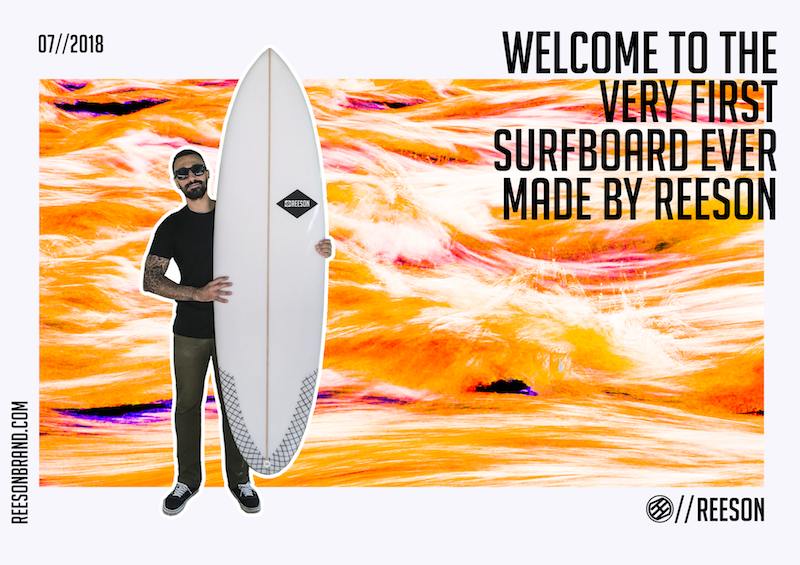 Press Release: After a long phase of "research" and test of materials Reeson has found a manufacturer to produce their first ever surfboard.
We wanted to do the very first Reeson surfboard with Enrico Carta, known by many as a powerful skateboarder since he was 13 years old, Enrico does not shy away from any type of board.
Known as a skateboarder first, Enrico is also confident on a snowboard, wakeboard and surfboard. Sardinia gets really warm in the summer so when the weather hits nearly 40° it's too hot to hard to skate around and surfing is the best way to kill time.
After 14 years of experience in skateboards and textile production, we have decided to produce the first Reeson surfboard and to produce it in one of Europe's top factories that also produce and shape for some of the biggest international surfboard brands.
For Enrico Carta, the first custom Reeson surfboard, made with the best materials and tested in the ocean and in the Mediterranean waves, is now waiting to be tested in the hot Sardinian water too. We produced a custom board that would certainly fit in the "Summer Series" with the measures suitable for Enrico and able to adapt to the Sardinian waves.
Together with a team of surfers and experts in materials and shapes, we have been working for a long time on a complete range of Reeson surfboards, the whole range will be developed in the coming months.
STAY TUNED!