Neils Lammerts' 25 Years With Protest
Protest started out back in snowboarding's heyday, back before Olympics and superpipes and when founder Niels Lammert was selling products out the back of a van. But now Protest are celebrating their 25th anniversary and Niels tells us how their love for the sport took them from rudimentary sales techniques to a presence in 35 countries.
So this year you're celebrating 25 years of Protest?
Yes, can you believe it! And we're still getting there. It's a real work in progress. We've grown from just a good idea to a reality, from a team of 20 to a team of 120 and from a sample collection of 6 pieces to producing 3 million pieces a year. In the very beginning we were selling our collection out of the back of a van and now we're sold in 35 countries and counting, difficult to believe.
Your motto is 'to get there', what does this mean?
There is wherever you want to be – on a board, on a wave, on a fresh layer of powder. We exist for anyone who has ever set foot on a board and we are hell-bent on helping people have fun.
How did the idea of Protest come about?
Our beginnings…well, it was the 80s and we were a group of friends who skied together. One of these friends came home from trip abroad with a Swingbo, which you may know was the forerunner of the snowboard. It became our favourite thing. Snowboarding was emerging out of the US and Japan and we were instant converts. It was a subculture with its own dress code and attitude, language even…. many people considered this new sport irrelevant but we believed in it fiercely. We wanted to create a clothing line for snowboarders and make it, in contrast to what was out there at that time, affordable. So we went about creating a small collection of garments. Honestly people laughed at us at first. They just couldn't see the potential. Maybe understandable – a snowboard brand originating from Holland, one of the flattest places on earth! But we did see the potential. We hired a van and did a tour of Europe with our small capsule collection. Everything was green and black, and all unisex cuts. With the help of friends, we made the numbers we needed to get the first collections produced. I'm so glad that we persevered, it worked out in the end. Our mission was, as it is today, to create a snowboard brand that didn't budget on style and quality and that's what we continue to do today.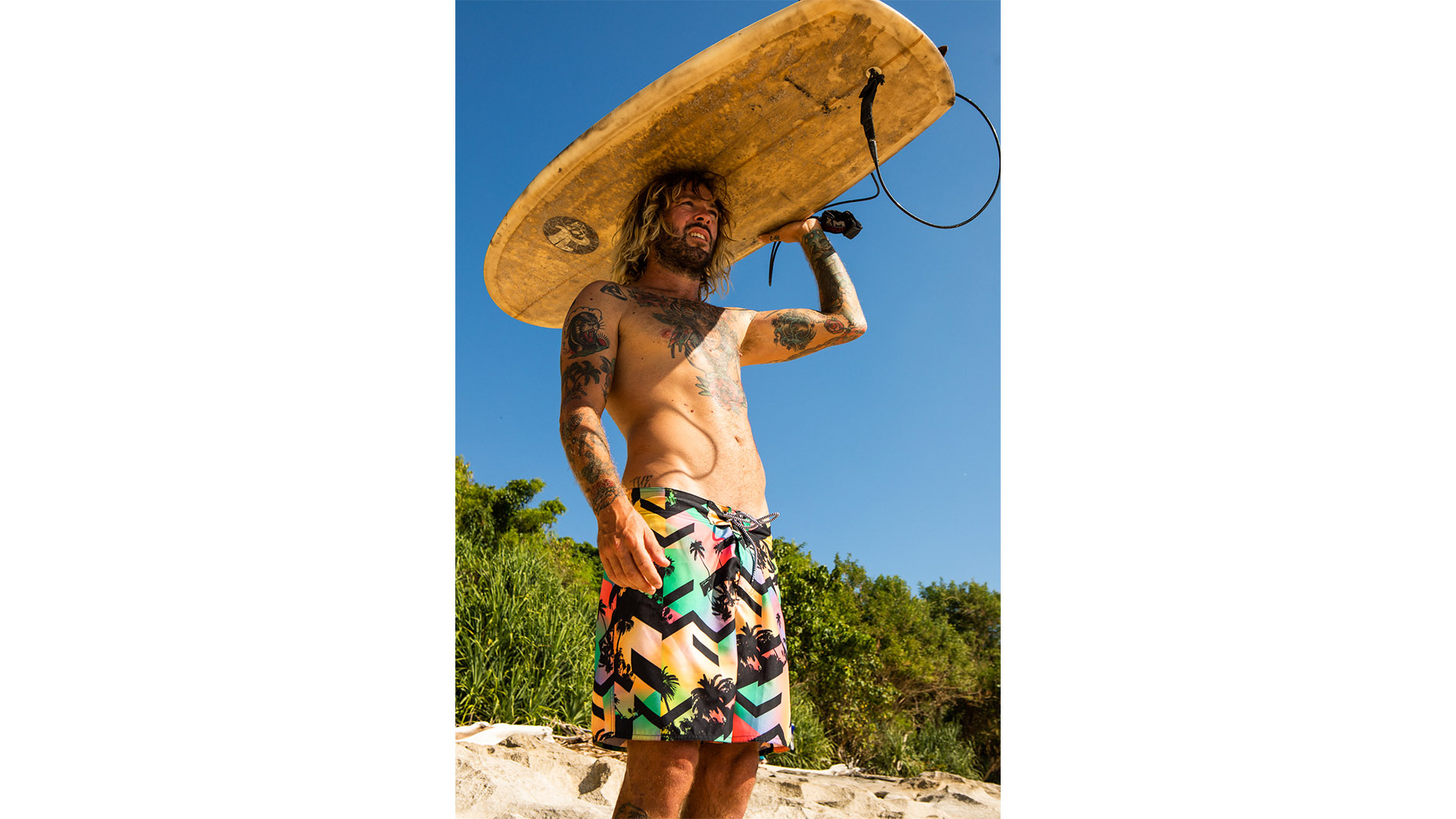 How has your collection developed over time?
From the start, we have been obsessed with design, combining print and colour with our technical know-how. With our success, our collection grew and diversified to Men's and Women's. Following that we added Surf and Swim. Then Street clothing and later Toddlers and Kids. We love to collaborate, so our ranges are often complimented with pieces like the Fat bike or the Lokahi SUP board. Always with the goal of arming you with what you need to get there.
Any collabs to celebrate your anniversary?
Yes, to celebrate our 25th birthday we have collaborated with 'The Surf Project'. This is a foundation that works to build self-confidence in children with Down syndrome, autism and ADHD through surfing. These children surf in small groups with a certified coach. You should see how proud these children are of their achievements out there on the water. Their self-esteem is given a real boost. Here at Protest, we want to contribute to the work 'The Surf Project' is doing so we have designed the Prunelle bikini and the Limey beach short in our Adult collection and Trendy JR bikini and Brendon JR beach short in our Kids collection. The sales profits from these garments will go directly to the Surf project.
I just want to mention this even if it's not really a collab but we've been working on creating our own fantastic teardrop adventure caravan to celebrate our 25th anniversary. It has adventure in its DNA. For those of you with off-road tendencies, you're going to love this. All the hype in America, our 4 by 4 teardrop caravan is built to enjoy the ride with all terrain tires, off-road suspension and a roll cage. This fantastic set of wheels will be put to work for a year doing Protest promotion. After this, the caravan will be auctioned off and the proceeds will be donated to 'the Surf Project'.
Tell us a little more about your Geogreen label.
We all know we need to do everything we can to protect our fantastic playground, this earth. Here at Protest, we are working with more earth-friendly fabrics and processes. Fusing the authentic design that you have come to expect from Protest with advancements in green technology and renewable resources. We have created the GeoGreen label; functional clothing that is made out of recycled products or sustainable fabrics. The Romano coach jacket, for example, is made from renewable bamboo, resulting in a jacket that is eco-friendly, functional, durable and stylish, all at the same time. We're also working with recycled polyester. The yarn from this fabric is created using recycled PET bottles. When you see our GeoGreen label you can be assured that the garment is earth-friendly. We're going to keep building on this line.
Which markets both in Europe and further abroad do you foresee the biggest growth in coming years?
Protest is already well established in Germany but we also see a lot of potential for growth here. Last year our ecommerce entered Belgium. This has been a great success. We also entered ten new European countries in the last year. These are early days yet but we have high hopes for these new markets, especially Italy. After a great deal of preparation, we are now entering an exciting new chapter in our story. Protest is ready to enter the US market. The launch will happen in the fall of this year. What better place to introduce Protest's vision! A land with both surf and snow, go-getters and people intent on having fun. We'll keep you posted on this exciting new adventure.