German Market Insight December 2018
After a noticeably cold winter, during which we even recorded record low temperatures way into March, everything suddenly switched to summer a month later. It lingered for weeks, then months, gifting us tropical weather way into October. This resulted in good, even great sales for watersport retailers during the summer months. By Jochen Bauer.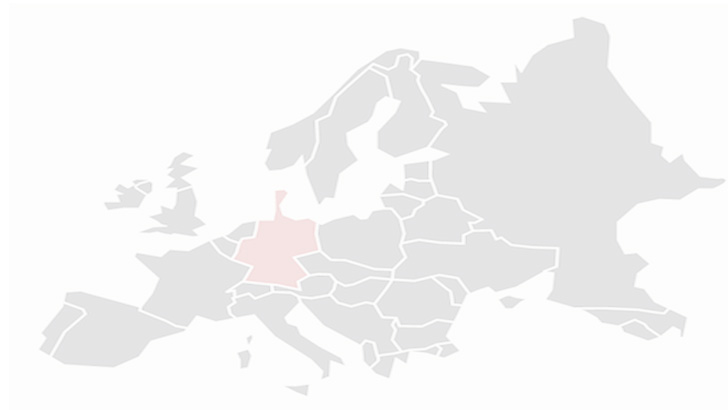 Matteo Cau of Intenics, who represents the German sale and distribution arm of Red Paddle Co. and O'Neills Wetsuits and SUPs, couldn't agree more: "This season was great as we had fabulous weather all over Germany. This will have caused the increase of about 20-25% on last year. Red Paddle as a premium brand has sold very well again. But even O'Neill, our new SUP brand, whose wetsuits we've been marketing for quite some time now, have done really well. Their boards and sets are medium price – they were re-launched in 2018 and have gone down well with retailers and customers alike. The overall trend is more for touring and we have had an increasing number of enquiries about 12´6" boards. We're expecting another increase in the stand-up paddling sector in 2019. How much will very much depend on the weather though.
The domestic surfing market was another beneficiary of the hot weather, and Markus Hensinger of Link Distribution has recorded a doubling in surfboard pre-orders from some retailers.
At Sascha Jeakel's Rebel's Garage skate shop, the mood is slightly more subdued, despite the grand opening of the skate park in Düsseldorf. Surely Germany's biggest skate park right on your doorstep has a positive impact? "Shortly before the opening and after it was publicised that something new would be launched, something happened. A lot of people dug out their old boards, bought new grip tape or installed new wheels on their boards. We really noticed a spike in terms of sales. A well-heeled customer bought a complete board for her niece, only to come back later and get one for herself. She was 60, has now started to skate and goes round the block with her niece. But the few initial complete board sales aside, we haven't really felt the impact of the Düsseldorf skate park. It's mainly down to the general trend in terms of boarding, which remains bad, just like last year. I even think it has pretty much died down! The summer was far too hot, you can't skate in 39°C, people have other things on their minds than rolling or shopping. While the business remained consistent, every skate shop owner has basically become more wary. I can also see this with orders for our shop deck production, which has continued to decline. In 2018, we pressed 1500 to 2000 shop decks less than previously. Even the team skaters don't take full advantage of their free allocation. Some of them even take as long as three months before they return to swap their decks. It's a really strange situation at the moment. The longboard market has been flooded with special offers. While my cheapest longboard retails at €160, Karstadt Sport are currently selling one for €39. Of course there are customers who say they prefer to buy quality rather than replace a cheap board three or four times, but the market has become really difficult overall. Consumers, who would visit the shop two or three years ago in order to have a high-end longboard assembled to their specification or to buy specific components, have all but disappeared. Anyone else who's after something specific will do a targeted search on eBay and buy at rock bottom prices. We'll see what the whole Olympic application thing will bring. While we have Germany's biggest skate park with 4000 square metres in the city, I don't think it has been done the right way. Even in the flow area, which measures 600 square metres, they've put signs up saying, "only three skaters at a time." That's just not great. The modern tech skater will celebrate the curb and the rail, but the general response to the park has been subdued and that's a pity. It's made worse by the fact that they screwed up the bowl area during construction, which was designed by Rune Glifberg. That's why my sales prognosis for 2019 is a difficult one. I get the impression that all people do these days is work, they have less spare time and that's why skating goes to the back of the queue. I'd really wish business was more like 2015. That was a really healthy year with good board sales, but for that to happen, a lot needs to come together."
Let's have a look at Berlin and the Barrio Skate Shop belonging to Martin "Kongo" Boehmfeldt. He's had a good year so far with a steadily increasing turnover. "If the business continues like this, we won't experience any problems and can have a positive outlook. Skateboarding is booming like it hasn't done in ages. Skateboard hardware did very well, which is the lion's share of our turnover. Fashion has plateaued in comparison, and the whole retro hype has died down for shoes."
His Core Skate Shop is close to famous Berlin spots like "Die Bänke" (the benches), "Dog Shit Spot" and Skatehalle Berlin. Berlin has become the skate capital of Germany and Barrio Skate Shop can score with its prime location in Friedrichshain. "As we're close to the spots, we're everyone's go-to place. Online retail doesn't really come into it for us. People often ask us if we have an online shop, but we don't. We promote stationary retail as we believe that good advice is essential in a skate shop, whether it's for beginners or advanced skaters. That requires a good range and choice, and we're opting for quality rather than alleged bargains." How did the refurbishment of the Skatehalle Berlin and the CPH Events in the city impact his turnover? "CPH was noticeable with good turnover. We won't feel the impact of the refurbishment before winter sets in. Thanks to the warm weather in October and November people were still skating outside. Overall, I think we'll continue as we have done. The only thing we'll change is that we'll scale down our range of shoes. Having too much choice has proved to be overwhelming for customers."
The other news from Berlin is less positive, though. The Bright Trade Show, which has taken place twice already this year, is taking a break after being taken over by the Premium Group. This could be a sign of how things are with action sports in Germany as a whole: cautious! Of course, there's always discount campaigns like "20 % off everything" by retailers and online shops, a sign that the sum of the retail sector is still under pressure in terms of stock.
"I'm confident we can match last year's figures but big leaps forward will be difficult," says Richie Löffler of MDCN in Hamburg. Jörg Ludewig of Urban Supplies in Wiesbaden sees a slightly more positive trend, but that could always be put at risk by rising costs. DHL will drastically increase their prices in 2019, while Hermes is already charging retailers more for Christmas. The reason is the ever-increasing amount of parcels being sent.
Plus, after GDPR, there's going to be another new bureaucratic hurdle to jump when the new packaging law comes in on 01/01/2019. The good news is that Germans intend to spend more on Christmas again, according to Ifes-Institut. On average, they plan to spend €472 this year, which is €6 more than 2017. The industry association HDE is expecting a turnover of more than 100 billion over this year's Christmas period, that's 2% up on last year. Let's keep our fingers crossed that action sports retail gets a piece of the action.