Tony Hawk Launches Brand Consulting Agency In Detroit
Tony Hawk recently announced the launch of his latest venture into brand consulting. His company, D/CAL, will be based in Detroit with the support of co-founders Ryan Maconochie, Jared Prindle and Adam Wilson with Katherine Huber as director of client services.
They offer services including: Brand strategy / Integrated campaign development & execution / Brand programming / Content marketing / P.O.E. comms planning / Social media / Experiential activations / Conscious company transformation / Product & service innovation / Baby naming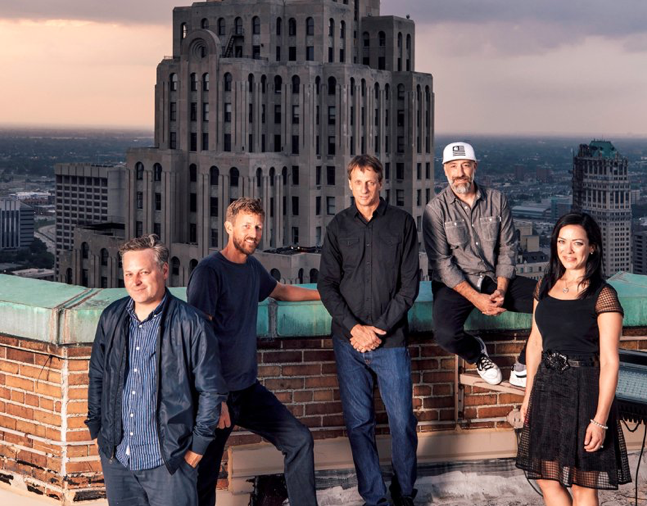 The nostalgic skateboarder-turned-entrepreneur is co-founder of a new brand agency called D/CAL in downtown Detroit and California. The business, billed as a "hybrid brand consultancy and creative agency," has an office on the 38th floor of the Guardian Building at 500 Griswold St.
While the popularity of skateboarding has generally declined in recent years, Hawk has remained a household name since first captivating audiences in the late 1990s. D/CAL is pitching itself as an agency that can help companies achieve similar brand endurance.
Hawk and Jared Prindle, the fourth co-founder and director of the Hawk-established 900 Films production company, will work out of the San Diego-based Tony Hawk Inc. offices. Hawk will work mostly from the West Coast but will likely work in the Detroit office when he's staying at his home in Detroit's Woodbridge neighbourhood or when his nonprofit work brings him to the city.
Wilson and Maconochie, skateboard enthusiasts who've known each other 20 years through working in the same industry, met Hawk a few times throughout the years at various skateboarding events. The most memorable, Wilson said, was when Hawk showed up with his Birdhouse Skateboards crew to skate in a mutual buddy's drained swimming pool in Northville last year.
"Would you believe pros from all over showed up?" Wilson said. "I cooked pork loin for the entire Birdhouse crew."
The most pivotal encounter may have been at a launch party last year for Hawk's temporary Wayfinding skatepark downtown. The wheels had been turning for a brand consultation agency, and Hawk gave the thumbs up shortly after.
"I've worked with many brands and their agencies over the years and even as a relative outsider looking in, I understand the challenges between clients and agencies. Our approach is unique, with an emphasis on authenticity," Hawk said in a news release.
The agency is divided into four main areas: brand consultancy for "triangulating the problem," a cultural advisory board for "street-level here and now insights," a creator network that focuses on "collaboration with next-generation creators" and specialized partners, which include the in-house team at Hawk's foundation and Detroit Labs software company, according to a news release.
Wilson said the agency provides a platform of creative solutions for a wide range of potential clients depending on individual needs, but it does not do media planning or buying.
While the rise of digital media and the trend of bringing work in-house has shaken the branding and advertising industry, companies face the same battle of staying relevant to sell products. Wilson said he thinks the solution is an agency that deploys a strategy tailored to each company.
"What we're trying to do is avoid solving the problem through the army you already have and the paycheck you have to cut behind you," Wilson said. "It's a lot more honest and pure if you can go in without all of that being there in the first place."
Wilson declined to offer any revenue projections but said the goal is to eventually take on more employees and clients from a range of industries.