Pogo Owner Martin Sammet On 35 Years In The Business
Pogo are celebrating 35 years of producing beautifully handcrafted snowboards and we speak with owner, Martin Sammet about the challenges of running a niche manufacturing company, their plans for celebrating 35 years in the business and what's in stall with their new brand Ninetysixty.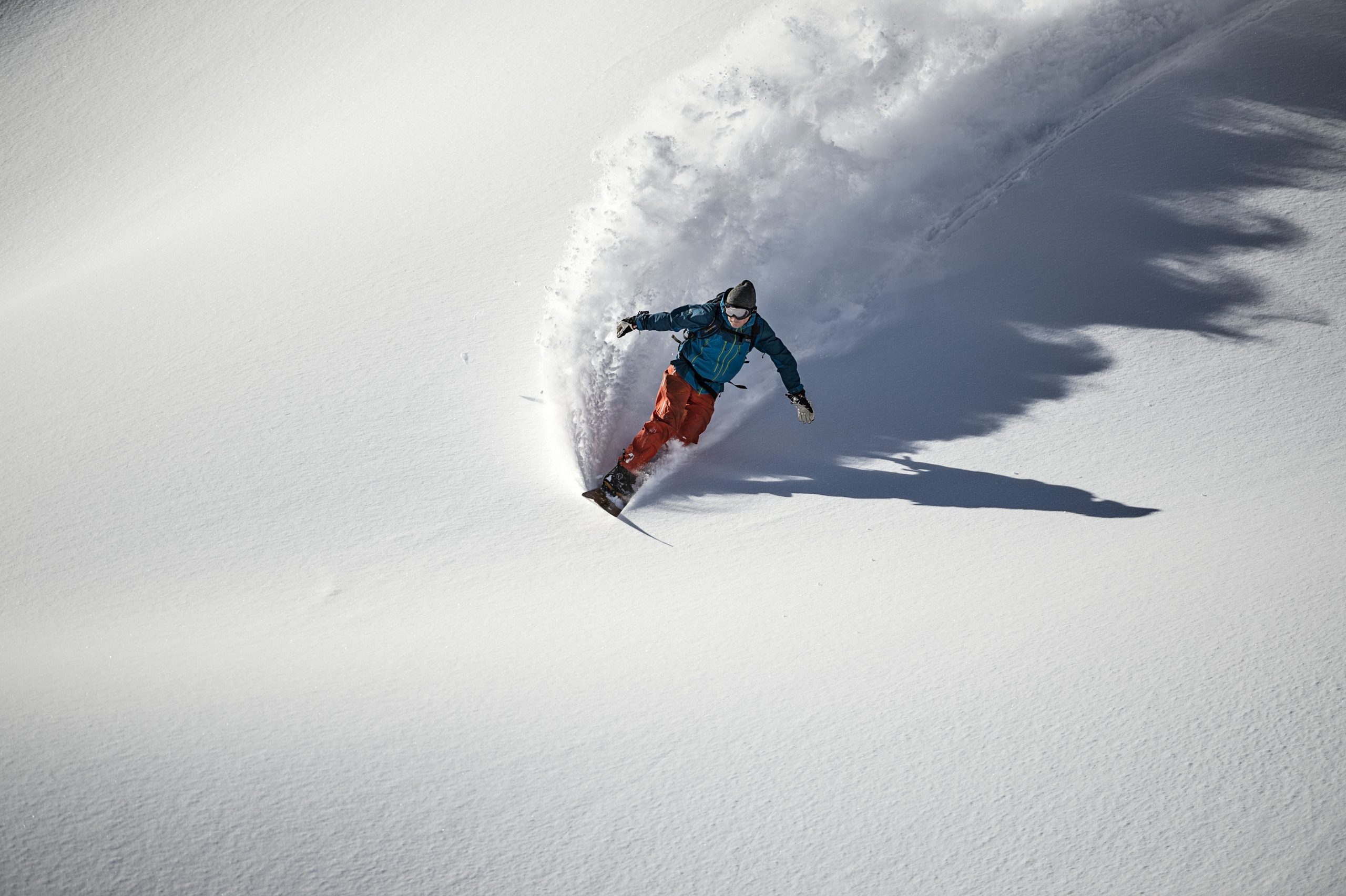 Happy 35th birthday – What are the celebration plans?
We had a nice little party in September, so big and loud that the police were out all night trying to find us, but they couldn't locate the spot. It was only the next morning, that they busted the place. On the other hand, this winter we are releasing several birthday shapes which are in prototype stadium, but that we have shown at ISPO already. The cops haven't found those yet.
Not many boardsports manufacturers can boast 35 years – what have been the secrets to your success?
Some say that we always stuck to our roots and our creed and stuff like that, but we simply did and produced what we loved most, in the deep conviction that our fellow riders would feel the same sensation, riding on those products.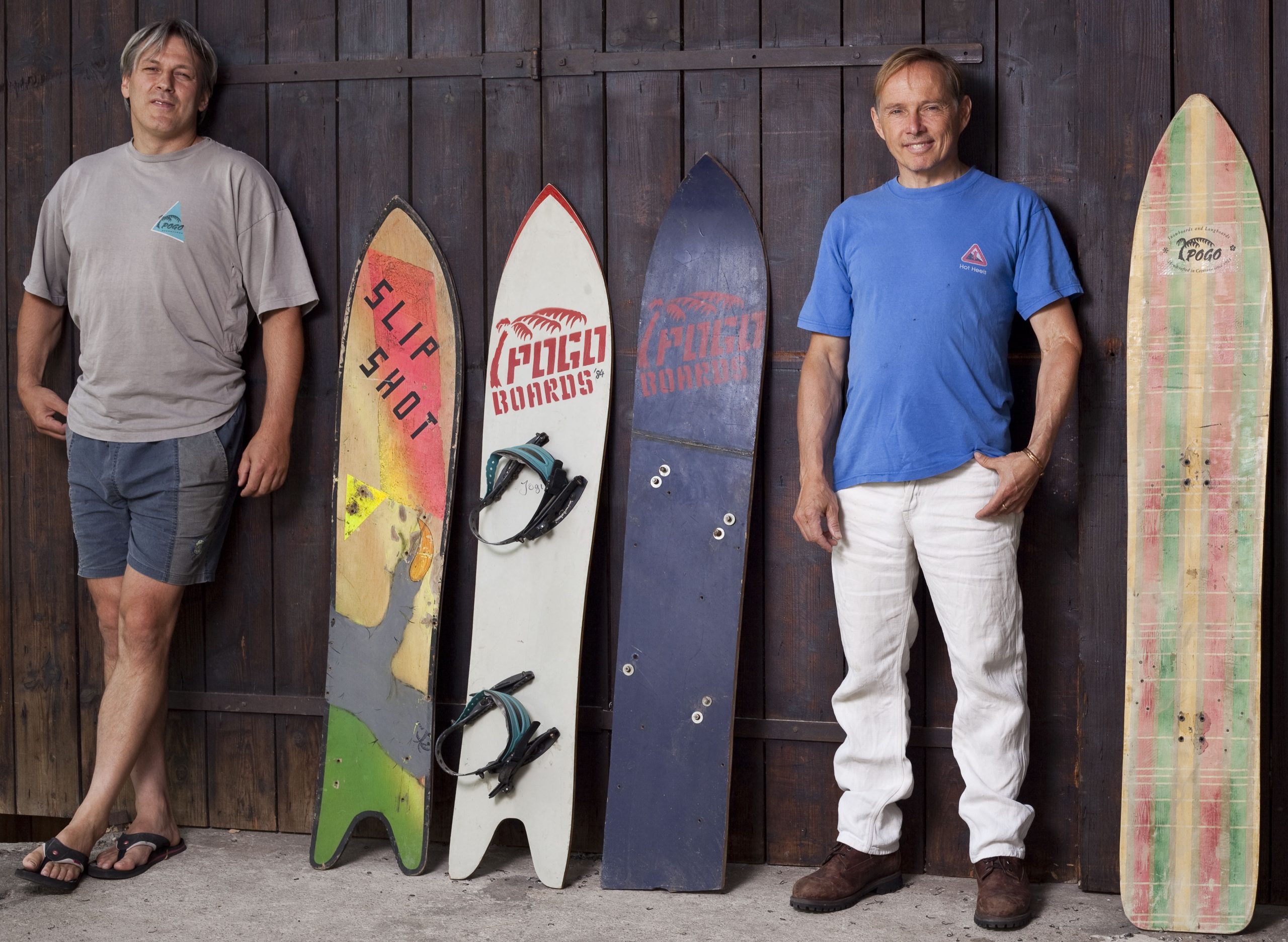 Your products are all but mainstream, isn't it difficult to live from niche products?
Sure, we don't sell shitloads, but our boards are very high quality and the processing costs, time and effort are sometimes, well, …next to insane. Because we do things as if we were to produce the boards just for ourselves. Accountants would say we cannot calculate. Necessarily, our snowboards all sell between 1150 and 2000 Euros which seems a lot at first glance, but if you take into consideration that some clients ride their boards up to 20 years with barely any loss in flex, then the price is fairly low and the sustainability unrivaled. A nice byproduct for eco-friendliness isn't it.
Why don't you also target the mainstream, you could probably sell a lot more, don't you think?
Of course, we could sell more boards if we would produce more run-of-the-mill type boards, but we always wanted to produce only the kind of products, we personally love riding the most. In the beginning, we had to do that, because what was out there did not correspond to what we wanted, and we kept it that way. But even though it seems we are far from mainstream, some of our shapes or even whole product ranges have been responsible for leading trends. Like the giant camber and deep side-cut of the old Hot-Edge model or the asymmetry of our first Hardcore model in the early 90's, or our dropped longboards in the end of the 90's, or the drop-up baseplates, and other patents of this time.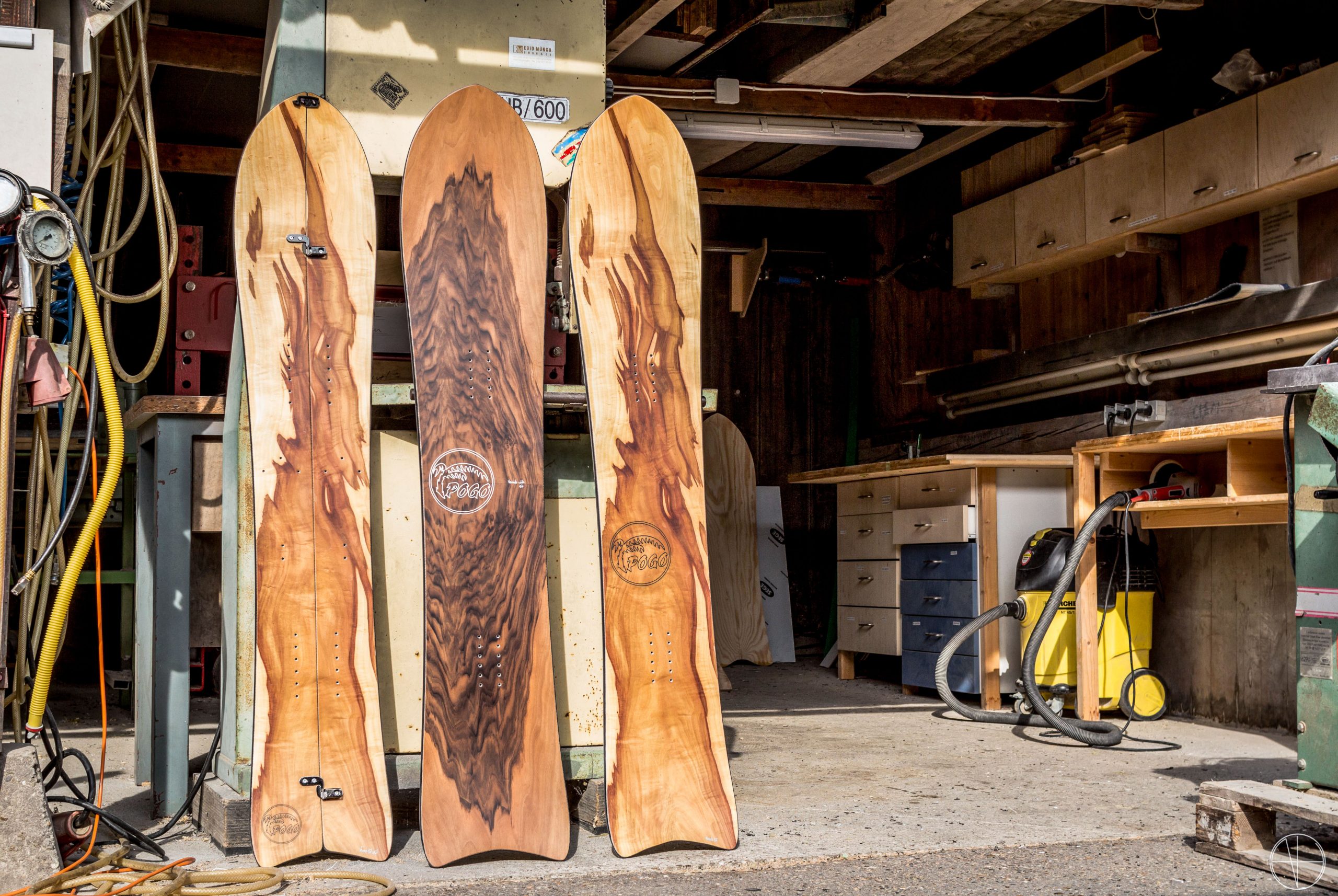 Many of your boards are also customized, isn't that a big challenge in production flow?
Yes, for example, every snowboard model can be ordered in splitboard-version. But since we control every step of the manufacturing process in our 400-year-old barn, we can react really fast and meet the various demands of our clients. The modular production possibilities of camber/nose/tail setup in our presses as well as mould production and component milling+facing via CNC has ripple effects on our reactivity to those needs.
I hear no two Pogo boards look alike, why do you design every board individually?
Yes, most of the boards are top-sheeted with wood-veneer. Others are lacquered with special effects or plain and simple uni-colour. Customers can either pick a ready-to-ride produced board from the website, where all the different tops are lined up, or they can ask for a special veneer or design for their board, which then takes some weeks of production time.
Which path do you see the board manufacturing business take in the next 10 years?
Apart from the old mainstream, I think binding-less powder surfers will keep growing. And Step-In binding and shoe development will have a renaissance. Also, I believe riders will be less and less conservative, which they have always been despite their freaky image. The next generation and the younger riders will be more open to quitting mainstream, but this is just my personal opinion and may be too influenced by my own kid, Yogi's three kids and some kids of our fellow riders, that are in their prime right now, but that's just how I feel.
What's new in manufacturing innovations?
At the moment we are working on a superlight powder surfer with honeycomb-foam and try to transmit the same structure into very light surf style longboard-skateboards as well as carbon pool+ramp-skateboards with circumferential PU-bumper.
Also, we are working on a new type of helmet, which we think will be a game-changer in this sector.
Tell us about your new brand Ninetysixty…
All boards that we produce on our farm are branded POGO. So if you buy a Pogo board, you can be 100% sure, that it is Made-In-Germany!
Our second brand (Ninetysixty or shorter: 9T6T) which, compared to the Pogo-brand is a lot cheaper but not made in Germany, has also existed for several decades and is a steadily growing legs in our portfolio. These boards are thoroughly conceived by the Pogo-engineers, but produced in Asia. Yogi travels a lot to those factories and takes care that the quality of these products also remains outstanding compared to most other production boards from those countries. For example, many longboard skateboards and all of our inflatable SUP boards are sold under this brand name, because we don't have the machinery to produce those in the Pogo factory, so they are labelled 9T6T. Most of those boards are for the B2B market and sold all over the EU.
How will boardsports hardgoods retail change in the coming 10 years?
We have seen the sport take a turn away from a hype kind of (fashion) move towards a serious down-to-the-bone fun sport for the really hardcore that is 100% into it. This consolidation will continue and middle range products will drop out. There will be the really cheap and the really expensive boards in the future. I think retailers have seen this split already and they will adapt their line-up accordingly.
Any product collabs planned to celebrate 35 years?
Yes, as usual, we'll collapse once a year at the Pogo-Party, due to our self-distilled Pogo-Schnaps!
This is the product in our model line that caused most collapses so far.
But let's get back to serious: Last year we have shaped a first prototype surfboard with electric jet-engine for Bosch Germany and in this jetboard sector, I think there are lots to come. We are just at the start yet, but at the "Boat-Düsseldorf" tradeshow, which is one of the biggest watersports tradeshows, quite a handful of jetboard-producers already showed up.
How big is the business currently? How many staff? Any new staff members to talk of?
Apart from Yogi and me, we have three more guys working full time and one lady halftime in the office. (The core team for many years)
Never change a winning team.
What are the marketing plans for the rest of this winter? 
Right now, we're off to our home spot in the French Southern Alps.
In April, we'll be at the longboard-classic (snowboard downhill race) in Stuben like every year with a test board booth and riders. It is the sister event of the Longboard Classic on the North Shore of Oahu in Hawaii.
It's their 20th anniversary this year!!! Don't miss it.