BoardSports Apparel Brand bro! On Launching 1st Technical Piece & Keeping Things Fun
After starting out by selling beanies at bars out of a backpack, bro! has continued to expand and grow with this coming winter seeing them launch their first technical riding piece made from recycled plastic bottles. We caught up with Managing Director Nick Coates to find out a bit more.
Please give an overview on how and why the company began?
bro! started back in late 2011, when my younger brother (JJ) and I were chatting over some post-shred beers at our local snow dome. We wanted to create a brand with a focus on fun, which is what action sports are all about for us. The bro! seed was sown that night and the journey began from there.
We both pitched in about £200 to start the business and finance our first run of custom bro! branded labels and beanies, which we were then hand-sewing and selling to our friends. We cobbled together a pretty basic e-commerce site (called The Brocery Store), listed our products online, marketed them on social and built the brand from there.
It was really a hobby project at first, but after we took part in our first trade show (Freeze Festival at Battersea Power Station, Nov 2012 – RIP) the brand was pretty well received and I decided to take the leap, bin off the full-time job and try to take things further.
In January 2013, I packed up the sewing machine (a good investment after all the hand-sewing) and headed out to crash with some friends in Morzine. After a couple of months spent hustling beanies from my backpack in the local bars, we had a good little foundation and a new home-from-home.
A few more years went by, organically growing the brand and product range, scraping by from freelance work and making the annual pilgrimage to the mountains. Then things really picked up in 2016 with the release of our best-selling Chill n'Shred™ hoodies (unisex super-cozy riding hoodies) and from there we've grown to where we are today, with a range way bigger than we could have ever expected.
Who is part of the bro! management team, and what are their backgrounds?
The day-to-day management team consists of… well it's just me really right now.
That being said, we are bringing someone new on board in the next month or so to help out with the workload, which I'm super excited about. Especially as we come into the peak winter season.
My personal background is in Sports Marketing with a focus on digital & social media marketing, strategy and event activation. Prior to that I was working as a snowboard & wakeboard instructor for several years (in between studying).
JJ (my bro) works on design & illustration, he's also a great sounding board for some of the more out-there ideas. Right now, he's busy brewing up a creative storm in the craft beer industry in Vancouver, so while he's not as involved as when we first started the company, his current position has helped us build a wider network of artists & designers who we now work with to create our new collections.
We also have a fulfillment team in the UK who we work with for online order dispatch & management, and we work closely with our good buddy Mickey Fitz at Shredits Media over in Morzine to create some of our best video & photo content.
What is the ethos at bro!?
bro! is all about having fun and riding with your buddies.
In a time of Olympic pathways, pushy parents and crazy progression – we want to bring the focus back onto what action sports are all about for us – having fun and shredding with your friends!
How are you operating in the UK and throughout Europe? Who are your sales agents and distributors?
We operate on both a B2C and a B2B level in the UK and Europe. With a little extra sprinkling of sales to other international territories too.
Our website – brocerystore.com – is our main sales hub for direct-to-customer sales.
We also work with a number of shops and retailers around the UK and Europe on a traditional wholesale basis. For the most part, we work directly with our UK & EU retailers. However, we are speaking to a couple of distributors at the moment regarding opening up some new territories, which is exciting!
We're always interested in expanding that side of things, so if any sales agents or distributors are reading this, please feel free to drop us a line.
Where are you manufacturing?
Primarily we manufacture our products in Turkey, the UK and China (for some of the more technical items). We work closely with our suppliers and like to meet with them face-to-face as much as we can do.
What do you find important about the European market? Are you expecting Brexit to affect your business in any way and if so, how are you safeguarding against potential threats?
The European market is massively important for us. Both in terms of sales to EU customers & shops, and also in terms of the trade deals in place between the EU and other countries, which we benefit from directly when importing our goods into the EU from overseas.
As a small company, any additional tariffs or barriers to trade (even if they are short-term) will have a substantial impact on our business. We've already felt the effect of Brexit with the crash in value of the pound when making purchases from our overseas suppliers. One of the worst things about Brexit at the moment is the uncertainty. It's been 3 years since the vote and UK businesses still don't really have a definitive answer on how to prepare.
In order to mitigate the potential damage/problems that a no-deal Brexit might present we are taking steps to register a European legal entity for bro! – which should allow us to still trade freely within the single market. We are really hoping that things will actually work out fine between the UK & EU and that there will be minimal disruption, but it's better to at least be somewhat prepared than not at all…
Could you tell us a bit more about bro! TV and your relationships with athletes?
For sure! bro! TV is our way of showcasing content from our team riders to give them a bigger platform and a wider reach, it's also a way for us to create unique content for our audience… plus it gives us a chance to do loads more fun stuff! We're going to be focusing on creating more content over the coming season, so stay tuned for that.
With regard to athletes, we're always on the lookout for talented riders who we can support as they are coming up from the grassroots to a more professional level, we like to find riders with a little something different about their style too. Check out The Simpson Brothers (Jake & Joe Simpson) and Stu Innes as prime examples of this.
We also like our riders to be involved in the product development and testing process, as well as giving their input on the final designs, it's important that they're stoked on the end product as much as we are.
We're looking to expand our teams further in snow, wake and surf in the coming year, with a view to growing into other markets when the time is right.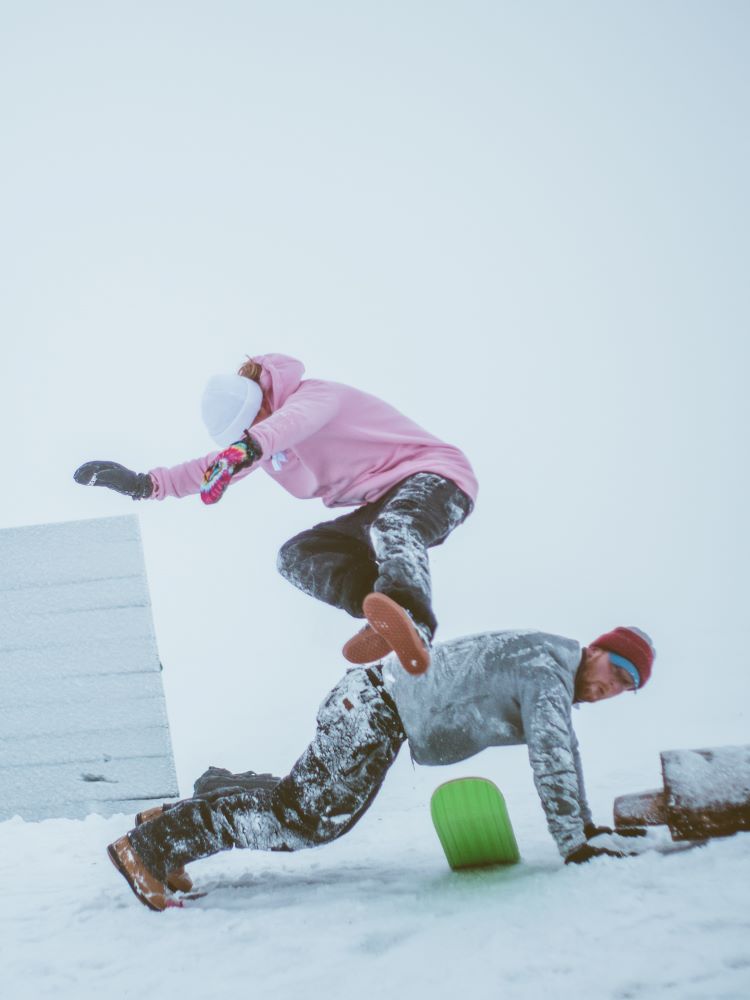 What do you see for the future of bro!?
We're super excited about this coming winter season. We're about to drop our new ShredShell hoodie – a technical softshell hoodie made from recycled plastic bottles!
The ShredShell is based on our unisex Chill n'Shred™ hoodie shape and offers awesome water-resistance and breathability for all-season shredding. This will be our first move into the more technical outerwear space, and we're looking forward to seeing how it goes down with our customers.
More generally speaking, in future we'd like to grow our product offering (with a focus on sustainably sourced and recycled fiber garments), expand the business into new markets both B2B & B2C, hopefully open a flagship store somewhere down the track, and mainly… just keep shredding and having fun with it!