Green Friday Is Surfdome's Answer To Black Friday: New Initiative Helping Environmental Charities
Part of Surfdome's move towards increasing sustainability and protecting the environment is their new Green Friday initiative. Starting on the first Friday in November, Surfdome will donate an extra 1% of gross profits every Friday until Black Friday to their partner charities.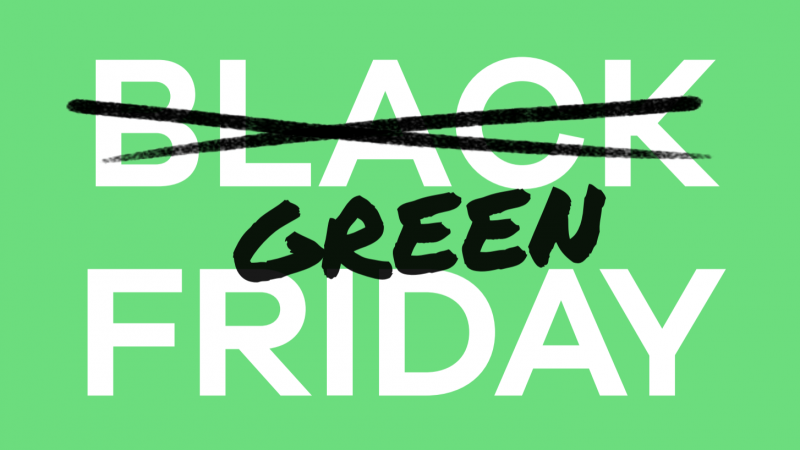 Press Release:
Green Is The New Black (Friday)
Black Friday, the busiest day in the retail calendar, is fast approaching – preceded by weeks of preparation and hype, followed directly by Cyber Monday and Christmas shopping and January sales.
The goal of it all, not to put too fine a point on it, is to sell as much stuff as humanly possible, whatever the cost. So, prices are cut in a race to the bottom, while the planet, as though left to make up the difference, pays an even higher price than usual.
Black Friday sounds somewhat apocalyptic for a day we are told to look forward to, but the doom-laden overtones are not inappropriate. Indeed, the phenomenon is a perfect example of the unchecked consumption that's leading us to the brink of environmental disaster.
Surfdome isn't exempt from responsibility in this, of course. We partake in the frenzy along with everyone else and wouldn't survive in today's marketplace if we didn't. Surely, though, there must be a better way of doing business – one that strives towards a brighter future.
Green Friday isn't somehow going to "offset" the negative impact of Black Friday, nor is it the solution to the much wider problems we face as a sector and as a society. But it may point the way to one.
Throughout the year we donate 1% of all proceeds from Patagonia sales to our partner charities, Protect Our Winters UK and #2MinuteBeachClean – that's on top of the 1% that Patagonia, whose founder Yvonne Chouinard helped kickstart the 1% for the Planet movement, already gives to environmental causes. In the run-up to Black Friday we plan to redouble our efforts.
We'll be donating an additional 1% of gross profits from every Friday leading up to Black Friday, starting this week on Friday 1st November. It's not much, but it's a start – next year, we hope to be able to do more, and perhaps one day Green Friday will supplant Black Friday for good.
Protect Our Winters (POW) UK, a climate advocacy group, operates within the winter sports community to which so many of Surfdome's brands and customers belong. When we were looking at credible, forward-thinking charities to partner with, it was an obvious choice. Its aim is to be a catalyst, equipping individuals and companies alike with the information and tools to take meaningful action to address climate breakdown – decreasing reliance on fossil fuels, investing more responsibly, engaging with other businesses to effect systemic change.
We've been supporting #2MinuteBeachClean almost since its inception and continue to be impressed by the charity's tenacity and its practical, accessible approach to a seemingly overwhelming problem. The scale of the marine plastic crisis is so vast that it's hard to know where to start, and easy to do nothing at all. But every piece of plastic in the sea or on the beach matters, and everybody has two minutes to spare. By encouraging people to pick up a few minutes' worth of litter every time they go to the beach, #2MinuteBeachClean is actively improving the health of our oceans, two minutes at a time, and meanwhile helping bring about an important cultural shift.
Surfdome has been and continues to be part of the problem, but we are also working hard to be part of the solution. Aside from teaming up with organisations like POW UK and #2MinuteBeachClean, we've been cleaning things up at our end, and tackling the plastic problem at its source. Last year our outbound packaging was 95% plastic-free, and that figure's been improving year on year; our warehouse recycling rates have risen too, up to 91.4% so far for this year. Limiting our greenhouse gas emissions is likewise a major concern. At the start of 2019 we quadrupled our solar PV systems, and in the first three months of the year 89% of our electricity came from renewable sources.
This on its own will achieve little, but as an intermediary that works with over 800 brands, Surfdome is in a unique position, one we can leverage to influence the industry as a whole. Our aim is to get those brands on side, and not just dictate the terms but use our own experiences and expertise to help brands meet them. Currently we're working with POW to draw up a pledge for all our brands to sign.
Adam Hall, Head of Sustainability at Surfdome said:
"How do we balance the values of our customers, the dire need to protect our environment and sustain a successful business? Well 'Green Fridays' are a good start…."
Martin Dorey, Founder at #2MinuteBeachClean said:
"Here at the #2minutebeachclean we think Green Fridays are a great idea. As well as placing the focus clearly on making a difference with your spending power, it will enable us to carry on with our mission to clear up the planet, 2 minutes at a time. Surfdome have long supported our campaign work and this brilliant idea will help them to help us even more. We love it!"
Lauren MacCalum, General Manager at POW UK said:
"As a charity that represents the outdoor community, we understand the need for quality kit for our variable climate – we also are acutely aware of the impacts our kit has on the environment. Choosing partners that are changing the way we shop is essential for a more sustainable future, which is why we are proud of our long-term partnership with Surfdome and to be working on the new 'Green Friday' initiative"
John Cocina, COO 1% for the Planet said:
"We so appreciate and value Surfdome's ongoing commitment to 1% for the Planet based on their Patagonia sales, but we are increasingly impressed by the leadership they're displaying through the Green Friday initiative. Now, Sufrdome's customers have an even greater opportunity to purchase for the planet and support amazing environmental causes throughout November."  
About Surfdome
Europe's largest outdoor and action sport retailer has gained a formidable reputation in the sustainability field, since eliminating 74% of the plastic from its own packaging in 2015. By 2018 the company reached 95% plastic free packaging and continues to eliminate further.
These actions have led to the company becoming a case study for the World Business Council for Sustainable Development and has been ranked as one of the top 14 companies tackling ocean waste. Building on this platform, the brand has moved to a new state of the art warehouse facility at the start of 2018, the building boasts the highest standard of energy efficiency, generates its own power and heat from the sun and is run on 100% renewable electricity and 100% Biogas tariffs. The business is now quadrupling its solar PV systems
About 1% for the Planet
One percent for the planet brings dollars and doers together to accelerate smart environmental giving. Since the beginning, they have certified more than $225 million in support to approved environmental non-profits. One percent for the planet's plan for the future? More. Much more