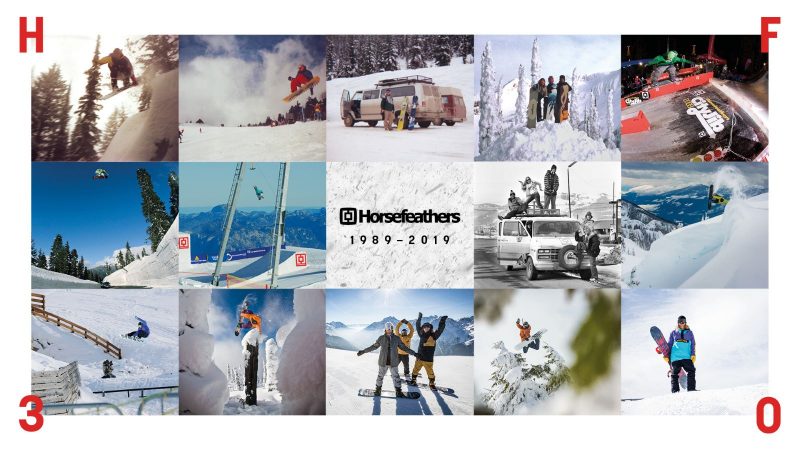 Horsefeathers Turns 30: Co-Owner Hanuš Salz Reflects On The Brand's History
From a high school art project to a global brand that has overcome the 2008 economic crisis and difficult winters: Horsefeathers is celebrating its 30th Anniversary with a party and a series of events. We caught up with Co-Owner Hanuš Salz to find out a bit more about the brand… 
Why did you start Horsefeathers 30 years ago?
The reason was quite simple. The whole Horsefeathers idea grew out of our passion for snowboarding during the high-school years. We spent every single weekend at the local resort, building kickers, riding powder and just truly enjoying snowboarding. All along there was talk of how cool it would be to develop HF as a brand. I wanted to stay as close as possible to snowboarding and I was still thinking about taking the project further. After meeting Pavel and being on the same page that we did not want regular "career" jobs, starting our own brand seemed like a great idea.
Please could we have a short history of the brand since then.
To be exact, I have to trace the events back to high school, where the name came up as joke and some tees and hoodies were printed as part of an art project. That was in 1989 and for the next three years it was just a fun idea that was bounced around the small crew of snowboarders, without any specific plans to turn it into a business. It was not until 1992, when I met Pavel Kubicek, that the two of us actually sat down and decided to give it a go. The first years were quite punk, and we ran everything out of my apartment. We made random collections of tees, hoodies, caps, jeans, street jackets and kept on adding categories, as we became more aware of how the whole production process worked. In 1997, when we felt we kind of knew the basics, we launched our first outerwear collection. It sold out quite quickly and we celebrated that by taking off to Canada to snowboard for two months. After coming back from the trip, we realised we had to structure ourselves and our business a lot more. That paid off in being able to keep our focus on the brand development and to manage our growth. Eventually we started to build our international presence and to work with like-minded people in countries around the world, which gave us a healthy global perspective as well as a consistent challenge. After the shady years following the 2008 crisis, we came to a point where we decided to re-focus all our energy on the original DNA of the brand which is snowboarding. With that came many positive steps, the latest being Halldór Helgason joining our HF family with his Atrip line project.
How are you celebrating the anniversary?
We're definitely going to party a bit. A big one will be the 30th Anniversary Party on our home turf in Pilsen, going down November 28th, where we hope to see as many people from the HF past and present as possible. There is also a whole list of events that we are planning with some of our key retailers. These stores/people are an integral part of our brand and we've always valued retail presence. In a way it is also a time to look back and retrospectively review what we've been doing and what it has meant on the path leading up to today. Sometimes, it is good to look at your business from a higher perspective and this is a great opportunity. Last, but not least, we have made a super limited, 20pc edition of our first jacket, the Shadow anorak. It got snatched up by the team and friends before I could even look at it…
What was the biggest single challenge Horsefeathers overcame since it started?
Most definitely the economic crisis of 2008 topped off with three years of bad winters. We had to make a lot of changes and unpopular decisions many years in a row. There was a big market shift in progress during those years and a large number of retailers which we worked with disappeared from the market, many of them with unpaid invoices. So that time period really tested our ability to survive and to constantly keep on looking for alternative models of retaining sales and revenues.
What has been the key to the successes in building the brand?
I would name three things: keeping the money in the company, dedicating the time to growing and establishing the structure and most importantly fully believing in the vision. That, in my opinion, is the single most important aspect of any business, project, or venture…
Please tell us about the management team guiding the business today.
There is a 4-person management structure overseeing the key departments – design and development, marketing, sales, and finance and logistics. Pavel and I have taken a step back from daily operations and periodically meet with the managers to discuss relevant key issues and the direction of the brand. That gives us the opportunity to work with a macro-view approach and eliminates the day to day pressures that sometime interfere with a clear focus.
How do you see the snowboard market evolving in the future?
There is a very tangible change in progress in snowboarding as we speak. The fresh new blood and the fun approach are making snowboarding real again, which is essential for our "sport". This is the only way to keep snowboarding truly alive. Also, many snowboarders are now parents and they are coming back to riding, together with their kids. The components of this mix might drive the market in two directions where some snowboarders will be buying products driven strictly from a sales/marketing perspective and some will be looking for brands with more focused and in-depth approach, which includes tech, functionality, quality, or ecological awareness. The older riders will definitely be looking almost entirely at the functionality/quality/brand focus segment and they might be steering their kids also in that direction.
What achievement with the brand are you most proud of?
The fact that we are still here after 30 years! Seriously though, it's the people within and around the brand that are passionate about what they do. They are the heart of HF and it is them who create a great working environment that gives the brand the stability needed to develop further. Also establishing HF in markets like Japan, or Russia is a powerful component in keeping the motivation high and it gives everyone a positive impulse in planning out new projects.
Where do you see the most opportunity for growth in the coming years?
Since we are a fairly small brand on a global scale, there are many possibilities. We try to stay focused on a select number of projects and doing those well, even though that means leaving some opportunities open. There is always so much more we can do with our existing partners, be it retailers, reps, or distributors. Strengthening existing relationships is sometimes an omitted, but a very fruitful path. Also, the rising demand from Canada and USA is keeping us busy looking at options. So, I would say we have a lot of room to explore in the future without seeing a dead end.