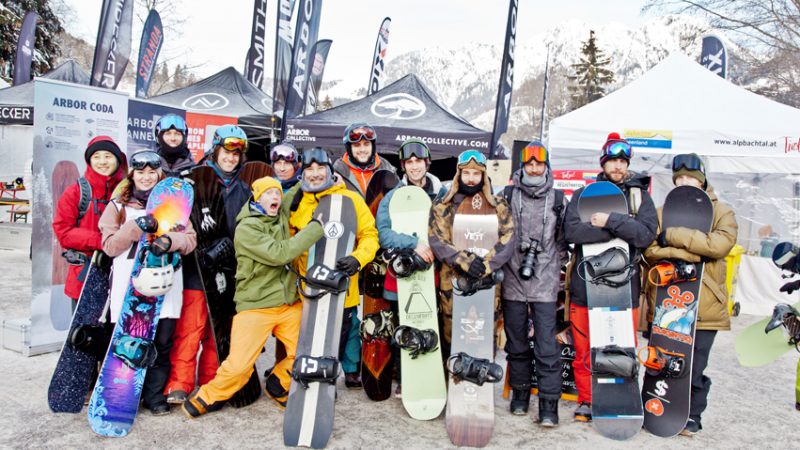 Shops 1st Try 2020 Preview
Shops 1st Try, Alpbachtal – Wildschöna, Austria, January 19-21, 2020
For 2020, Shops 1st Try is at its regular location of Alpbachtal-Wildschöna, with its spacious test area across Alpbachtal's wide and varied terrain. The test village is at the Pöglbahn Parking area in Inneralpbach, at the bottom of the main SkiJuwel lifts and is open Sunday, Monday and Tuesday starting at 7.45am for registration and wrapping up at 3.30pm. Whilst the indoor exhibition area is open from 4.30 to 10.30pm on the Sunday and Monday with the dinner starting on both nights from around 6pm. Currently over 90 brands have registered to exhibit, as always this is dominated by hardgoods brands with boards, bindings and boot brands represented but also includes significant number of goggles, accessories and outerwear brands. The full list is too long to publish but it's a who's who of snowboard brands. New brands to the event this year include Airhole, Aphex, Endeavor, Femi Stories, Mons Royale, Niche Snowboards, Nobile Snowboarding, Out Of, Rad Air, Shred Rack, Slash by Gigi, SnoKart, Transform and in the Micro tent Canary Cartel, Clew Bindings, Melon, Stranda, Tempelton, The Bakery Snowboards and Weston snowboards can be found.
This year the brand village will feature traditional local food with the Tiroler Snackhouse, great coffee supported by Korua and beer from the tap by Horsefeathers. On hand as always will be the 'Shred Buddies' (Pros, Ams and ambassadors) to ride with you and offer their views on the products being tested.
As usual there's a packed evening schedule. Proceedings kick off with Shops 1ST Try Industry Welcome Dinner by Alpbach Tourismus at the Hotel Alphof which is open to all exhibitors after a hard day of stand building on the first night. For the next two nights it's the Highlight Exhibition Dinners at the Congress Centrum Alpbach, these are evenings combining a relaxed dinner surrounded by product displays from exhibiting brands. The outerwear brands will be there in force, as this is the time of day when retailers have the time to talk about this product category after a full day of testing hardgoods. These dinners has proved such a success that additional space has been added for this year with the 2nd floor being opened up so more brands can exhibit and more guests can sit down for dinner.
During the evenings an art auction will take place and the Retailers Choice board Design award by, ahem, Boardsport Source will be voted on. And for those with stamina Method Mag is celebrating their 25th anniversary and will throw a party on Sunday night at Jakober Pub in with the Motels, DJ Stylewars and Freddie K. On Monday after show parties will be at both Postcafe and at Jakober Pub starting at 10pm each night. Shops 1st Try is working hard to reduce its environmental impact by separating waste, using reusable cups, sourcing local produce for the dinners and a lot more. Visitors are welcome to bring their own cups and a partnership with Go-Shred means shops can share rides.
The event is open to retailers from all over Europe. So whilst Germans and Austrians make up the majority of visitors, there are also good contingents from Switzerland the UK, Poland, Czech Republic and Benelux. And this year many more Italian retailers are expected.