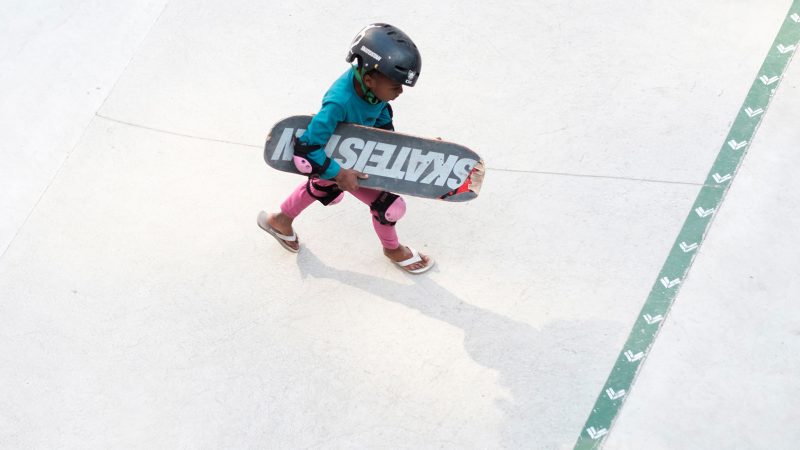 Skateistan Starts Construction In Bamyan, Afghanistan
The new skate school in Bamyan, whose design stems from local children's creativity and ideas, will be Skateistan's 5th skate school worldwide. Construction is currently postponed, however the school is aiming to be completed and opened in early 2021.

Skateistan Begins Construction On Fifth Skate School In Bamyan, Afghanistan
Press release: Skateistan announced the commencement of construction of its fifth skate school worldwide today, which will be built in Bamyan, Central Afghanistan. The NGO, which empowers children through skateboarding and education, has been active in Afghanistan for 12 years now, having been founded on the streets of Kabul in 2008.
The new skate school's location in Bamyan will enable the non-profit to reach up to 800 more students each week. Globally, Skateistan currently has just over 2,500 students, around half of which are girls. Ground was officially broken at the site on April 23, to signify the start of construction, with the Bamyan Governor in attendance.
The organisation has been in the spotlight recently as the subject of an Oscar-winning documentary. Learning to Skateboard in a Warzone (if you're a girl) won the Best Short Documentary category and features Skateistan's Back-to-School program in Kabul. The program, which helps out-of-school children get back into formal education, is one of the programs the Bamyan facility will offer, along with creative, arts-based education, classes for youth leaders and the provision of other sports, such as cycling, soccer and basketball.
The expansion to Bamyan builds on Skateistan's Afghan roots. Founded in Kabul in 2008, the organisation also has its largest skate school in the world in the northern Afghan city of Mazar-e-Sharif. Programs have already started in Bamyan (currently paused due to Coronavirus) and over 300 children in the city have already taken part in skateboarding and creative education classes. Included in these sessions were craft lessons on designing an ideal skate school; the ideas from these lessons were incorporated into the skate school design which has just begun.
The build of the skate school is being fully financed by a significant grant from the German Federal Foreign Office, while the skatepark construction will be supported by Skateistan's long-term funding partner, The Skateroom. The architects working on the project are M2R and the state-of-the-art skatepark, which includes indoor and outdoor areas, is covered by Newline Skateparks. The build will be part of the UNESCO Bamyan Cultural Center and overlooks the famous Giant Buddhas of Bamyan niches. The Buddha statues were famously destroyed by the Taliban in 2001.
Skateistan's Founder and Executive Director, Oliver Percovich said, "We're incredibly excited to be extending the scope and reach of Skateistan's activities in Afghanistan. This is the next step in the strategic development and expansion of Skateistan globally and we're delighted that we'll soon be offering Skateistan's unique blend of skateboarding and creative education to hundreds more of the world's most vulnerable children."
Zainab Hussaini, Skateistan's Country Manager for Afghanistan, who is from Bamyan originally said, "By giving equal opportunity to children in Bamyan, they can learn new lessons and expand their minds. They will learn how sports can change their lives and help them to make new friends, help others, and learn. I'm sure we'll one day have some of the best skateboarders out there."
Skateistan aims to open its Bamyan Skate School in early 2021. Programs have been suspended in Bamyan at the current time due to Covid-19 but will restart as and when it's safe to do so in Bamyan.