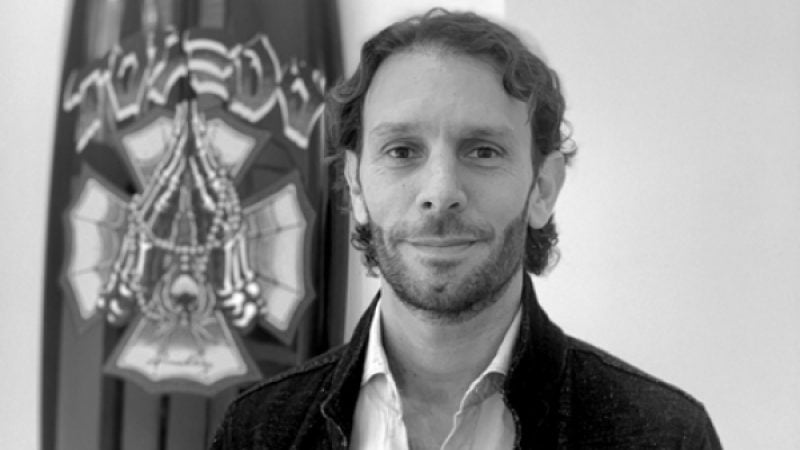 Big Wig Interview: New Hurley EMEA CEO, Javier Carrera
SOURCE reported back in January that long-time Nike employees Javier Carrera and David Meire had been successful in their bid for the ownership of Hurley EMEA. The pair had the deal in the pipeline for many months and in doing so had managed to broker a favourable outcome whereby they now have the pick of all Hurley products via their licensees, allowing them to focus their categories according to the needs of the region. With the dust settling on the deal, we caught up with new EMEA CEO Javier to see what developments have been made. In a wide-ranging interview we explore how the company is turning the brand into a 365 surf brand, a new emphasis on their women's line and how Hurley EMEA will take the lead in the brand's wetsuit programme. We also cover Hurley's EMEA athlete programme and how they'll be telling their surf marketing stories through a rock 'n' roll lens in the future. Interview by SOURCE Publisher Clive Ripley & Editor Harry Mitchell Thompson.
After our last interview you went back to Hurley headquarters at Costa Mesa. Tell us the news from your trip, and indeed since our last talk in January.
We went there without really having an idea about what we would find and we were very pleasantly surprised. We met almost every license team, most of whom were based on the campus. For our most important category – men's surf apparel – the licensee has kept most of the team intact so the key people designing, developing and driving the collections have remained in their positions. These are the people we were working with before and are the guardians of the brand and so the essence of the brand design has remained as it was before, which is critical to us. So with many of the licensing teams in Costa Mesa and many of the licensees headquartered in Orange County everybody is working together building a common thread across the brand. On top of this brand owner BlueStar has built a central team to coordinate everything, across all the licenses and across all territories. They have hired from a new brand Marketing Director, Erica Ryan, Federico Bellegarde as Business Development Director and a Licensee Director, Jake Shalom. They understand the business and have a lot of experience in each of their own areas and have the sensibility that the business needs to keep on driving it forward in the right direction maintaining the value proposition that Hurley offers. We are in regular communication with this team and provide input on what we believe the market wants.
How's the product looking?
We have seen most of the spring summer product line and we are very happy with it as it's a continuation of the existing Hurley design direction. At the same time, we have seen an expansion into categories we needed such as accessories and sandals, and a renewed focus on the women's line. In fact, as we now have specialist licensees in many of our smaller categories, we are now able to offer much more than in the past because these specialists have greater resources dedicated to each of these markets. From a product standpoint everything we had hoped for has started to happen and in general as a licensee we have the right to produce products that we feel we need in the European market but that are not part of the global line.
Tell us what's happening with your men's collection.
In men's one of our key priorities is to build the brand's winter offering so we have product to suit conditions for all 365 days of the year. The winter outerwear collection has been designed by Thread Collective based in Montreal, Canada so they know all about cold weather gear. It has two lines one focused around the urban look and the other a really technical offer for the cold-water surfing environment. Both are technically excellent with a twist to give them the Hurley look.
And what are the focuses with the women's line?
We had really good meetings with the woman's licensees. It's great to have such a focus on the women's program, as traditionally Hurley has had a very male focus, with 80% of sales previously coming from the men's market. However now we will have a dedicated business plan for women. For swimwear the women's licensee is Inmocean who are super specialists in the category and for women's apparel it's Hybrid who is a producer of premium women's products and has a very strong design team. Both are located close to the Hurley Costa Mesa offices and as the USA and European women's markets are so similar we are expecting great things from these relationships.
And I understand the wetsuit programme is going to be run globally by you here in Europe?
For wetsuits we will lead the global wetsuit's program as it's a key category for us in Europe. Wetsuit manufacturing will remain at the same factories in China and Japan and we will continue to evolve the wetsuit line little by little as we see the results of hardcore testing. For example, we moved the stripes to the arm where there is less stretch than the leg to give the graphic a longer life.
How key is sustainability in your product development?
Sustainability is obviously a super important topic for us in Europe. We feel the Hurley brand has long been committed via programs such as the Waves for Water. Sustainability needs to remain a core essence of the brand and not just for marketing, it needs to be designed into the product. You will see more from us on this.
What's the latest on the athlete program at Hurley?
Hurley have re-signed some of their key athletes and BlueStar are aware of how important that program is for the brand. We are still waiting to see the long-term plan but obviously a lot of negotiations are now on hold but the first steps with Kai Lenny and Carissa Moore have been taken. Athletes will definitely remain a key part of the Hurley marketing mix. In EMEA we have a short-term agreement with Nic Von Rupp and will be working on securing him after the COVID-19 situation clears up.
In terms of athletes pay, firstly companies that sponsor them need to protect their long-term future or they will not be around to sponsor the athletes in the future. This will probably mean that athletes pay will be cut in the short term to a level that enables the athlete to survive but at the same time with all the restrictions on travel, demands placed on the athletes by their sponsors are somewhat diminished. We all need to take the hit together now in order that we can all survive the crisis.
How do you see communication with the consumer changing?
We are seeing an emphasis on content creation and less on performance competition now the big Wave Tour has been cancelled. The story telling of the whole journey on how you get to riding the wave helps the general audience understand surfing. Competition surfing is much less accessible to this mainstream audience. Story telling takes us back to the romanticism of surfing. We also see the importance of the surf/rock 'n' roll connection in the future of the brand.
When do you see surfing events restarting?
First of all, our events are outside and, on the beach, and so should be easier and earlier to resume then many other sports. This could create a real opportunity for us because broadcasters around the world are running out of content and if we are one of the first sports to restart our competitions then there could be a great deal of demand from the mainstream broadcasters for our content.
Have you moved into your new offices in Barcelona?
The office move was completed the day before the lockdown in Spain. So, while we were working from home everything was in place and ready for the restart. We now have plenty of space to expand the business and we have also increased the size of the showroom. The new office is 10 minutes walk from where we were based before at the Nike Barcelona office. Yes, you've guessed correctly it's 10 minutes closer to the beach than it was before.
Who is on the management team?
On top of the arrival of myself and David Meire we have made a number of changes to the management team and this has involved elevating the young guns in the team, most of whom are surfers. Jose Pascual is now in charge of both our retail and wholesale, Carlos Fernandez is Merchandising and Digital Platforms manager, Valentine Grandamme is Marketing Manager, Marion Velten runs our supply chain and Manon Jouanine is Product and Design Manager. I'm leading the e-commerce with David at the moment but we are looking for someone to take this role on.
How is the brand dealing with the current retailer environment?
Obviously everything stopped except for digital so we invested heavily to get this right. We are in the process of have been developing our own e-commerce site for Europe, which should launch in early June  and we're super excited to announce the launch of our new Hurley website for the EMEA region. It's a completely new platform that has been developed purely with the consumer in mind and aims to deliver the best of Hurley on every level. We have a very strong assortment with several of our collaborations shown, as well as info on our surfers and brand ambassadors. We're already working on a loyalty program that will bring exclusive benefits for the Hurley community. For us the survival of retailers is key as wholesale is 70% of our business.
We made no shipments to retailers for a number of weeks throughout the lockdown. Some stores have cash reserves, and some don't so we helped them on a case by case basis. We understand when accounts say "don't send us any product until we can reopen our store". We proactively have done some cancellation as retailers won't be able to take all the inventory, but we will hold it in our warehouse in case business goes better than expected for some.
As June, July and August are the key months for Hurley we are super prepared to meet demand as it picks up. Fall is a big question mark; a lot of the brands are cutting orders to shops by 40% but I think it won't be as bad as that and we need to take some risk. We will see what happens with back-to-school, for sure consumers will have become much more attuned to buying online and will be more experienced online shoppers, which will change the dynamics between consumer and the brand. But I think consumers will want to be out and about as soon as they can and feel that shopping experience. So, I think fall/holiday will be okay.
How else are you helping retailers? Is there anything you can do on your socials regionally to direct customers to your partner stores?
Social media at Hurley is currently run globally so it's not a tool we can use locally in Europe but obviously this will change in the future. So, what we are trying to do is activate local community events such as those through the Hurley Surf Clubs, for example wetsuit testing at retailers. Obviously, what each brand does will depend on which tools it has available. With us we see it very much as a DIY program, we supply the toolkit and each retailer can choose the tools which will work with their own specific community, as the local shop knows much better than the brand what will move their local scene, this is particularly true in Europe. The plan is to continue to expand the Hurley Surf Club network.
Can you give an overall assessment of how COVID-19 affected your business.
We have been far more focused on what we can do, than on the things we can't control, but economically it seems to me to be a worse situation than anything since the second world war. It's hard to predict what will happen but I think after the lockdown everyone will be looking for an outdoor summer, so this should help our business. Tourism will also be much more localized, and people will only drive around inside their own countries. I also think after the virus most people will return to what they did before, some habits may stay longer like washing your hands, but from a consumption view I think younger people will want to live the day even more than before. But right now, we focus on the next nine months rather than any long-term planning.