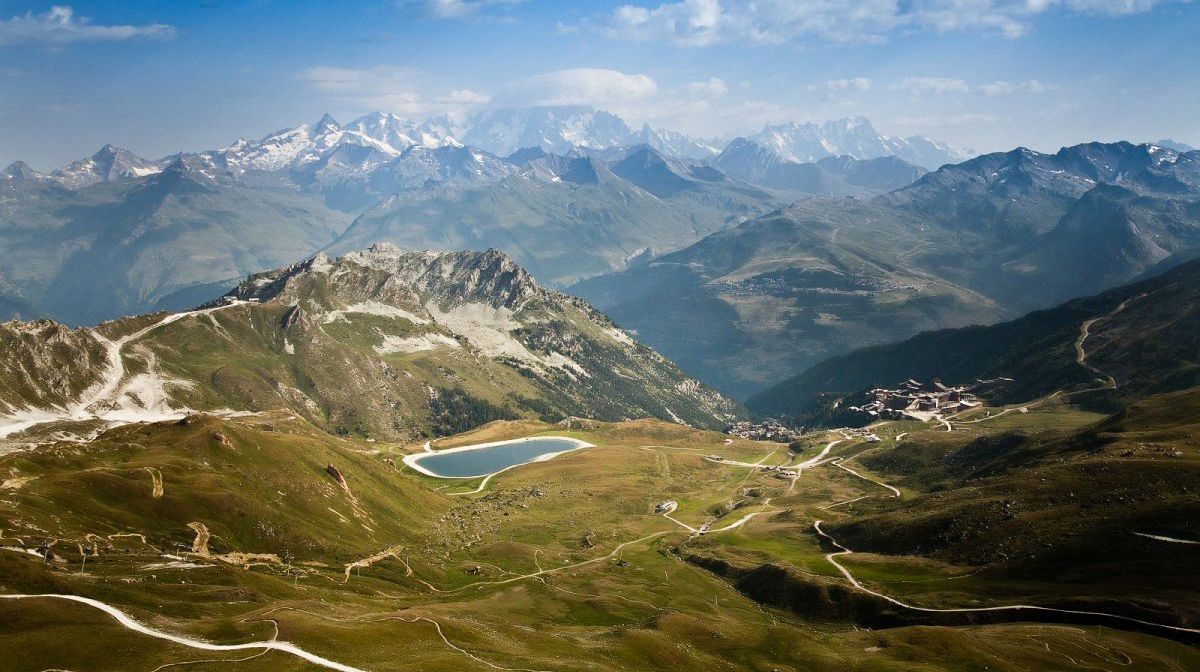 Full Report On Les Arcs Summer Reopening
By following the government regulations and adopting new protocols and procedures, Les Arcs resort has fully reopened for its summer business. Les Arcs staff have been working hard to ensure customer safety while trying to keep the holiday experience the same and Betony Garner headed to the resort to check out the new measures.
Editor's note: Please also read our full reports from Kaunertal and Hintertux resorts as we build a bigger picture on how resorts are returning to business.
Opening – Les Arcs:
Les Arcs has opened its lifts and activity programmes for the summer. I went to witness what measures they have put in place and how they were received by visitors.
First impression: the resort was by no means quiet. The weather was good, and all the lifts and activities were buzzing with people. In the hotel we were staying in it was very busy (for example the restaurant was full in the evening) with nearly all the clientele French and staying for a week.
So, what was the experience like? Different for sure but on the whole very positive. Mask usage was prolific (and obligatory in certain areas, including lifts) and the resort had gel distribution stations throughout. But everything that's normally open in the summer was open (lifts, restaurants, hotels, shops) and people didn't seem to be avoiding things.
Lifts:
People have to wear masks on the lifts and there is no exception to this rule. At the entrance to every lift there is a gel distribution station. On the lifts, they put people who are together (in the same group) on the same lift. As the lifts are not as busy as they are in the winter this is possible. All the lift operators wear masks.
Hotels:
In the hotel where we stayed, all staff wore a mask and it was compulsory to wear a mask in the communal areas. Sometimes people would enter the reception area without a mask. But in the restaurant people were turned away if they weren't wearing a mask. They also had a 'one-way system' in the restaurant. There were lots of gel bottles around the hotel to use and signs reminding you to wear a mask, to follow the social distancing rules, to cough into your elbow and blow your nose into reusable tissues if you need to blow your nose.
Restaurants:
These were busy and due to the good weather people were choosing to sit outside. Many restaurants had QR codes to download menus rather than having physical menus. Masks were required to be worn inside, but not outside on the terrace. As a result, the outside dining experience was very similar to normal.
Shops:
Rental shops are disinfecting all equipment that gets returned before it goes out to the next person. This includes using alcohol wipes and disinfectant spray. Bike shops are giving out single use hair nets for under helmets. All staff wear masks. One of the staff members in a shop said that the whole resort, including shops, has bought into the health protection measures because they know that if there were to be a second wave of COVID-19 over the winter it could put lots of businesses out of business.
Jacqueline Renard, Les Arcs Tours ADS (lift company):
"All the lifts that are normally open in the summer are open in Les Arcs. We have also opened two extra lifts this summer (Vagere and Aiguille Rouge) to open up the walking domain even further. We are also trying to play our part in giving people access to the open space and mountains by making the funicular up to Arc 1600 from Bourg Saint Maurice free. The Vanoise Express between Les Arcs and La Plagne won't open this summer.
"We are leading by example, with all our lift operators wearing masks and they have all been trained in hygiene measures. Masks are also mandatory for all lift users (walkers/mountain bikers) and there is alcohol gel on offer at the entrances to all lifts. We are not mixing groups in lifts, which is helped by a lower of volume of people in the summer compared to the winter. Lifts are also disinfected regularly.
"We were shocked by the good number of people in Les Arcs this weekend and leading into this week. We feel like people want to escape to the mountains. Reservations for the Hero Pass (activity pass) are not that different to a normal year. Les Arcs has all its activities open for this summer.
"We should have a clearer picture in the autumn for what might happen over winter and we are now used to having to adapt to new advice all time. Of course, we will adhere to government regulations, but next winter could look similar to this summer with the use of hand gel and face masks.
David Mas, Deputy Manager, Villages Clubs du Soleil, Arc 1800:
"We have taken time to organise the hotel in a safe way and ensure our staff and guests are protected. We want to make holidays great again and have been working hard at this.
"We have been very clear with our guests about what to expect and how it will work in the hotel. We want to make our guests feel safe as well as offering them the best experience possible.
"We are very used to following protocols in the hotel industry, so essentially this is just a new protocol to follow. Staff wear masks at all times and all staff have been trained within their department.
"We believe the current situation is everyone's business and we have organised ourselves to ensure our product is the same, whilst making our clients feel safe. Masks are mandatory in the restaurant and some of our cleaning protocols have changed to align to COVID rules. For example, we try and leave bedrooms a day between guests and open the windows for a prolonged period during the time they are disinfected.
"We had a good surprise already this summer with the number of guests coming to Les Arcs. For winter we feel as though we are already 'ready' and have confidence for next winter with people already starting to book. We have been adapting protocols every week since lockdown, so we are ready to keep doing this."