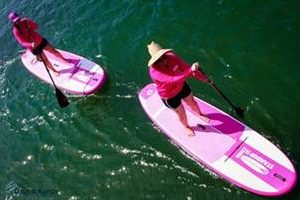 Boardworks Partners With Stands Up For The Cure To Raise Awareness For Breast Cancer
SUP manufacturer Boardworks will partner with the Standup for the Cure charity, which raises money to help combat breast cancer, pledging to donate a percentage of the sales from their limited editionSHUBU Standup for the Cure model to the charity whilst also donating SUP boards to the organisation's series of events across the country. 

Press Release: Carlsbad, CA (May 10, 2018) –  Boardworks, a leader in the surf and standup paddle industries offering innovative and award-winning products, is proud to partner with Standup for the Cure, a charity paddling event that raises money for early breast cancer detection, treatment, and education. To date, Standup for the Cure has screened over 1400 individuals for breast cancer and melanoma and raised over $1.1 million. As the National Presenting Sponsor, Boardworks will be donating standup paddle boards to the organization's series of four events across the country.
Going beyond their event sponsorship, Boardworks has also pledged to donate significant proceeds from all sales of the limited edition Boardworks inflatable SHUBU Standup for the Cure model. The limited-edition inflatable board is ideal for all conditions, abilities and ages and is fully equipped with Three piece adjustable paddle, pump, carry bag, ultra-comfortable Honey Fomb® embossed deck-pad, easy to reach cargo bungee, and neoprene carrying handles.
"Boardworks is honoured to partner with Standup for the Cure," said Andrew Mencinsky, Brand Manager at Boardworks. "Having attended the organization's events for the past 3 years, it was a natural alignment for Boardworks to step up to Presenting Sponsor. Our team greatly admires the work that Standup for the Cure has done and its ties to the paddling community, and we look forward to elevating the importance and awareness of breast cancer through our sponsorship and limited-edition Standup for the Cure model board sales."
As a part of the sponsorship, Boardworks will be onsite at each of the Standup for the Cure paddling events taking place throughout the summer. The first fundraiser kicked off on Saturday, May 5 at Newport Beach, CA, and the following events will be in Harbour Towne Beach, Muskegon, MI, Lake Sammamish, Seattle, WA and Fort Lauderdale, FL.
Boardworks full lineup of products are available online at boardworkssurf.com, along with retail locations nationwide. For more information, visit boardworkssurf.com, follow the brand on Instagram at @boardworkssurfsup and Facebook at @boardworkssurf. To stay up-to-date on Stand Up for the Cure's events follow @standupforthecure on Instagram.