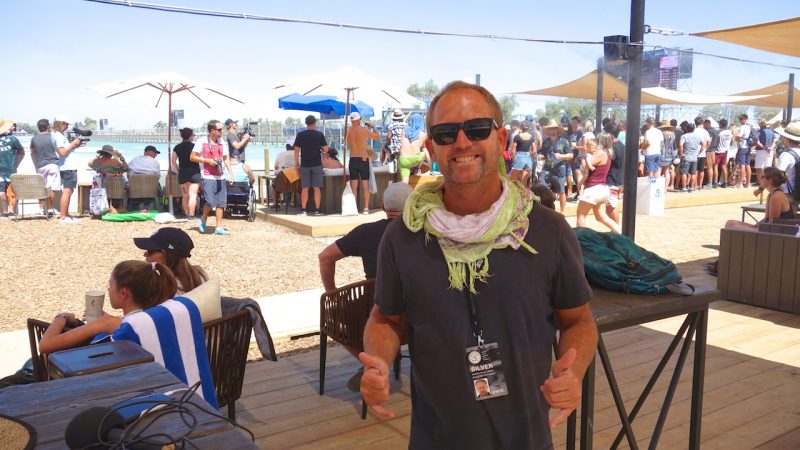 Hurley VP Sports Marketing, Pat O'Connell Talks Marketing Activations & The Brand's Place Within Nike
While out on our Surf Ranch Pro visit back in September, we sat down with Pat O'Connell, Vice President of Sports Marketing at Hurley, about how he found his place in the surf industry, how his role at Hurley has evolved over the years and how Hurley's structure within Nike has changed the running of the company. Hurley were the Surf Ranch Pro's headline sponsor and held an activation on the adjacent lake, so we spoke to Pat about the company's marketing activation at the event and about the success of the Hurley Surf Club initiative. Interview by Harry Mitchell Thompson.
Make sure to check out our other features from the Surf Ranch Pro, where we spoke with the WSL's CEO Sophie Goldschmidt and Kelly Slater Wave Co's newly appointed President, Nick Franklin.
Can you tell us about your background, Pat?
I've been surfing for most of my life. I did the World Tour for about 10 years from 1994 to 2005.
Not much success, but I hung around for a long time. When I left the World Tour, I was lucky enough to get a job with Bob Hurley and I've been there for the last 13 years.
And how has your role changed since you joined Hurley?
Yeah, it's been interesting, mainly just in scale more than anything. When I started, I always joked with Bob I told him I'd come in and pack boxes. I'm basically unemployable so I was like, whatever you need me to do.
What's your job title now?
My job title is Vice President of Sports Marketing, so I basically work with Felipe (Toledo), John John (Florence), Carissa (Moore), Lakey (Peterson), Julian (Wilson), Kalohe (Andinho), all of them. But then also look after the beginning stages of our next generation and work with the WSL. Overall it's interesting because the brand is so focused on activity and being in and around the water so it touches a little bit of everything within the brand. So, specifically I work and try to maintain our athlete core.
How is Hurley structured within Nike?
Without sounding corporate, we're basically left alone. We're able to tap into some of the great things that Nike does, but they trust our autonomy to make decisions and be Hurley. We've been fortunate enough to work with really, really great super smart people from up there.
I would just say it's been different paths, seeing what works and what doesn't. Ultimately, really the path that we're on, and what works is what's really instinctive to the brand and the people in the brand. It's really a unique situation because Bob Hurley is around all the time, and Bob basically is Hurley – he started the brand. It's really interesting as brands grow and change, and the vision of what that brand is changes over time. It's great with Bob because really the fundamentals of how and what he started the brand on are still alive and true and they still mean something, which is really cool. Bob is more passionate than ever.
Who's on the management team at Hurley?
So, it's great, it's a guy named Bob Coombs, Bob Hurley, Jeff and Ryan Hurley, Bob's sons and there's Ryan Mangan and a handful of other people. A really good group. Jeff was running our digital business, as we merged with Nike.com, and that integration. He's a really, really smart guy, great surfer. It's funny, our executive team is built around foiling. They all foil everyday.
Have you tried?
Yeah, I suck. It's tough, but it's great because those guys are in the water every single day doing it and it's really cool. Our campus is so fun. Everybody's going for a surf at lunchtime and there are wetsuits hanging everywhere. It's really cool.
About Hurley and Nike; one of the many things you've got in common is that you both leverage professional athletes really well. Has that been a policy at Hurley over the years?
Yes, so we invest really heavily in events with the WSL, such as the US Open and Hurley Pro. The interesting thing about working with athletes, is a lot of it is built on timing. You know, times of contracts coming up etc.
We are so lucky in getting the support from Nike and our senior team that everybody's pretty passionate. If you see Bob running around here, he's having the best time of his life, and when it comes to making decisions and planning athlete strategy, you really need the people who are steering the business to be like, "yes, we're going to do this. It makes a difference."
It looks like a lot of hard work, I'm sure, but fun.
I think honestly the hardest part is making sure everybody feels that they have a little autonomy in the group. We did this little collab called Pro Series, where we did these 80s skate style pieces, and we're trying to find a way to give everybody their space within the brand to feel like they have something that's theirs. It's important, because these guys and girls are all the top of the highest level of the sport and we want them to feel like they're getting one on one support, not just brand support. I think that's something that we're learning as we go.
And is that a big part of your role? Working with those athletes?
Yes. One hundred percent and making sure that the things and the dreams that they want, that they have, that we're able to kind of help them get there.
How do you differ your operations in Europe from the U.S.?
We're pretty joined up, the distribution is just very different. So, strategy you know. So, I think it's the business focus whether it be brick and mortar, dot com, core retail, and what does that look like. I feel like everybody's doing pretty similar things. Europe is just different because so much of it is seasonal.
When did you start the Hurley surf club, was that a couple of years ago?
Two years ago, exactly now. We did one in Hossegor. Really the biggest operation we've got is the one in San Sebastian at Pukas. We did a little partnership with them. It's an interesting sort of journey we've had with that. The idea, and whether that always comes across, is that the better you get at something the more fun it is. It's really built around fun. I think there's times where it comes off very serious but it's never meant to be serious. It's supposed to be fun and giving tools to people who want to have more fun in the water. I think that's ultimately what we're trying to give.
How does a place like the Surf Ranch shape the future of professional surfing, in your opinion?
I think this it will affect the future of surfing is a couple of different ways. One, it really opens up the sport to, not a different crowd, it's hard to explain. I'll use this as analogy or as an example. We had about 180 people from our company come up about three weeks ago. Of those people, we had probably 60 or 70 real hardcore surfers. You would think that this place would just be built for those people. But the rest of the 80, 100 people had the day of their life because we took them on the end of the pool and they learned to surf and they got to experience how much fun it is. One of the things that surfers always talk about is the desire to travel, go on a surf trip, experience something new, share a wave with a friend and have a beer. That's this, in one day.
And it doesn't need to be near the ocean.
People who don't surf so good get worried in the ocean that they're going to bum out a local by getting their way. But here at the Surf Ranch, that's not the case and that's something really special about here.
How would something like this have changed your experience as a grom growing up?
Well, I think there's a couple of things. I think as more people are able to experience the pool, the ability to basically be able to tune something in and work on equipment. As this thing evolves you're going to be able to ride more waves. I think it's just the stoke. So, today we got lucky enough to grab a kid from the crowd to come ride a wave. If everybody got to ride a wave it would've been cool but this way is much more special.
Make sure to check out our other features from the Surf Ranch Pro, where we spoke with the WSL's CEO Sophie Goldschmidt and Kelly Slater Wave Co's newly appointed President, Nick Franklin.