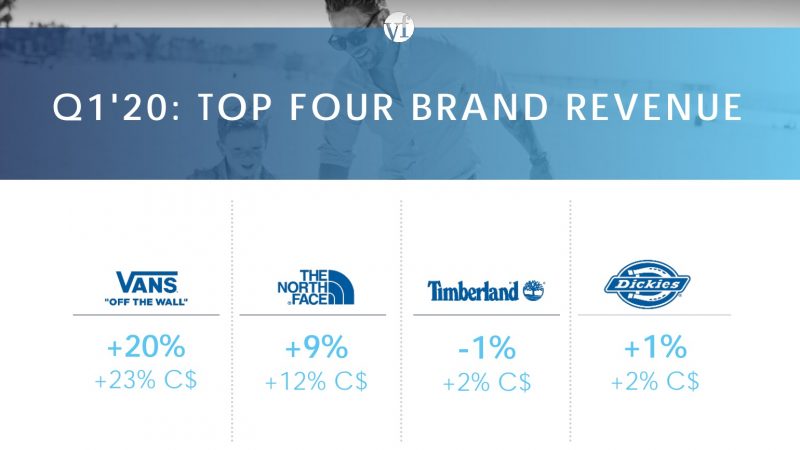 Vans On Track To Become $4 Billion Brand By End Of 2020, Posting 20% Increase In Q1 2020
The last few months have brought major changes for US-based brand conglomerate VF Corporation, home to Vans, outdoor brand The North Face and work wear label Dickies. Just recently, the company divested its jeans business into a separate entity called Kontoor Brands – including Lee, Wrangler, and Rock & Republic – and moved headquarters to Denver, Colorado.
After posting solid results for the recently finished 2019 fiscal year, VF Corporation presented results for the first quarter of 2020 on Wednesday. The verdict? No worries here, VF Corporation is coasting along following the massive restructuring and posted increased revenue by 6% to $2.3 billion. Operating income is at $133 million, reported earnings per share at $0.24.
One of the main drivers behind this continued momentum was once again iconic skateboard footwear brand Vans. As the top performer among VFC brands – and currently fast-tracked to become a $4 billion-per-year business by 2020, Vans posted a 20% revenue increase (23% in constant dollars) in the quarter ended June 29, 2019.
"Our first quarter results demonstrate the power of VF's evolved portfolio and our progress along our journey to become a purpose-led, performance-driven, value-creating enterprise anchored in our commitment to be more consumer-minded and retail-centric in everything we do," said Steve Rendle, Chairman, President and Chief Executive Officer after referring to the last twelve months as, "one of the most transformative years in VF's 120-year history."
VANS GROWS GLOBALLY
Amid these changes, Vans remained on solid footing. With roots going back to 1966, the brand continues to lead as a cultural icon and continues its run of back-to-back quarterly growth in the double digits. The push into direct-to-consumer (DTC) sales channels is especially impressive: Q1 DTC revenue increased by 23% with 39% growth in digital DTC.
What's more, Vans is no longer just a pure-play shoe company but significant apparel player. This is reflected in a footwear revenue increase of 22% (heritage +21%; progression +26%) and 18% rise in apparel & accessories.
In the earnings call, CEO Steve Rendle said: "Our Vans business continues to perform well above its long-term growth target. More importantly, the quality of the growth is strong, and diverse as we are seeing the rapid acceleration of the Slip-On franchise complement the continued strength of the Old Skool."
This increase in slip-on sales was a key contributor to the positive Q1 results, said VF Corporation's CFO Scott Roe. "That didn't happen by accident. That's been a very managed and orchestrated series of events whether it's in-store, from demand creation online, communication, the loyalty communication, which is at 8.5 million people at this point." In the bigger picture, CEO Steve Rendle also pointed out the positive results in apparel and Progression footwear and confirmed that Vans is, "well on its way to achieving its $5 billion target by 2023."
CHALLENGES IN EUROPE
From an international perspective, Vans delivered double-digit growth in all territories except EMEA: Q1 saw 24% growth in the U.S., 26% in APAC and 8% in EMEA. On a country level, China delivered the strongest growth at 21%. Globally, Vans grew revenue by 20% in the quarter.
Let's take a closer look at Europe: Growth in EMEA was driven by 25% DTC growth compared to last year's period, boosted by an impressive 60% surge in digital revenue. Wholesale only achieved 3% growth in the region throughout the quarter. Progression footwear proved popular in EMEA with growth around 30%, fuelled by new product lines such as ComfyCush and new models in the Pro Skate division as well as the popular David Bowie collab.
Speaking on the European business, Steve Rendle acknowledged challenging indicators across the marketplace before concluding: "But it's really our diverse strategy from a country standpoint that we're able to really navigate and connect with the consumers in the European marketplace and feel confident with where we sit there."
OUTLOOK
On the strength of Q1 2020 results, VF Corp CEO Steve Rendle announced: "As a result of our strong results and increased confidence in the full year, we are raising our fiscal 2020 outlook, including an additional $20 million of investments aimed at accelerating growth and value creation in fiscal year 2020 and beyond."
Revenue for FY2020 is now expected to reach $11.8 billion, which reflects a 6% increase, with revenue in the Active segment growing 7%. Direct-to-consumer revenue is expected to increase by 10–12% in 2020, with 25% growth in digital channels. And standout brand Vans is expected to keep growing in the double-digits this year.
As CEO Steve Rendle said: "The Vans team remains intensely focused and disciplined as they continue to deliver consistent performance that is driven by not just one thing. When coupled with the investments we are making to drive and fuel the brand's explosive growth, we are confident in Van's ability to sustain its trajectory above our long term target, including 11% to 13% growth this year."
Quotes taken from VF's official press release with supplemental quotes from earnings call transcript on Seeking Alpha.