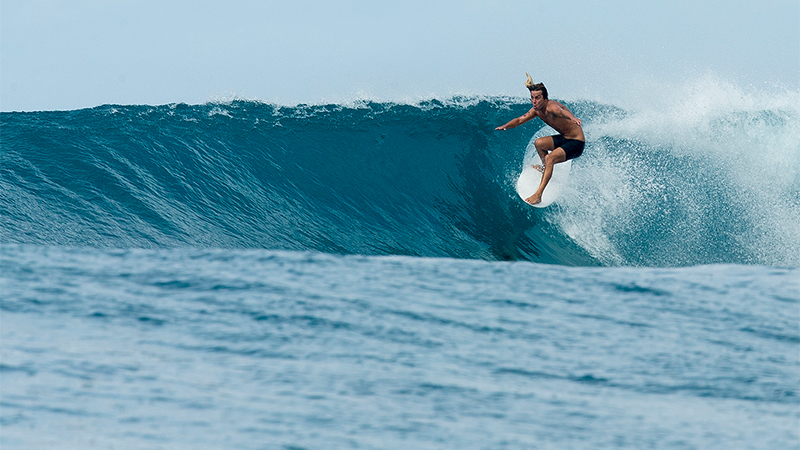 London Surf Film Festival Line-Up Announced
The line-up is out for the ninth edition of the annual London Surf/Film Festival x Vans. From surfing and live audio-visual shows to documentaries and travelogues, this year's exciting event is set to provide top quality entertainment with its richly diverse display.
Press Release: London Surf / Film Festival has just dropped the line up for the 9th Annual LS/FF x VANS. Hosted between October 09 and 12, 2019 at the iconic Regent Street Cinema, London, the LS/FF team of ardent surfers, movie lovers and cultural commentators have assembled a handpicked line up of the very best films from across the globe that represent the pinnacle of contemporary surfing right now – hotly anticipated premieres, award-winning features, and underground projects.
The carefully curated programme brings together documentaries to inspire, travelogues to stir the wanderlust, surfing that redefines the bounds of possibility plus a live A/V show to blow minds. Accompanied by Q+A's and 'Audiences with…' some of the world's most exciting and relevant surfers and creatives including icon Alex Knost, surfer / musician Lee-Ann Curren, big wave charger Dougal Patterson, award-winning filmmakers including Spencer Frost, Chris McClean, Rick Wall, plus more special guests it's a celebration of the cream of surf culture.
"I'm super excited about the quality and diversity of this year's line-up," says LS/FF Director Demi Taylor. "From must-see documentaries that really get under the skin like the much anticipated Hobgood biopic And Two if by Sea, plus the stunning big wave tales like Satori and White Rhino these are stories about the people as much as the waves. Three years in the making, multi-award-winning Jack Coleman has just dropped his new film Zone Frequency. Combining stunning cinematography and an epic soundtrack this is a journey to the intersection of style, imagination, and fun with some of the most radical and innovative surfers on the planet while Spencer Frost's gorgeous A Corner of the Earth is a true tale of cold-water adventures and frigid exploration. In an evening celebrating surf, sound and cinema we're delighted to play host to the exclusive world premiere of Translate, the immersive audio / visual free surfing experiment from award-winning filmmaker Chris McClean and composer CJ Mirra. Performed live with musicians including Lee-Ann Curren, it captures the ephemeral nature of surfing, a moment that cannot be recreated."
London Surf / Film Festival is bringing to the UK 2 World Premieres, 1 European Premiere, and 6 UK Premieres. But it's about more than that, LS/FF weaves together a true slice of surfing in the here and now, a showcase of the multi-layered world of waveriding. For many of the movies premiered, the festival will be the only chance to watch them as they were intended to be enjoyed – on the big screen, accompanied by a packed crowd of likeminded folk – the original "social media" experience.  You're not going to want to miss this!
Tickets are on sale now via Regent Street Cinema. There are limited number of evening passes available offering more surf for your buck, plus a free beer from Sharp's (over 18's only).
Sign up to the LS/FF newsletter for details of additional events popping up around the festival. For full details head to londonsurffilmfestival.com
London Surf/Film Festival 2019 Feature Line-Up
Satori by Rick Wall // 9th October
UK Premiere: Multi-award-winning documentary exploring the tight-knit crew of big wave surfers who have dedicated their lives to riding the huge waves off the shores of Cape Town, South Africa – Dougal Patterson, Grant Twiggy Baker, Chris Bertish & crew. Captured in breathtaking cinematography, Satori explores the steely and sharky line-ups of Dungeons and The Sentinel, the community that charges here and what fuels their fire.
Presented by Director Rick Wall & big wave charger Dougal Patterson
And Two If By Sea by Justin Purser // 9th October
UK Premiere: Highly anticipated and critically acclaimed tale of two of the most iconic surfers of the professional era – identical twins CJ and Damien Hobgood. Their intense sibling rivalry drove them to numerous event victories and a world crown, yet ultimately ripped their personal and peripheral relationships apart. With Kelly, JJF, Parko, et al wading in, this is a frank and insightful look at the rivalries and relationships forged in the white heat of competitive surfing.
A Corner of The Earth by Spencer Frost // 10th October
World Premiere: A sumptuously filmed tale of Fraser Dovell's transition from the hard grind of the QS to letting go of the dream. He embarks on one last epic voyage across the North Atlantic, seeking out thundering barrels, reeling points and treacherous solitude of the Arctic. Must-see travelogue stirring up wanderlust, reigniting the stoke in a true tale of cold-water surf exploration!
Presented by Director Spencer Frost
Spoons Dir. Wyatt Daily // 10th October
UK Premiere: An inspiring exploration of how a small corner of California has produced some of the world's most talented surfers and innovators…from George Greenough to Al Merrick, Ryan Lovelace and beyond. Combining incredible archive footage and thoughtful interviews this award-winning documentary chronicles the craftsmanship, work ethic, renegades and traditions that forge the notion of craft, heritage, and place.
Zone Frequency Dir. Jack Coleman // 11th October
European Premiere: Hotly anticipated, visually spectacular curation of surfing from the boundaries of waveriding and beyond. Prepare to have your mind expanded by the most radical and stylish surfing from the planet's most innovative wave sliding talents… Ryan Burch, Dave Rastovich, Ozzie Wright, Robin Kegel, et al. Three years in the making + wholly independent, this is what surf cinema is all about… if you love surfing and radical expression, look no further!
White Rhino Dir. Brent Storm // 11th October
UK Premiere: Combining dazzling cinematography, vivid insight, and mind-bending waveriding, this award-winning movie is an immersive story captured from the perspective of big wave surfers and photographers who witnessed the largest surf ever ridden – Bruce Irons, Nathan Fletcher, Mark Healey, Kalani Chapman, and crew. Three epic swells hit the South Pacific, providing historical days for those who dare to challenge the 'White Rhino'.  Epic waves, epic wipeouts, epic tales.
Translate Dir. Chris McClean // 12th October
World Premiere: A live, immersive audio-visual free surfing experience from multi-award-winning filmmaker Chris McClean and composer CJ Mirra. Combining epic waveriding, luscious landscapes, Chris McClean's trademark rich cinematography, and CJ Mirra's signature sensory soundscapes this is a visceral journey through Europe. Performed live with musicians including Lee-Ann Curren, captures the ephemeral nature of surfing, a moment that cannot be recreated.
Live A/V performance including Director Chris McClean, Composer/ Musician CJ Mirra, Musician LeeAnn Curren & more
Tan Madonna Dir. Alex Knost // 12th October
UK Premiere: Blending cutting edge waveriding with an art-house, analogue overlay, artist/surfer/musician Alex Knost views the smooth lines of Michael February, Lee Ann Curren, Harry Bryant & Karina Rozunko through a fresh lense. Captured on HD Digital, Super 16mm & Super 8mm across the point breaks of Baja Mexico, Australia, France, and Indonesia, accompanied by a soundtrack recorded live on location by Alex & Lee-Ann, this is a big-screen must-see.
A very special screening presented by Director Alex Knost
La Ola Sin Fronteras Dir. Julian and Joaquin Azulay
UK Premiere: In this much anticipated, thought-provoking documentary, Argentinian brothers Julian and Joaquin Azulay, (Gauchos del Mar) go searching for waves in the Falkland Islands. They discover epic, empty, hard-won waves in a beautiful and bleak landscape, where the scars of war are still visible, in the minefields and in society. They hope to make new friends and share waves – but can the shadow of the conflict be overcome?
International Shorts
Camel Finds Water Dir. Ian Durkin
Flight 566 to Beirut Dir. Guillem Cruells
Tuckeroo Dir. Elley Norman
Street Surfers Dir. Arthur Neumeier
A Surfer's Search Dir. Kevin Sheen
Flux Dir. Lewis Arnold
Musical Voyage Dir. Patrick Trefz