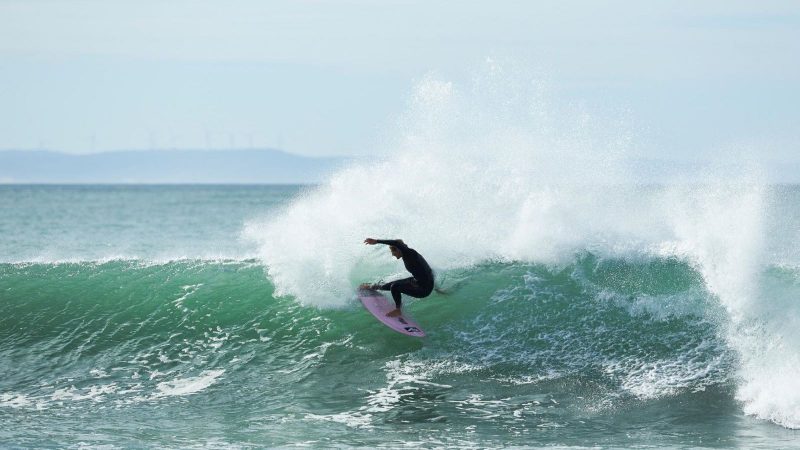 7x World Champion Surfer, Stephanie Gilmore Re-Signs With Creatures of Leisure
World-leading surf hardware company, Creatures of Leisure have re-signed 7x women's surfing world champion Stephanie Gilmore. 
"I hope to keep achieving great things with Creatures under my feet"- Australian 7x World Champion surfer, Stephanie Gilmore.
The high-quality equipment and accessories from the collaboration are tried, tested and built to last and through the partnership, they will continue to develop and adapt future products.
Press Release: STEPHANIE GILMORE RE-SIGNS DEAL WITH CREATURES OF LEISURE
World leading surf hardware company, Creatures of Leisure are excited to re-sign 7x women's surfing world champion Stephanie Gilmore.
Steph joined the Creatures team over 15 years ago and has been an integral part of the brands growth over the years. Gilmore first entered the women's professional surfing scene in 2007, winning a world title in her rookie season, becoming the first (and only) surfer to ever accomplish such a feat. Steph's rise to the top of women's surfing was swift, taking four straight titles in her first four years on tour.
In 2018, Steph made women's surfing history, capturing her 7th world title by taking out event wins in Bells Beach, Brazil and South Africa. Outside of the jersey, Steph was the feature surfer in STAB's 2018 Electric Acid Surfboard Test, an honest and raw search for surfing's most eclectic alternative boards. During her time in and out of the jersey, Steph has successfully blurred the lines of gender and helped elevate women's surfing, while capturing the eyes of professional peers and surf enthusiasts all over the globe.
In 2019, Steph continues to thrive on the world tour, while inspiring the next generation of surfers. Creatures continue to support her with premium quality surfboard covers, traction pads and leashes, all of which are designed to help Steph reach peak performance. This includes her signature traction pad.
With an amazing appetite for fun and adventure, Steph is genuinely stoked to continue representing the brand moving forward:
"It's wonderful to continue this long-standing relationship with Creatures of Leisure. They have supported me through every step in my career so far. The product is always reliable and I hope to keep achieving great things with Creatures under my feet."
Steph and the Creatures product development team have worked together over the years to refine and improve her signature traction pad, which is a blend of fashion and function. Steph enjoys inspiring the Creatures team with new colour palette ideas and always puts her pads to good use, on the world tour stage and beyond.
Creatures of Leisure's Global Brand & Product Manager, Beau Campi is thrilled to re-sign Steph and looks forward to working with her to refine and improve Creatures premium surf hardware offering:
"Steph has been an integral part of the Creatures of Leisure family and growth of the brand, since her small beginnings. It has been an honour to support her through her extraordinary career so far and enjoy the ride of her 7 World Titles. We just love what Steph stands for, and the way she holds herself in and out of the water. Future projects with Steph will align with her personal values and initiatives, and we look forward to bring them to life with her"
Currently ranked #3 on the Women's CT, Steph will be surfing in the 2019 Freshwater Pro at the Surf Ranch in Lemoore, California this week and is looking to improve upon her 2nd place finish in 2018. The entire Creatures team is looking forward to watching her flair up in the pool! Beyond the Freshwater Pro, Steph will continue competing in WSL tour events throughout 2019, in hopes of securing her 8th world title in Hawaii at the end of the year.