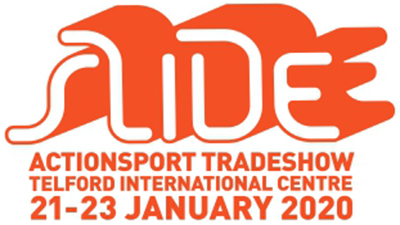 UK Snowsport Community Gears Up For Slide Tradeshow
Slide, the annual snowsport tradeshow owned by the Snowsport Industries of Great Britain (SIGB), will take place at the Telford International Centre between January 21 and 23, 2020. The show is already over 90% booked with 70 exhibitors already signed up to show off their latest wares with just under 4 months to go.
PRESS RELEASE: With just under 4 months to go until Slide opens its doors, the show is already over 90% booked and more than 70 exhibitors have signed up to date. There's room for more, but suppliers who are considering booking for Slide are urged not to delay much longer if they want to be sure of a stand at the show. In addition, prices rise after mid-October, so the most cost-effective exhibiting is only available for another few weeks.
While many core exhibitors return to Slide year on year, there are always some newcomers, and also returning exhibitors who may have been absent for a period. For 2020 Helly Hansen, Zag skis and BBCO Headwear are making a welcome return to Slide and Evolution Eyewear are making their very first appearance.
Visitors to the show will be able to register online from November on the Slide website but there's no need to delay booking reduced-rate accommodation at the on-site hotels. Hotel prices and booking forms are on the Slide website here.
The Slide Awards are always much sought-after, in the hardware, software, accessories and 'fresh brand' categories. But for 2020, there will be a new category of award dedicated to the most environmentally-friendly product, called the Eco Award. Exhibitors will be invited to apply for the Awards in the late autumn, the best products will be displayed throughout the show, with retailers and media voting for the winners.