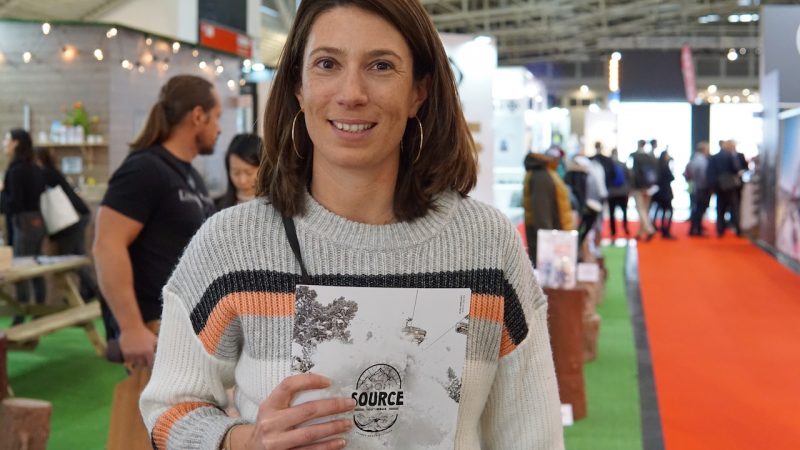 SOURCE 100th Big Wig: Emilie Souvras, Roxy General Manager
Female Big Wigs in our industry are few and far between and we thought it only fitting that we feature one of action sports' finest leading women as our 100th Big Wig Interviewee. Emilie Souvras is ROXY General Manager and we speak with her about the brand's recent shift in target demographic, where they now pinpoint the 25 year old female as their "bulls-eye" customer. Emilie also talks about her experiences around inequality in action sports and we touch on Quiksilver's re-launch into women's and how this will fit alongside ROXY's strategy.
Emilie, please can you tell us about your background. What led you to working for Roxy, and how have you progressed through the company.
I've always worked in retail and fashion but I joined the action sports industry when I started with ROXY in 2008. I grew up, studied and started my career in Lille, France, and ended up moving to the Basque country when my husband, who's a passionate surfer, got a job opportunity in the area. So, I quit my job, we moved, and when I started to search for a job ROXY was of course my target. This was – and still is – such an iconic brand to me and it was a dream to work for them. Thanks to a friend of mine, who I worked with in Lille and was by this point working at Quiksilver, I heard about a job opportunity with ROXY. I was super motivated, I applied, and I got the role. I started my career with ROXY in September 2008 as EMEA Product Manager for Woman's Apparel & Swim categories. Four years later, I was appointed EMEA Head of ROXY Product, and two years after that, when we centralised a big chunk of our product activities out of the EMEA HQ, I was appointed Global Head of ROXY Product. And in 2015 I got the amazing opportunity to become the GM for the brand.
As a senior manager in an industry predominantly managed by males, have you battled with inequality? Are there things we as an industry should be doing to better promote equality in the workplace?
No, I've never really had to battle with inequality. I've always felt supported and encouraged by the men I've worked for or with and I'm also surrounded by many talented women who hold key functions in the industry. That being said, Europe is maybe slightly behind other territories in terms of gender equality, but I wouldn't say this is specific to our industry. So, to answer your question regarding what should be done to better promote equality, I think we need to give confidence to women so they are aware they are talented enough to apply for strategic positions.
What have been the biggest challenges you've had to overcome with the Roxy brand in recent years?
As many brands in the industry we face challenges, but the brand equity is really strong and nothing really ever hurt the desirability level of ROXY in the consumer's mind. The main challenges were linked to the increased competitiveness in the marketplace, mainly coming from fast fashion and private labels. That has impacted consumer purchasing habits, especially young women. We saw the closures of some accounts in different areas and faced – on our side – some retail traffic challenges and increased rents that resulted in some unprofitable store closures. I would also say that as a portion of our sales are done with seasonal categories (snow, swim), our business can also be negatively impacted by bad weather conditions like late snow falls in winter or rainy summers.

Can you talk to us about the performance of the Roxy brand in recent years. Which categories are performing well?
The key categories for us have been Snow and Swim. Snow has been a great category for us for years now across pretty much all regions. In recent seasons our swim category also performed very well globally, and we have opened new distribution in key territories like in the US and Australia. The other category that's been performing well is the footwear category, with very good momentum in the Americas region – we're hoping to leverage that more globally moving forward. We haven't dropped any categories but we consolidated our kids apparel offering around one size range instead of two.
Can you talk to us about the different regions in Europe, where Roxy performs well and where you see the biggest opportunities for development.
In general, the brand's performance has been strong in the Northern and Eastern countries. Especially in Germany, Austria and Switzerland. The UK, France and Spain have been slower but remained strong for us with our snow category. What's very exciting is to realise that the opportunities exist in many countries in Europe for ROXY, across various channels of distribution. Ecommerce of course is a great growth opportunity whether it is through our ROXY.com website or thru key e-tailer platforms like Zalando, Blue Tomato or ASOS, just to name a few. Expanding our presence in sport outdoor distribution in the key countries is also a development opportunity for us.
Could you talk about the evolving retail landscape and what you – and the brand in general – have done to stay relevant and ahead of the curve?
To stay relevant, we're staying true to who we are, rooted in our DNA, while always looking for new ways to engage with our consumers, whether it's on the beaches, on the mountains, in stores or online.
In today's craziness, consumers are looking for more than price, quality and convenience. They, of course, want value for their money but they also want values and experiences. ROXY is a brand that can provide them with great values and experiences, so our focus is really to emphasise that – through product attributes (sustainability, style, comfort etc.) and through events with our Make Waves Move Mountains tour.
And I would add that by supporting amazing athletes around the world as well as by creating products and campaigns that strike the balance between style, performance and femininity we continue to defy the status quo and to empower women, which allows us to stay ahead of the curve.
Can you talk about how the resurrection of Quiksilver Women will shape Roxy's offering and segmentation?
The re-launch of Quiksilver Women doesn't impact ROXY's product offering and segmentation. Quiksilver is going after a more urban, edgy and also slightly younger consumer with their new women's line, their focus is really lifestyle. And this is well reflected in their campaigns which are very different to what you can see in a ROXY campaign.
When we last spoke in 2016, you told me about Roxy's change in target demographic from 15-25 to 18-24. How has this benefited the company's sales and marketing efforts since then?
We did a broad consumer survey in the final months of 2016 which helped us to refine our brand positioning. So, since we last spoke, we've refined our target demographic even further based it on the results of this survey. Our target consumer is now a bull's-eye age of 25. We aligned our marketing strategy to this target and it's been pretty successful considering our recent sales performance.
We carefully considered all the outputs of the survey to launch our latest brand campaign, Make Waves Move Mountains. From a product standpoint, gathering user insights, including those of athletes, has really helped us to develop great product innovation like our Hydrosmart "skincare you wear" range or our ROXY Snow Premiere Jacket featuring Warmlink technology, which won a 2019 ISPO award.
Finally, what are the current opportunities and threats facing the action sports industry?
Being exposed to a wider audience is, to me, the main current opportunity for the industry. We are seeing more and more core practitioners (surfers, skiers, snowboarders) globally and the exposure that surf will get from the 2020 Summer Olympics will also be a great opportunity for the industry to reach even more consumers, the non-core practitioners inspired by our brand's lifestyle. And the main threat for me is a shift in consumer purchasing habits, spending less in fashion and more in travel and leisure