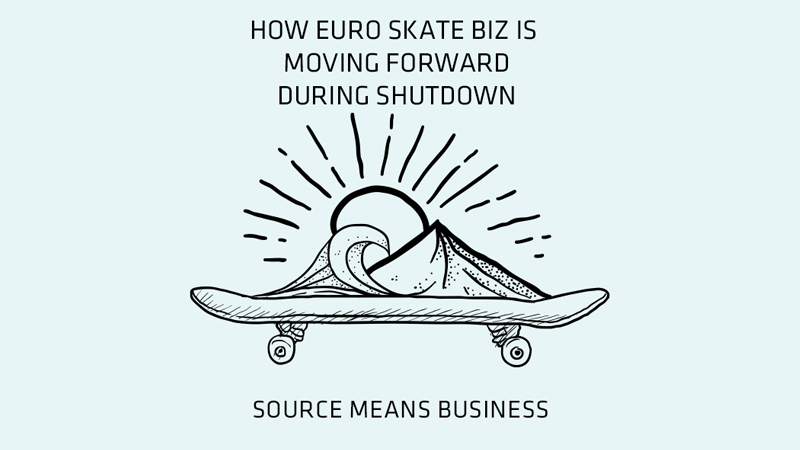 How European Skateboard Business Is Moving Forward During COVID-19 Shutdown
As part of our COVID-19 Boardsport retail coverage, we focus on initiatives by brands and companies large and small to show support and solidarity in this unprecedented situation. By Dirk Vogel, Boardsport SOURCE Skateboard Editor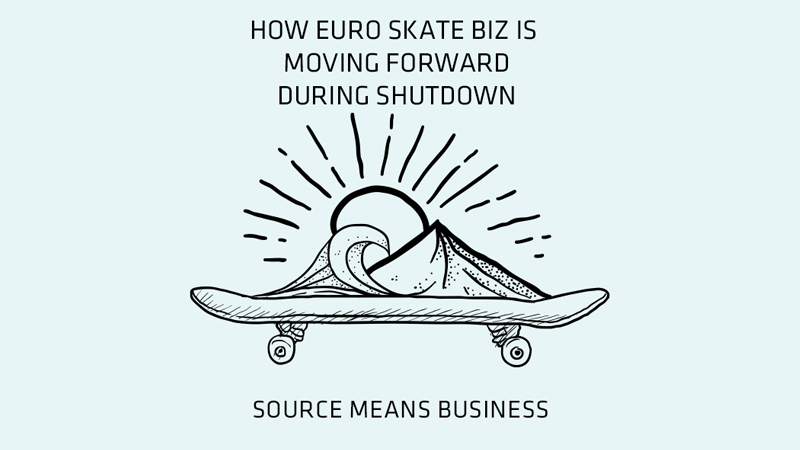 At this point in time, everyone in Europe is under a form of 'stay at home' order. Some places are more severe than others, but the effects on supply chains and retail businesses are starting to become universal. The full impact on the boardsport business remains to be seen, but a clearer picture is emerging as skateboard businesses across Europe are dealing with the situation.
Current research from Germany suggests the following main issues facing digital retailers right now: Delivery delays are the main problem, cited by 59.8 percent of respondents, followed by delays in assortment planning due to travel restrictions and trade fair cancellations (55.1 percent). With major trade fairs for the boardsports business cancelled, it's safe to say that both issues apply directly to the skate retail landscape.
The same goes for announced delivery delays and failures, quoted by 55.1 percent. Because a large share of skate hardgoods, apparel, and footwear deliver either from the United States or directly from China, the impact has been almost instantaneous.
Our own research here at BoardSport SOURCE revealed that shipping any type of freight out of the United States is challenging at the moment due to the large number of cancelled flights. Then again, a large part of goods from China had already been shipped before the crisis and has made its way to Europe. But with border shutdowns and disruptions in trade routes, business insiders are expecting delays up to six weeks at this point.
SIGNS OF HOPE
On the bright side, many European skate retailers and distributors remember the 1980s and 1990s when hustling for product was the norm and any type of import goods arrived in a hungry vacuum. And as one distributor said, if the desired brand of truck is not currently available, perhaps similar models from other brands suddenly start to look a lot more attractive. That applies to any product category, even apparel, which can also help cut down the massive amounts of overstock still weighing down the market.
Another side effect of social curbs is that people spend way more time online to compensate for their lack of direct human interaction. Right now, 30 percent of millennial consumers in the UK report checking social media more often to keep up to date during the coronavirus, while 27 percent of Gen Z and 29 percent of Gen X customers report the same (GlobalWebIndex).
STAYING SOCIAL
For many independent boardshops across Europe, social media is proving to be a lifeline for keeping in contact with their customers. Instagram in particular is emerging as the main platform for letting the skateboard community know that shops are still operational and offering mail order services as usual (with some delays due to the unusual situation, of course). Stores like Vienna's Stil Laden are sweetening the deal by throwing in free shipping across their country.
Many savvy shops are offering click-and-collect options, as far as government regulations permit. Stores such as Titus Berlin and Bonkers in Frankfurt allow shoppers to make appointments via social media to pick up their goods curbside during business hours. This model appears promising for the reality after coronavirus, whatever this reality may look like.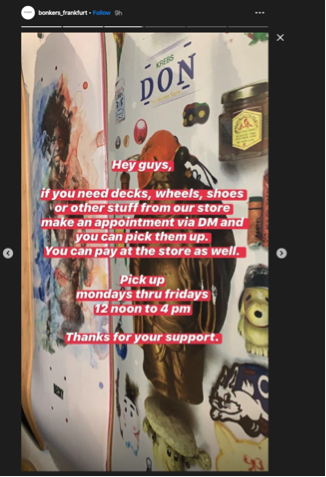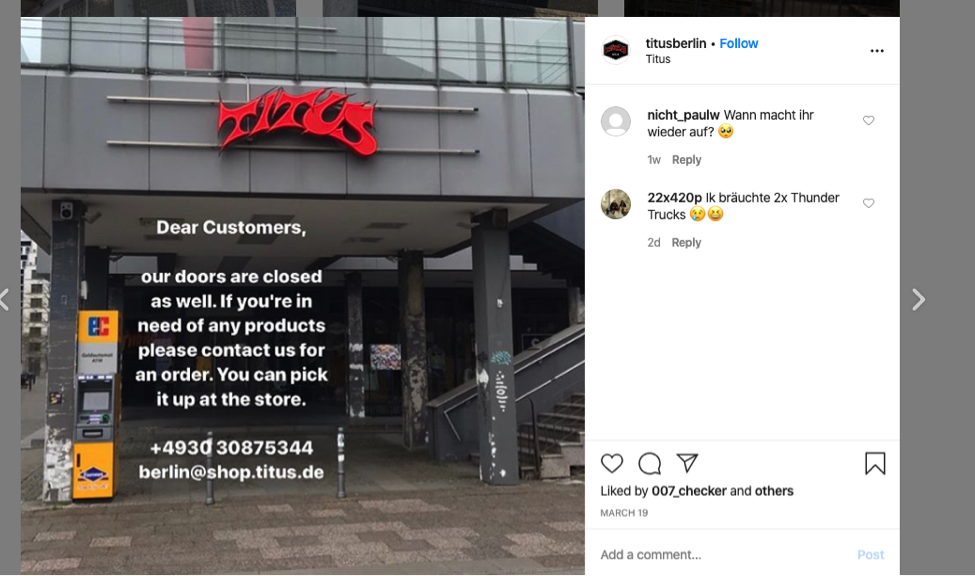 Now that skateboard contests and demos are cancelled, parks closed, skate spots shut down, skate retailers are keeping the stoke alive with online raffles for rare shoes or product. The long list includes London's Slam City Skates who lit up the internet with attractive giveaways of rare kicks as well as killer blog stories by the likes of Ben Powell and Jacob Sawyer. At a time when skate media is facing a dearth of content, this type of authentic skateboard coverage is pure gold.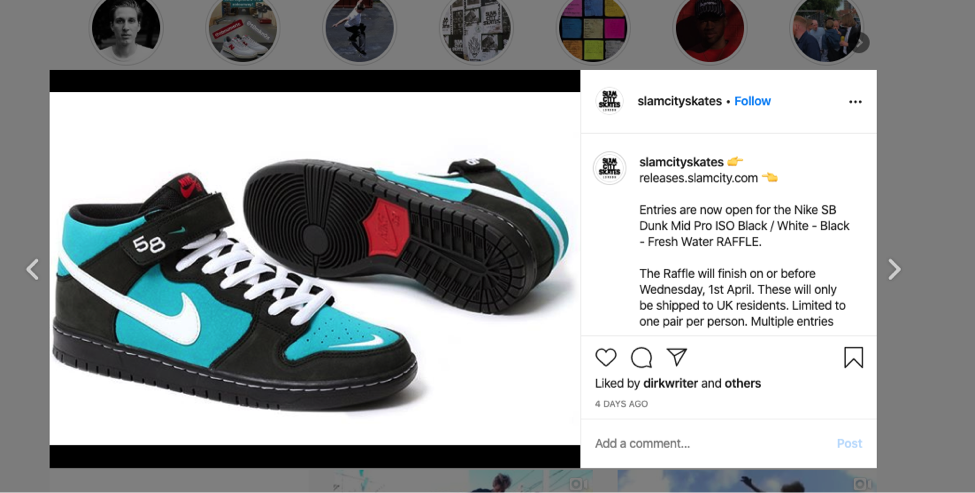 As a notable trend, we are seeing skate retailers show gratitude and appreciation to their customers for keeping them in business during the crisis. Bonkers is throwing in a free shirt for all orders over EUR 100.00 while Curb Skateshop in Belgium is showing love with surprise Mystery Boxes stacked with goodies for a fixed price.
SWISS SOLIDARITY
In Switzerland, where shutdown measures to smash the curve have been strict since the middle of March, retailers have had a particularly tough time remaining operational.
Enter seasoned skateboard distributor SKATE.CH / illUMATE GmbH with an amazing show of solidarity: "We are facing an extremely difficult task and we from SKATE.CH / illUMATE GmbH are seriously worried about the future of skateboarding in Switzerland. According to the directive of the Federal Council, all shops have to be closed at least till April 19, 2020. This means for all Swiss skate shops that their source of income has been taken away," said CEO and former pro skateboarder Markus Soerfi Schweingruber in a statement.
The answer is an unprecedented move in the European skate industry: "Since our online shop, SKATE.CH is so far not affected by this closure and we are still allowed to sell products, we have decided to take a risky step out of solidarity with our fellow competitors and set up a fund for all skate shops in Switzerland."
"The complete contribution margin which we achieve with SKATE.CH while your local skate shop has to remain closed flows into this fund. As soon as the crisis is over and the shops are allowed to open again, we will divide this fund among the Swiss skate shops," Schweingruber announced.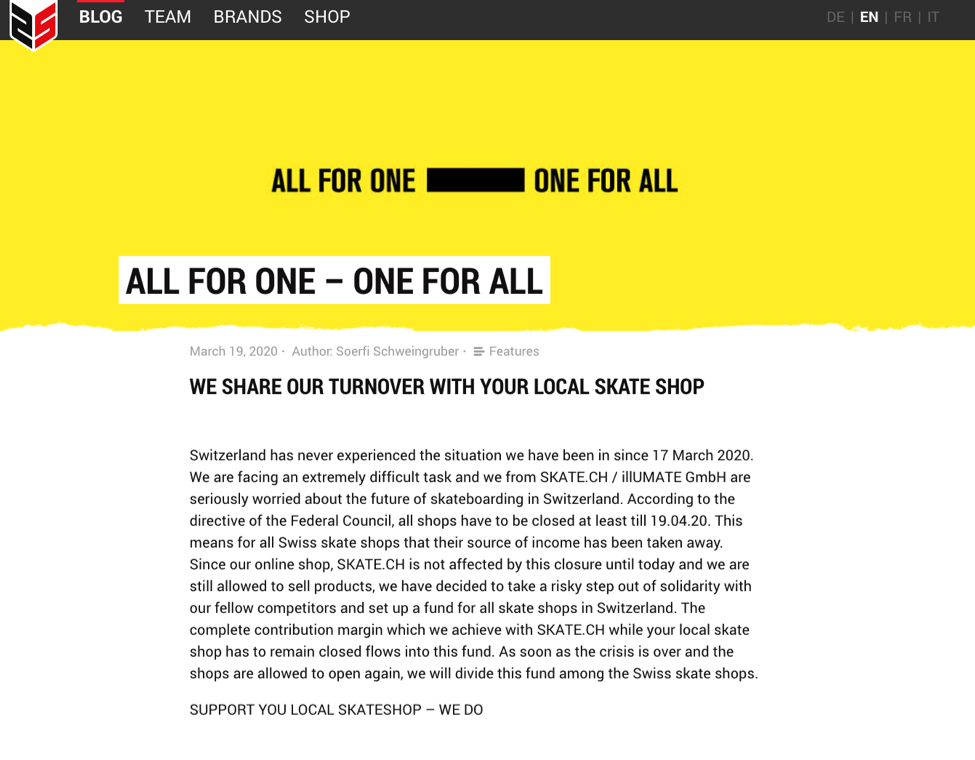 FOOTING THE BILL
In an effort to support core skate retailers in the US, Vans has announced a global initiative to help shops with the proceeds from Vans Customs shoes made for their stores. In a statement announcing the Foot the Bill initiative, 'Mr. Vans' Steve Van Doren said:
"We know how important small businesses are: We were one. You helped us become what we are, and we want to help our community and extended members of our Vans Family during this difficult time. We have partnered with local and community-driven skate shops, restaurants, art galleries and music venues to support them with custom-designed Vans footwear. Net proceeds* from the sale of each pair of these very special Vans Customs will go directly to our small business partners in this time of need. With the purpose of continuing to enable creative expression, please join us as we lend a helping hand to our Vans Family."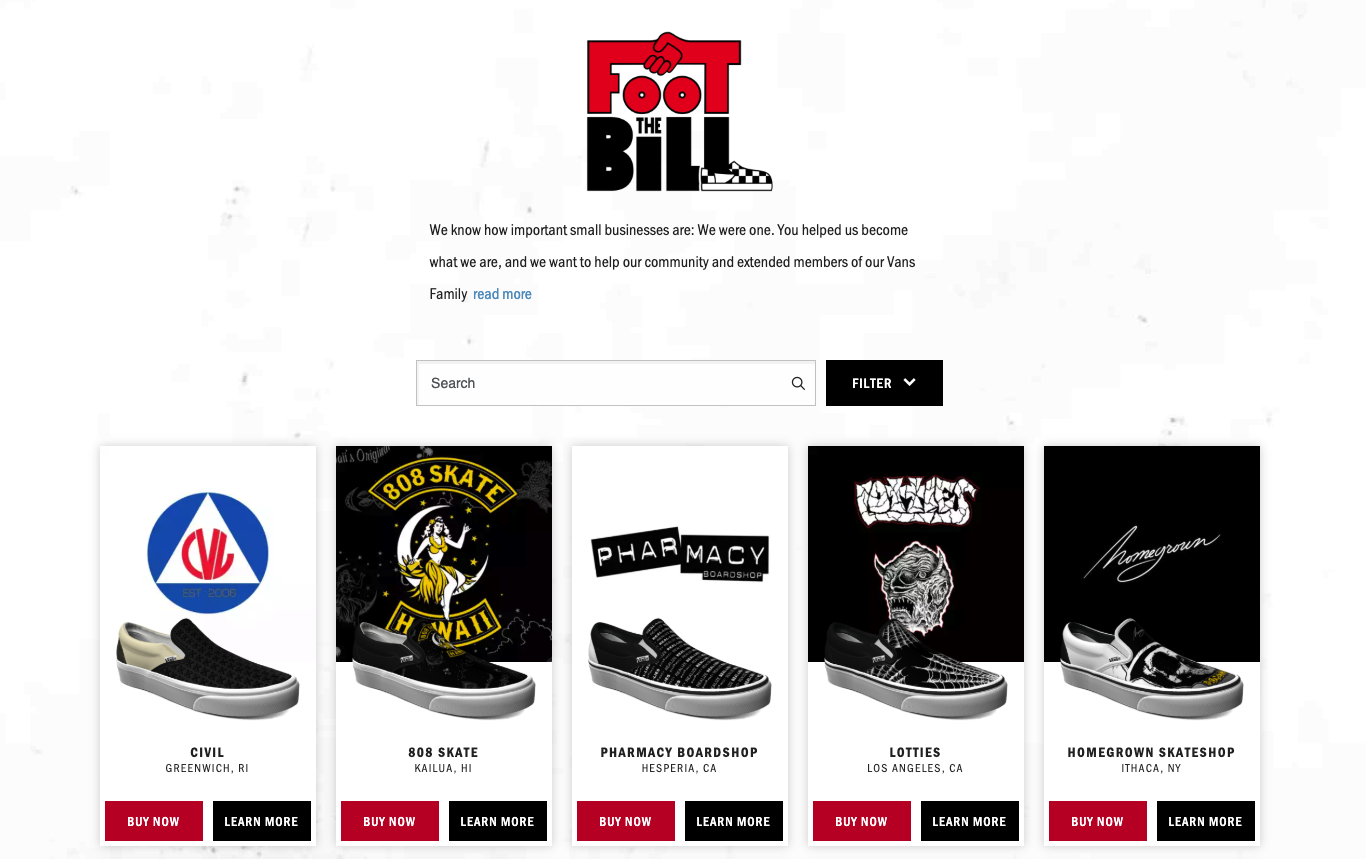 Vans will be producing up to 500 pairs of Custom Vans per partner, based on demand. "We worked closely with our team to identify community driven small businesses like skate shops, music venues, art galleries and restaurants that have been directly impacted by COVID-19," the official Vans statement said.
At the time of this writing, the list of featured shoes created for the initiative includes 22 independent skate businesses across the United States. We'll keep you posted as this show of solidarity expands worldwide and to European retailers as our coverage continues. Let's end by saying that the show of unity and solidarity in the skate community has been uplifting. What we do now in this historic moment will be looked back upon years from now and that's motivation to move forward.
Watch this space as our boardsports retail coverage amid COVID-19 returns to boardsportsource.com