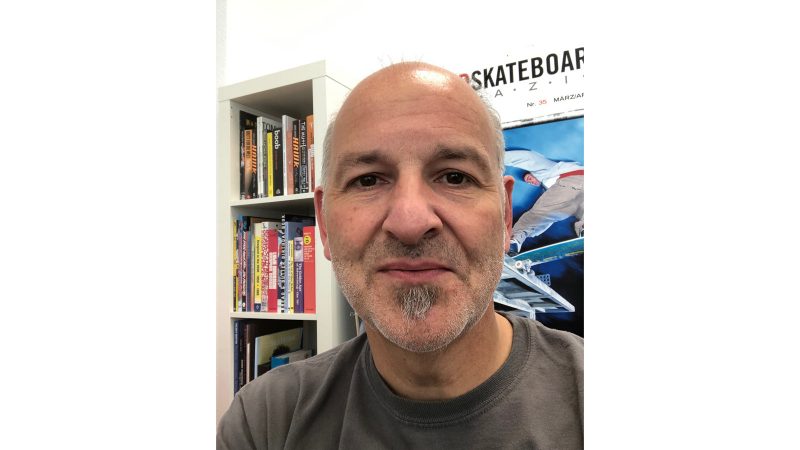 Urban Supplies' Jörg Ludewig On Strength Of German Skate Industry Despite COVID-19
Urban Supplies' Jörg Ludewig paints a positive picture of the skateboarding market in Germany, despite the lockdown and he says it's not all due to the Olympic buzz. SOURCE caught up with Jörg in what turned out to be an upliftingly positive assesment of the lay of the land in skateboarding right now. For anyone that reads our German market intelligence reports regularaly, or any of our skate content by our Skateboarding Editor, Dirk Vogel, will know that Jorg's one of the European skate industry's key figures and is a fountain of skate industry knowledge.

What are your strategies to ensure you're in the best place for recovery?
First off, we were sure that the whole crisis wouldn't affect us as much as other businesses, due to the current strength of the skateboard (hardgoods) market. Thus, we have been trying to buy additional products once they became available. Other countries were hit a lot harder than Germany, so some distributors could not take their spring orders from suppliers. We helped them out, or took advantage of the situation – depending on how positively/negatively you want to look at this – and bought their orders on top of ours. So we have some additional stock ready for recovery, as we assumed that supply would be tight during the late spring/summer season.
Just how has your business' supply and manufacturing been affected by the lockdown?
Supply is a problem, but a pretty diverse problem. Looking at what's made in China, we were lucky, as most spring products had been shipped prior to the lockdown in China, so they arrived somewhat on time. But the lockdown has affected summer production, so all products, excluding China, will probably arriving  +/- six weeks later than planned. You cannot really fly products via China to make up for the delay as, besides the lack of capacity, airfreight is too expensive from there.
Then we have products coming from the USA that are either made in the USA or Mexico. First, the 'only' problem was to find airfreight capacity via California, as most commercial flights had been cancelled. Then, shortly after, the lockdown came on top. There are still products coming, but all companies have very limited capacities at the moment, so shipments take longer to consolidate and, in some cases, are partials only. This will probably stay this way until the end of May, when hopefully some level of production is restarted and airlines start flying between the USA and Europe again.
At this point, June looks to be a real challenge for having enough stock.
Just how have your sales been affected by the lockdown?
Sales in brick and mortar stores declined massively after they had to shut down in March. Luckily, online shops could still continue to operate, and many shops got creative, selling through Instagram/Facebook, shipping to customers or having them pick up goods at the store, so as a result we were not hit too hard. Luckily we are very hardgood-based. It certainly would be different if we had strong clothing volume. Obviously we missed sales and under normal conditions could have reached a nice increase.
How much do you expect business to be hit in Q1, Q2 and Q3?
Thanks to a strong January, February and first half of March, we increased business in Q1. Prebooks for Q2 were significantly up versus last year, but with the current supply problems, some scheduled sales may be pushed towards Q3. Q2 may by at 2019 level, maybe slightly below, but we expect Q3 and Q4 to be somewhat normal again and expect an increase in business for these.
How has your D2C channel performed over the COVID-19 lockdown?
Our B2C business is just a side project and we only offer products that we distribute. We saw an increase in our B2C business, but the overall level is really low compared to those businesses we supply to as distributor.
Which categories have performed well?
Actually all hardgoods are doing good. Completes went up big time, decks went up a lot, so did trucks. Wheels could have been up massively if we had the supply that we needed. Some brands/products have seen a demand bigger than supply, which is actually a good sign for how strong the market is, though it sucks to miss sales.
How have you been working with retailers taking delivery of SS20 orders?
Prior to the lockdown we shipped all the orders that we had available. After the lockdown we made individual arrangements with every store. In some cases, we packed the orders and had them sit in the warehouse until the shop opened again, in some cases we sized down the order and kept it until they reopened, and in other cases we cancelled the order. We tried to help each retailer as much as possible on this.
Can you talk us through the financial ways you're supporting retailers – payment terms, leniency, stock buy-backs, inventory levels etc. And also marketing – social, assets etc.
As stated earlier, we are lucky to work in a market that's still doing well. Most retailers did not face life-threatening challenges as the shutdown was relatively short in Germany, compared to other countries. We offered longer terms if it was needed, we accepted cancellations or downsizing of pre-books and we would have accepted stock buy-backs if they had been necessary, but I believe no one was asking for that. Most shops were happy to have stock. Our suppliers offer a wide selection of social media marketing tools that we pass on and we do individual stuff for stores on special occasions.
Has your marketing department done anything special for your customers over the lockdown?
We kept everyone as informed as possible about what's going on. We sent out explanations on the situation to our suppliers and still send out our pre-book offers for each brand we work with. In cooperation with the US suppliers, social media activities were increased and more were shops included in this.
Any positive thoughts/analogies for skateboarding's way out of lockdown and recovery?
The running gag here had been 'Remember, the Olympics are happening this year'. Besides a generally strong increase in skateboarding, the Olympics thing was on top. Now the running gag is 'Remember, Olympics are next year'. Though, while we feel that the Olympics could give skateboarding another push, we do believe that the current strength of the skateboard market has nothing to do with the Olympics. Skateboarding has always had its cycles and we have been enjoying an increase in demand for a while now. Looking at the future, everyone that is working in our environment will be coming back. Kids will buy more skateboards, period. So I am not worried about the future. There has always been a coming and going, the market is very vivid, active, sometimes unforgiving, and stores always come and go for various reasons. Corona may be one, but you cannot blame all problems that you may have on the last 8 weeks.
What does the 'new normal' look like for your customers and the market?
There may be a further shift towards online shopping, which is sad, as the skate shop should always be a central position in a local skate-community. But except for customers wearing masks while shopping, I don't see the 'new normal' being that much different from the 'old normal'. The number of skateboarders will increase over the year. And with travel restrictions, or certain resentments to travelling abroad for summer vacation, more people will stay at home, save money and kids may even have more cash to buy skateboards. So the 'new normal' may actually look a lot more attractive than the old.