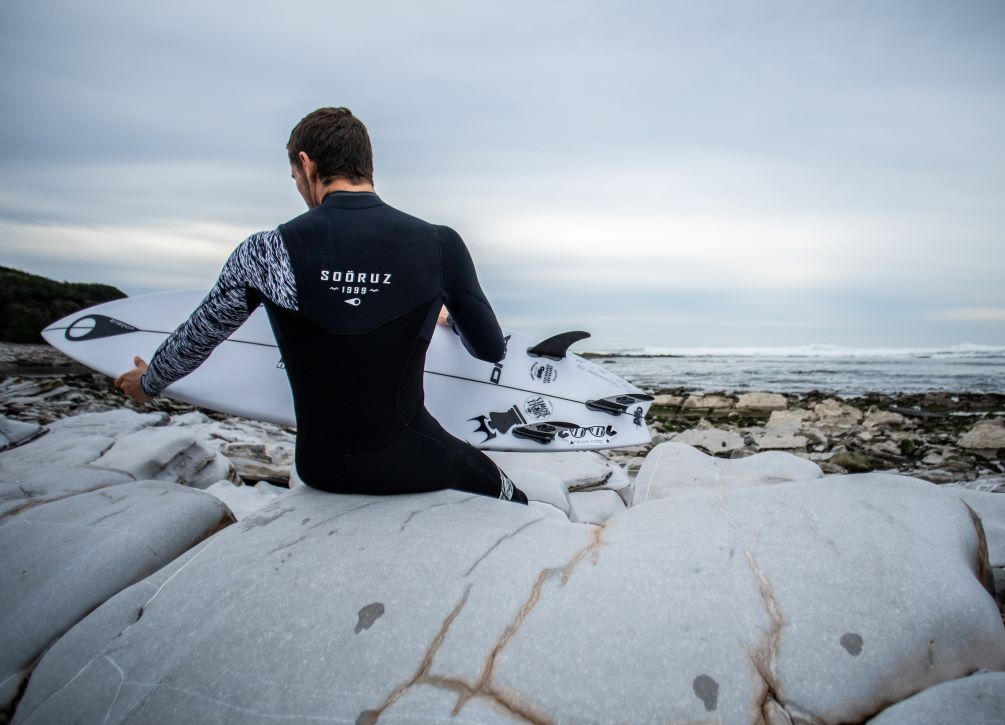 Soöruz Striving Towards A Greener Future For Wetsuits
Soöruz has worked incredibly hard developing new technologies these past few years; not just to create high performance and affordable wetsuits, but to ensure the future of wetsuits is green. Their BIÖPRENE and OYSTERPRENE materials do just that. However, Soöruz continues to strive for better as is evident by their OCEAN PROTECT Label, which holds all Soöruz products to an ever evolving eco and performance criteria.
SOÖRUZ created the OCEAN PROTECT Label. Could you give us more information?
The purpose of our OCEAN PROTECT Label is to reduce our environmental footprint, integrate the performance into the product lifecycle and promote the most eco-friendly products. All this should be easy to understand for the final customer.
The OCEAN PROTECT Label is the result of several years of work to decide which environmental issues should be integrated into the development/conception of our products. It considers the product lifecycle, from raw materials to the end of life (recycling by shredding the wetsuit) and, managing in the meantime the manufacturing process, the logistics and of course product use. The realisation of different processes of Eco-development allowed us to establish an evaluation chart on the environmental impact of our products. This chart is based on the best environmental practices possible compared to the environmental footprint of the product.
This chart helps us to improve our products year after year to increase the "eco-performance". Since the beginning, the OCEAN PROTECT Label has been evolving with new eco and performing criteria being added at all levels of this chart. This process requires Soöruz to re-think its products for every collection and push the innovation to further reduce the environmental impact and increase the benefits of its products.
Today, not all products from Soöruz match with the chart expectations. In this case, they are yet to have the OCEAN PROTECT Label. We have given this label to some specific ranges, such as the GURU range, because we placed a lot of effort into the development to reduce the carbon footprint.
What are the benefits of oyster shells and how did you come up with the idea?
The Limestone Neoprene is composed of sediment resources that have an impact on our planet. Soöruz headquarters is located in La Rochelle: A region full of oysters. We asked ourselves for a long time, 'how to positively improve the impact of our wetsuits?'. It is simply by eating oysters that we rediscovered that oyster shells are organic waste, which has similar features to the limestone that could be used in the neoprene of our wetsuits. We are doing some experimentations with our manufacturers to find a way to use a raw material that needs intensive energy to be extracted and that needs to be treated with a material that has similar features coming from renewable wastes.
Soöruz is a forerunner in this kind of development. 10 years of experimentation and development to make our wetsuits fairer from an environmental point of view. This is one of the main aims of our R&D team that were strongly involved in the sourcing of new Recycled Nylon and Polyester, aqua based glue, aqua based print, etc… and the recycling process of damaged wetsuits to offer them a second life.
In 2021, we will be able to recycle more than 20,000 wetsuits. No one has treated such a big volume of wetsuits so far. This hard work on the wetsuit life cycle is a great indicator of our development, sustainability and engagement.
Could you please tell us more about BIÖPRENE and OYSTERPRENE rubbers?
It was two years of R&D before we eventually released the first wetsuits. We collaborated with some experts and labs who are in this field of research, then we reached out to our suppliers in Asia to make sure they were involved in the development. We provided them with some limestone powder made from oysters. We are proud to announce we came up with 2 results:
BIÖPRENE is a compound combining (oyster) limestone, hevea and waste from non-comestible sugar canes and seeds, which is a USDA certified biobased product. The resulting foam is undoubtedly the most sustainable product on the market today, thanks to recycled nylon, water-based screen printing and plastic-free packaging. Our goal was to make a wetsuit which is affordable and has very little impact on the environment. This technology is used in our GREEN LINE range, where the 5/4/3 mm model sits under the €300 mark. This category is the core of the market. Our wetsuits are available in surf shops now.
OYSTERPRENE was developed alongside BIÖPRENE with the idea in mind we could make the stretchiest wetsuits on the market more sustainable. We included the limestone made from oyster shells in the compound of our G6 Limestone rubber, which was already our top performance material. This foam is a blend of limestone, recycled tires… 50% of our ranges will get the Label in 2020. Our premium GURU range models will be proposed in OYSTERPRENE and recycled nylon, starting from August. The range is currently undergoing the biobased certification. We aim to trickle down this technology to our FIGHTER and DIVINNE ranges, in order to make 100% of our wetsuits eco-designed by 2021. We made this technology available to O'Neill Wetsuits and they will implement it this coming winter. We do hope all the major brands on the market will follow suit.
Before, Yulex and limestone were considered the most sustainable materials on the market. With the arrival of BIÖPRENE a new milestone is passed. Compared to the 2 materials aforementioned, is the production cost of BIÖPRENE higher? (and the subsequent MSRP?)
We offered the very first Yulex wetsuits on the market. In 2014/2015, we collaborated with US-based companies- Yulex Corporation and Patagonia. First, with the guayule formula, and then using hevea sap. Our BIG (standing for Black Is Green) range was in stores from 2015 to 2019. Although we didn't work on the limestone rubber development, we did use it as soon as it was made available. We rely on having an extensive knowledge of those materials.
We think Yulex is too expensive for mass acceptance and it also doesn't meet our performance standards regarding weight and flex. The limestone rubber offers incredible performance, on the downside it is far too harmful on the environment but is marginally better than oil-based neoprene.
BIÖPRENE and OYSTERPRENE prove to be great options towards greener wetsuits, while being performance oriented and affordable. We will keep up the effort.
Do you believe BIÖPRENE and OYSTERPRENE could become the go-to material in the sustainable wetsuit manufacturing?
Whatever the outcome, this is the path we took. Since we have a head start in this area, we share our results with the other major brands. Our planet cannot wait any longer. In the future, I sincerely hope we can pool resources among the fellow wetsuit companies as far as R&D is concerned, thus making our sport less harmful.