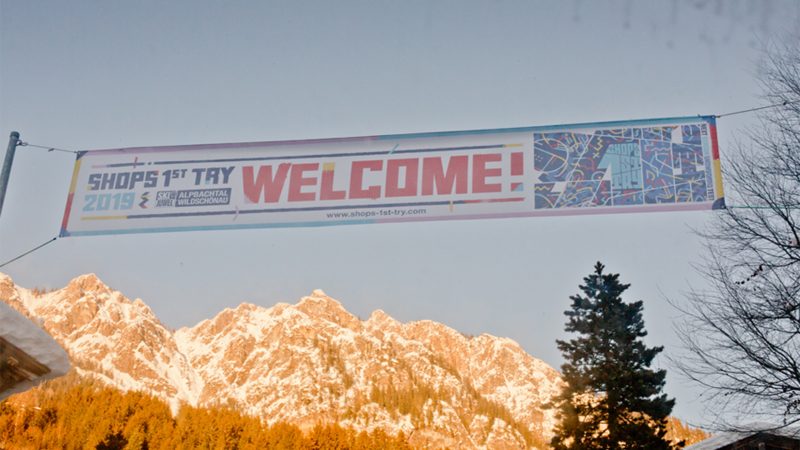 Altered Program For SHOPS 1st TRY 2021
In order to ensure that SHOPS 1st TRY 2021 takes place, organisers have altered the program to account for current and potential COVID restrictions in Austria. For example, for 2021, no indoor activities will run. Registration for shops is open now.
Press Release:
Change of program but SHOPS 1st TRY will take place!
"We want to see our retailers, give them the opportunity to test the new products and we want to go riding with them." This was the industry's consensus, that "SHOPS 1st TRY must take place!"
To make this possible, the organizers have modified the program and removed all activities that could lead to a cancellation of the event in case of a tightening of the Corona measures in Austria. "We will concentrate on the roots of SHOPS 1st TRY: the On Snow Test," says organizer Muck Müller (munchie Konsilium). "This means that all indoor activities – such as the Highlight Exhibition and the joint dinner – will not take place."
To make the decision easy for retailers, registration has been made as flexible as possible: Shops can register as usual on the SHOPS 1st TRY website from the beginning of November on and (in case of unforeseen travel restrictions) they can cancel right up to the last minute, without paying any cancellation fees!
This way the industry knows which shops to expect, which makes planning easier. The retailers have to book accommodation on their own: either in advance, or at short notice, with half board or without dinner! Links for easy booking or booking with assistance can be found on the SHOPS 1st TRY homepage.
Despite the slimmed down program there are more than enough reasons for retailers to plan their trip to Alpbachtal: The test area will be filled with around 60 brands offering snowboards, bindings, boots, goggles, protection and accessories for testing! A list of the brands can be found here!
Confirmed brand include:
Academy, adidas, Amplifi, Anon, Aphex, Arbor, Bataleon, Bent Metal, Boa Technology, Borealis, Brethren, Burton, Canary Cartel, Capita, Clew, Deeluxe, Dragon, Eivy, Fix, Flow, Flux, Funky, Glide Nano, Gnu, Goodboards, Head, Jones, K2, Karakoram, Korua, L1 Premium Goods, Libtech, Never Summer, Nidecker, Nitro, Now, Oakley, Out of, Rad Air, Red Bull Spect, Ride, Rome, Roxy, Salomon, Slash, Stranda, Terror Snowboards, The Bakery, the missing link, thirtytwo, TSG, Union, Vans, Vimana, Xion PG, YES.
The SHOPS 1st TRY 2021 will take place in Alpbachtal from January 24 – 26, 2021. Further information and updates at www.shops-1st-try.com