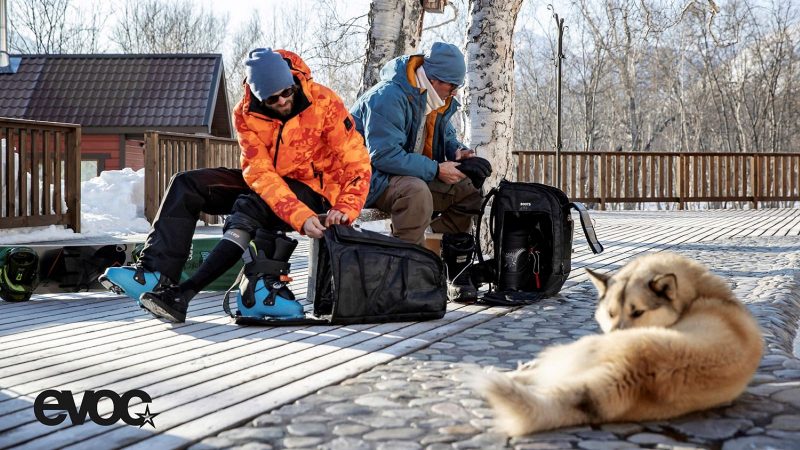 EVOC Continue To Push The Boundaries Of Action Sports Luggage
Backpack brand EVOC have spent over 20 years developing high quality products that prioritise safety and the needs of the wearer. This is demonstrated in EVOC's new travel gear product line: Backpacks that enable sports and travel enthusiasts to be able to transport their gear with ease, while keeping everything organised, dry and safe.
Please could we have a brief history of EVOC, including the brand and the people behind it?
Travelling for sports is a defining part of EVOC DNA: We travelled to more than 50 destinations in 20 years to search for new bike trails and powder lines. The people behind EVOC are sports and travel enthusiasts themselves, whose focus never was to create a brand, but to create better gear than the stuff on the market.
What was the thinking behind launching the gear range?
We have extensive experience and know-how when it comes to transport solutions for bikes and boards. However, we realised that people still need smart solutions for the rest of their gear, to keep equipment like helmets, boots, goggles etc… safely stored and organised. That's why we created the travel gear range, influenced by our packs and bags competence.
Please take us through the new travel gear line
Our new GEAR BAGS and BACKPACKS are smart on-the-road organisation systems for items like protectors, gloves and goggles with intelligent compartment management and quick access capabilities. The packs and bags feature durable designs with reinforced bases, versatile carrying options, clever partitioning with a wide range of uses and made from water and dirt repellent materials.
If the products have to withstand rougher conditions or if someone just wants the full urban expedition experience, we have completely redesigned our versatile DUFFLE BAGS by adding in the brand new and ultra-durable DUFFLE BACKPACKS. They are made of 100% PVC-free tarpaulin, are light, durable, and waterproof. Additionally, they feature a spacious main compartment and intelligently organised, extra compartments for smaller items. These are products that are versatile and perfect for expeditions, travel, and everyday purposes.
Why should retailers stock the line?
People need items for "stress free" travel, and these are very versatile and can be used in both summer and winter. Their amazing quality and finish is an eye-catcher, and they will look great on display. The duffles can be collapsed and stored in an integrated bag – which saves space in shops and after purchase when not in use.
How will you be marketing the line to consumers?
Our athletes will prove how practical the items are. Additionally, we will show them in use throughout our latest trips on our own channels. Product videos and tutorials will be available as well as display graphics for B&M shops.