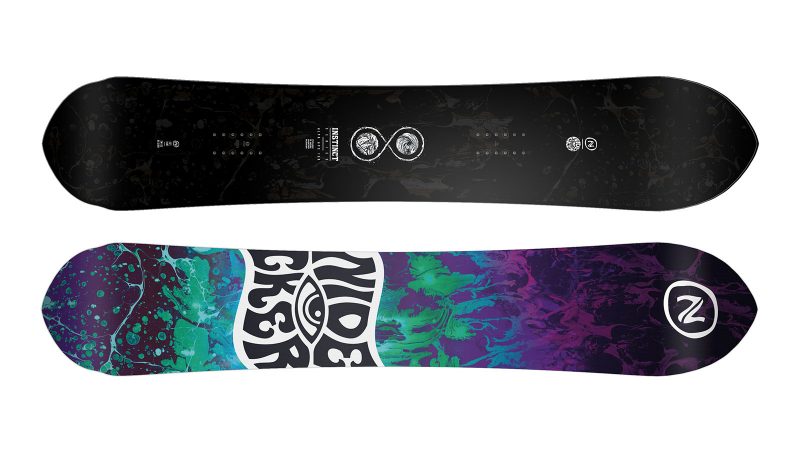 Nidecker Instinct Series Incorporates Biomimicry Technologies Into Board Designs
Introducing the Instinct Series: Nidecker's latest snowboard offering. Consisting of four boards, a boot and two bindings, the Instinct Series uses technologies developed using biomimicry; a developmental process which links snowboarding with the nature that surrounds it by incorporating structures and elements found in nature into board designs and shapes.
SOURCE discovers more about the series' Alpha and Beta snowboards, their premium APX versions and how Nidecker is helping retailers this / next winter.
Please talk us through the new Instinct Series.
The Instinct Series is one of our most exciting projects to date. We'd talked a lot with Mathieu Crepel and Shin Biyajima, two of our team riders with very turning-centric riding styles, and they had specific requests for a new generation of board shapes: more float without sacrificing edge control, smoother edge-to-edge transitions and increased edge hold.
We have used biomimicry – the science of adapting architecture and evolution from the natural world into man-made constructs – to find technical solutions for the above. For example, the distinctive 'drop out' tail shapes on the boards come directly from the outlines of birds of prey. Bird's tails work hand-in-hand with their wings to increase lift and decrease drag, so when applied to the noses of the Instinct Series boards, the same shapes create more float in the snow without simply just increasing its footprint, which can draw control away from the edges and make it more unwieldy.
Not many animals slide on snow like we do, but penguins prefer to travel on land by gliding on their bellies rather than walking. It's actually pretty graceful when you see it! We modelled a new nose shape with a 3D double-rounded base on penguin morphology. This creates a really nice edge-to-edge 'roll' when turning, giving the boards the closest feeling to surfing we've felt yet.
What are the specific technological developments?
The premium snowboards – the APX versions of the Alpha and Beta – come with a unique semi-capped construction that we've taken from our Snow.Surf quiver and evolved into our Nidactive APX Construction. The topsheet material rounds down over the sidewall directly to the edges, so that there is minimal energy lost between your movements and the board's performance. The precision required to assemble the different material layers is measured in mere tenths of millimetres so, as you can imagine, it was a headache to develop! The results speak for themselves though.
We're also very proud to be using NDK Swiss Cores across the series. The wood is grown sustainably and then handcrafted, all in Switzerland. Our FSC and PEFC certifications mean we've reached the highest possible standards in terms of sustainable forest management and manufacturing along our entire supply chain, and of course it speaks both to the brand's heritage and our commitment to a sustainable future.
Is this a one-off capsule?
We prefer to think of it as a series rather than a capsule, and this is just the start. For us, this is a new way of thinking and a new way of approaching snowboard design, so not only will you see more from the Instinct Series over the coming years (in some unexpected ways as well!), but we are also hoping to bring some of the technologies down into our Main Line and beyond.
Please explain how your R&D process works at Nidecker.
We are riders! Seriously, we all love talking, thinking, and dreaming of snowboarding, so of course that extends to the gear.
From a practical point of view, our Rolle office used to be our factory, so it's filled with production samples and prototypes. It's easy to pick stuff up, ask questions, give feedback and most importantly ride it!
We have a core group of designers and engineers which headed up by TK. The core group is where first concepts are bounced around, but when the designs become a reality, we make sure to get opinions from everyone we can, whether they're our team riders or sales guys, interns or CEOs. Being right in the heart of the Swiss Alps helps, and so does our 30cm powder day rule.
How will you be marketing the series to the consumer?
The Instinct Series is more than just the boards: we have a boot and two bindings in the collection as well, including one from Flow which is a great way to further bring the two brands together. The boot – the Helios APX – also features a collab with Remind Insoles which brings another dimension to the table. Purely in terms of product stories it's a great series to be talking about.
The series is also our global team's focus for this winter; and they're frothing on how it rides, how it looks etc… Of course, with this winter being how it is, there are challenges with photo shooting, but it actually all ties into the stories we want to tell; about being inspired and humbled by nature. There's going to be some great media coming out next season, keep your eyes peeled!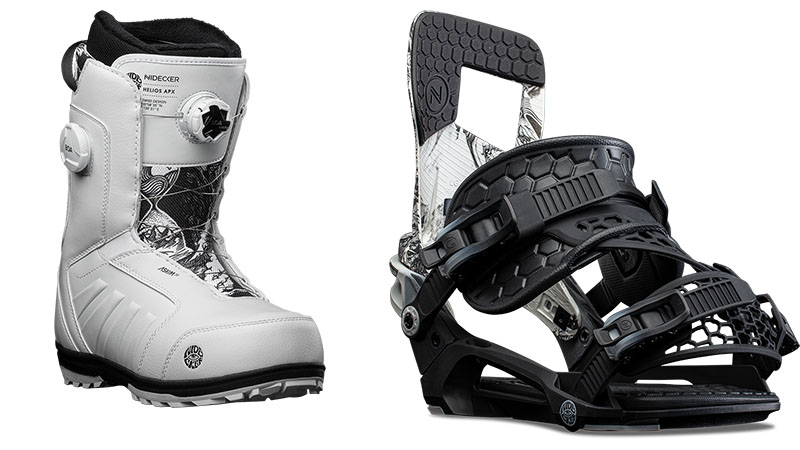 And how will you be helping retailers with their sales next winter?
As we couldn't have our annual sales meeting with our distributors this year, we worked hard to create an online platform to showcase our upcoming collection with webpages and videos for every upcoming product. This is already available for our retailers to use as both training and sales tools, plus our catalogue uses QR codes which link to the platform which can also be integrated into retail displays. We are also looking at ways to provide sales incentives directly from us to shop staff.
From a more overall perspective, we are pursuing projects like the Instinct Series to bring novelties and excitement to the market. We are aware of the difficulties that retailers and distributors are currently facing, so our goal is to create the hype that will drive sales across both the brand and market. The goal is to get more people snowboarding, and this is no different to any other year.
For more info go to Nidecker-flow.online and enter the password: yourmountainiscalling