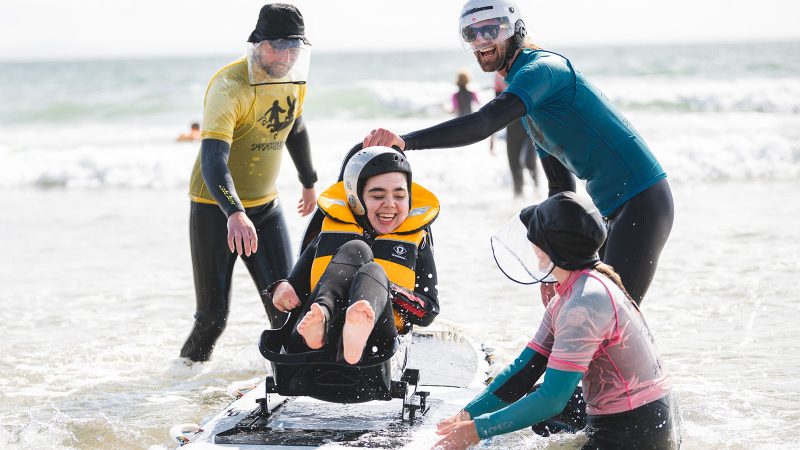 Surfability On Promoting Inclusion Through Adaptive Surfing
Every sport has entry barriers. Whether it be in the form of physical barriers or perceived barriers, any barriers can create an element of exclusion, ranging from impacting a single person or an entire group of people. With regards to surfing, entry barriers commonly revolve around accessibility and stereotypes surrounding what a typical surfer should look like; there are of course many other potential barriers to participation. One group who face a significant number of these barriers are those with disabilities, illnesses, injuries or learning difficulties. Working to abolish some of these barriers and promote inclusion and adapted surfing is Surfability UK.
Operating out of Caswell Bay in Wales, Surfability is a community interest company that works to make surfing as inclusive as possible for young people with additional needs, for both its therapeutical and enjoyment values and its potential for skill development. The Surfability guys have worked with the worldwide adapted surfing community, shapers, coaches, and education providers to develop specialist & technical equipment, surfboards, wetsuits, instructor courses, and best practise for teaching a wide range of disabilities. SOURCE got in touch with Benjamin Clifford, one of Surfability's co-founders and co-writer of the ISA's International Adaptive Surf Instructor qualification, to discover more about how they've made and continue to make surfing in the UK more open to a whole new audience.
Millions of people discovered Surfability for the first time from 2020's DIY SOS Big Build and Children in Need, so let's start with an introduction to Surfability: How did it start, who's on the team and what do you do?
Surfability was founded in 2013 by its Directors: Benjamin Clifford, Benedict Room and Nathan John. Toby Williams, one of our coaches, has also been with us since the start. We provide adapted surfing lessons and experiences for people who have additional needs due to disability, illness, injury or learning difficulties. We also include the siblings, friends, and family of our surfers so that everyone can surf together.
When getting started, how did you begin to learn about the needs of each disability and the adaptions that would need to be made to accommodate these?
Benjamin has Dyspraxia, Nathan has Dyslexia and Toby has Ankylosing Spondylitis, so we have experience of living with additional needs ourselves, which I think really helps us emphasise with our students. We understand the social model of disability where people can be disabled by the environment and people's attitudes. As a result of this, we then decided our first step to being inclusive was to remove as many potential barriers to participation as possible from the beach environment and from our minds.
Benjamin ran a weekly surf club for autistic children for a few years and learnt about autism from autistic people directly. He then worked in special education so learnt best practices for working with people with many kinds of additional needs. We took the some of the methods used by education staff to collect information about the needs of their students and applied these to surfing.
From this starting point, we were able to research any medical terms or diagnoses we hadn't heard of before and see how they affected people as individuals. We then looked at how they could best participate, whether that be specialist equipment or teaching methods.
Can you tell us about what programs and sessions you offer?
We run weekly surfing, skateboarding board skills, and indoor surfing sessions for local children. We also run a weekly respite group for parents and carers and weekly surf therapy/rehabilitation sessions for people who have acquired brain injuries.
People from further afield can come for one off sessions or blocks of sessions.
How do you put parent's minds at ease / reduce their worry, especially when it's their child's first time in the sea?
We have lots of experience which makes us really confident in what we do. We also make sure we have tried, tested and risk assessed techniques and equipment. Because we are hot on safety, we can push limits and have fun! Parents are always welcome to put a wetsuit on and join in and many love being able to share the experience of participating with their children.
Can you tell us about your adapted surfboards and equipment?
In an ideal world with unlimited storage and resources we would have a custom board for almost every student. In reality, we have an ever-growing collection of adapted boards but try to make each one fit multiple people. We also use standard foam boards then adapt our teaching techniques to match the board. We have custom built tandem and seated tandem surfboards for people who would find it difficult to surf alone. In the pipeline are some kneeboards and prone boards with different levels of chest and chin support and boards for visually impaired people.
Putting on a wetsuit can be a challenge for many people so ours are custom fitted with extra zips. We also do a version of the 'carrier bag trick' but using gloves made from slide sheet material. We were finding our less-mobile surfers were really feeling the cold so we use heated vests so they can stay in for longer.
For people who need help with mobility we have beach-access wheelchairs and walking frames.
What was the development process for these?
We are on our third model of seated tandem surfboard; the first of its kind in Europe with the original design given to us by the Best Day Foundation in California. Caswell isn't quite Malibu, so we adapted their design for close outs and white-water rides. We have then worked with our students, coaches and local shaper JP Surfboards to really refine the design; making it easier to surf and more stable and comfortable for the participant. When we have an idea for equipment, we speak to JP about how it could work, calculate the cost, then find the funding to get it made. We then test it amongst our team and develop, NOP's, EAP's, RA's, etc… before trying with our participants.
Are you supported by any brands?
We have trade accounts with surf brands but no big sponsorship. We recently received some sponsorship from local company Hydro Industries which has been a huge help. It would be great to get some more sponsors on board!
Currently a lot of our funding comes from Children In Need. They have been such a huge help to us.
Of course, the biggest question of 2020: How has COVID, lockdown, and now lockdown 2.0, impacted Surfability? Also, during the brief time over summer when restrictions were relaxed, you got a shiny new facility, can you tell us how this will help Surfability in years to come?
2020 has been such a rollercoaster of a year! We started the year on a high: Benjamin won the Pride of Britain Community Partner Award, we had loads of support and publicity and things were looking great. In January, Benjamin flew to California to co-write the International Adaptive Surf Instructor qualification for the ISA. Then in March, Benjamin and Toby went to California again as manager and coach of the Welsh Para Surfing Team for the World Championships. During the contest things were getting worse and worse with COVID until it was eventually cut short. We ended up on the last flight leaving San Diego and flew back into lockdown! For a while, we weren't sure if we would be able to operate again which was horrible! Worldwide, the adapted surfing community pulled together and we shared ideas about how we could start operating again. We were able to run sessions again from July and then we got the call from DIY SOS saying we could be their Big Build!
It's been a really emotional and taxing time for us all.
Following on from that, what are your plans for the near and distant future? Any plans to expand and open a centre elsewhere in the UK?
We have lots of plans going forward but the main thing is to keep on getting more people in the sea! To keep up with demand, we need to be able to fund more staff. Also, now that we have warm changing areas and dry wetsuits to give out, we can have a longer outdoor operating season. We have been asked a few times about expanding to other areas of the UK and will do this once we have people with enough training and experience.
We will keep developing adaptive surfing at a grass roots level and we'll also help with creating pathways into competitive surfing. We will be part of the management and coaching team when Para surfing gets to the Paralympics. Long-term, we want adaptive surfing to become really normalised and for surfing as a whole in the UK to become much more inclusive.
Lastly, I have to ask… What's it like really like getting the DIY SOS treatment? Do you get any input in the design process?
The DIY SOS team are such lovely people. They really care about what they do and put so much effort into their work. We talked through our problems with them and our operating procedures as well as what our ideal situation would be. They take all that information and make sure they fully understand what is needed. From there on it's a huge surprise! We have just been so blown away by the community support we have received. To sit in our building, the Canthed Centre, and know that it was made by volunteers out of materials that were all donated is truly humbling and a constant reminder of the goodness of people and what communities can achieve when we work together. A Canthed in Welsh was a group of roughly 100 warriors like a Roman Century. Canthed also means someone who challenges themselves. Everyone who contributed has joined our Canthed and given so many other people a chance to push their limits and challenge perceptions of disability.