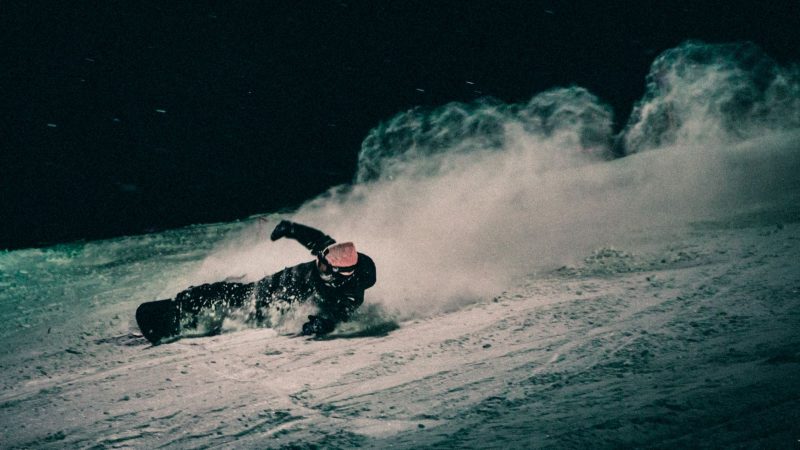 Island Snowboards Ventures Into The Market With Limited Run Of Volume One
Last issue we featured John Bassett on our cover, having started Dragon Lodge Snowboarding with his brother, Owain 20-something years ago in Tignes, France. Now we present Island Snowboards, the Bassett brothers' latest venture, based out of Hokkaido, Japan where Owain has lived for he best part of two decades. Owain's brainchild, Island is all about small-batch, quality snowboards made in his converted farm shed in the powder capital of the world, where he lives with his local wife and two kids (who shred!). With sustainable growth and entry to the European market in mind, we caught up with Owain. Read the extended version of the interview in the mag below.
Please tell us about the idea and concept behind Island Snowboards.
I've always been interested in making stuff, understanding how things work, working with friends and family on projects and business ideas… from making skateboard ramps when I was a kid; starting the Dragon Lodge in the Alps with my brother; building our own house here in Niseko with my wife… so understanding how boards were made and if and how I could make my own was always something I'd thought about. Initially the idea was to do just that, lots of research on board construction, materials, shapes and profiles etc… The initial project was definitely more to do with the craft of making a great board. As I progressed with this, over a couple of years of making and testing boards, the concept of Island as a company or brand developed organically and grew to where it is now with the help of my business partner Stu, my wife Monzen, and my brother.
Owain, tell us how your snowboarding adventure started off for a Welsh lad in the Espace Killy and now finds you in Japan?
I'd been to the French Alps on a trip with the family in the mid 80's. Both me and my brother John are keen skaters, so when we saw snowboards in the corner of the rental shop on the first day, we decided to grab one of those instead of a pair of skis – a Rossignol with plate bindings which we shared and rode in our ski boots!
Fast forward to '93, and after finishing school, I headed to the Alps for the winter to give this snowboarding thing another go. John and a few other friends came out and we just got really into it, working summers at home and riding winters in the Alps. After four years of this, as a way of funding our riding without having to work all summer on building sites, we started Dragon Lodge out in Tignes, which John is still running now with Will Hughes.
I was living out in France full time once we set the lodge up. After 10 years, I needed a change of scene. I remembered seeing Craig Kelly in Scream of Consciousness riding some great looking snow in Japan and thought I'd head there for the winter. Everyone knows about the snow here in Hokkaido now, but back then, it wasn't really that well known so there wasn't really anyone here. I stayed around for winter, the next winter and then another, it was just too good. I met my wife out here, decided to buy some land, build a house and stay. That was almost 20 years ago, we've got two boys who are shredding and looking forward to the next chapter with Island Snowboards.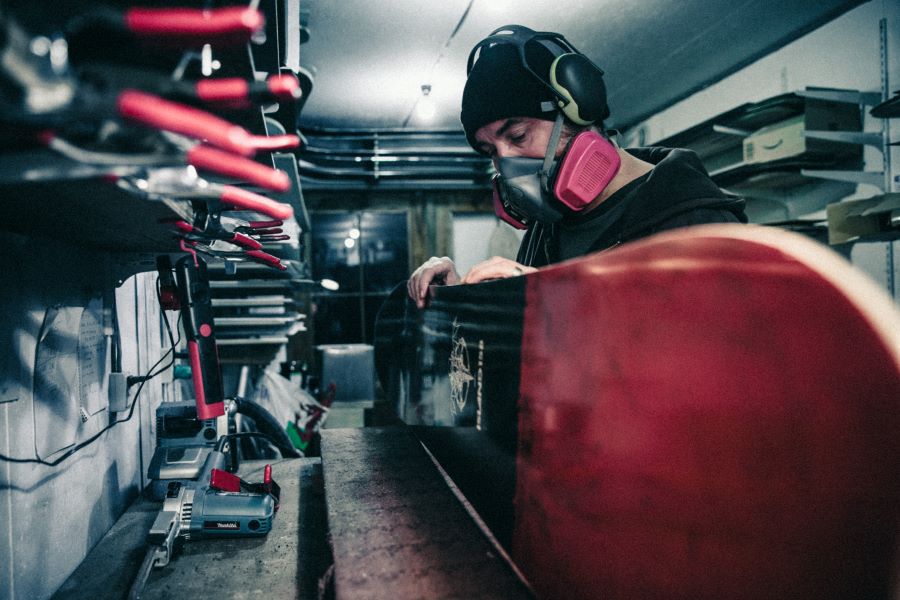 Back to the boards, could you tell us about the production process, board run numbers…
We hand pick all of our wood for the cores from a local merchant here in Hokkaido. We then mill, laminate, shape, and profile all the cores ourselves in house. Sidewalls are attached after the profiling so we can keep plastics and wood offcuts as separate as possible. We've bought an old Hokkaido farm shed, which has all the characteristics that come with age, and converted it into our factory and future office/showroom. All of our boards are made here by us. For this first official season of production, we've planned a limited production number of the Volume One shape, working to pre-orders received from last season's demo & test sessions. The boards are to be sold directly and online and we're currently working with two local core snowboard shops. We've always planned to grow sustainably and organically… a model that I think luckily works well given the current world situation.
What are you doing with moulds and presses?
We built our own pneumatic press with full adjustability. This lets us tweak the camber profile for each board model and length. So we have this "mould" dialled for the production of the four sizes of our first shape, the Volume One, which is available now… while being infinitely adjustable for prototyping the future shapes we'll be designing and testing this season.
Talk us through your material usage.
We want to use the best quality materials: materials that work exceptionally well and have the perfect properties and characteristics for board performance – while also being locally sourced. The cores are made from wood from two locations on the island. The Honoki (a type of Magnolia) is from central Hokkaido and the Tamo (Japanese Ash) is from the south. We'd tested and researched the properties of various types of wood for the core and found that these two, laminated in combination, are a perfect balance of strength and flex for what we wanted out of a board. We use TriAx glass above and below the core, Kevlar reinforcement around the inserts for retention and carbon stringers are used to keep the board light and enhance flex, strength, and snap. Edges are made with hardened Japanese steel and we use the best IsoSport 7000 grade bases.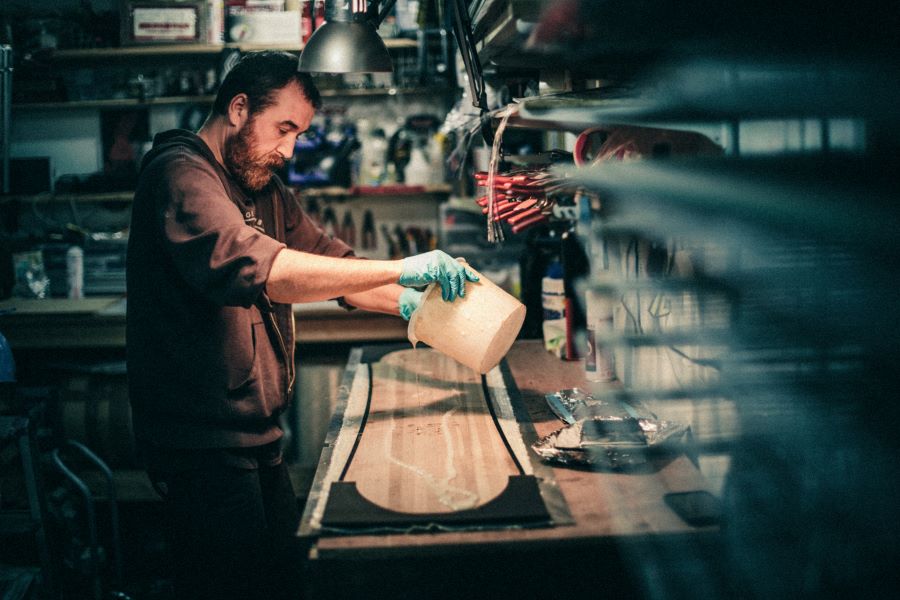 Are your shapes mainly focused on Japanese terrain?
We came out with the Volume One shape first which is designed as a directional all-mountain board that can be ridden anywhere, a board that is just as at home in the Alps as it would be in Hokkaido. Although obviously we wanted it to excel in the super light powder that we mostly like to ride here, it's also great at carving on perfect groomers, blasting side hits etc… The feedback we got from the crew in the Alps was that it rode equally well on the piste, backcountry and the spring slush there as it does here. This winter we're working on a model with a couple of our local Japanese riders, more specifically for Hokkaido terrain and deep powder snow.
Talk to us about the graphic design process… what takes the lead/inspires there?
I wanted something simple both in a topsheet and the base. We keep the base clean apart from the logo, which is die cut into the nose so as to maximise performance.
Inspired by art and music, rather than a clean, commercial / graphic design look, our topsheets were originally hand painted, then, to make it a bit more consistent while keeping that analogue look, we took that simple idea and burned it into silksceens, another 'handmade' craft and process we enjoyed learning and playing with. A simple one colour print against a black background pops out effectively and differentiates each size model in the range.
If you think the European snowboard industry could learn one thing from the Japanese industry, what would that be?
Japan has an amazing culture of small business that focus on quality and not quantity. There are countless businesses that only produce a fixed amount of something and when it's sold out for the day or for the season, that's it. No extra, no paying a higher rate for more, done is done, come back tomorrow, or next week or next year. The point is to not compromise on quality in the face of opportunity if it means giving up on what you're setting out to do.