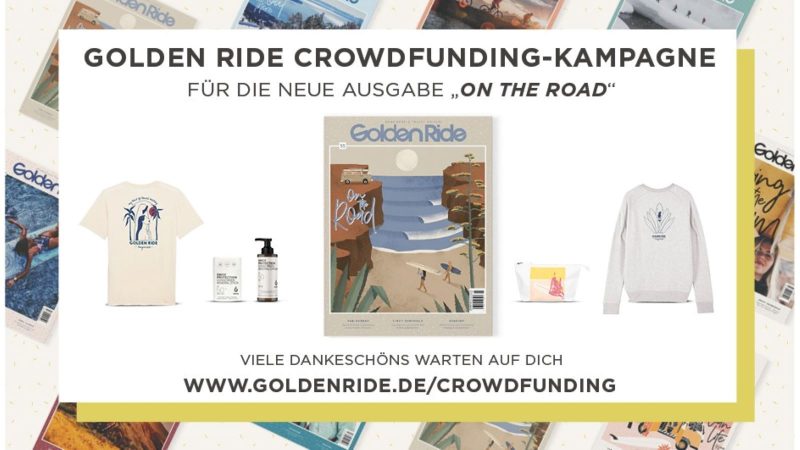 Crowdfunding For Publication Of Golden Ride Mag "On The Road" Edition
Golden Ride women's boardsports magazine requires the support of the surf and snow communities to continue publication following financial difficulties caused by the COVID-19 pandemic. The mag is trying to raise a their goal of €25,000, a goal to ensure fair payment to all involved (printing, distribution, freelance contributors). Find more information and the link to the crowdfunding page below.
Press Release:
Golden Ride, the world's only boardsports print magazine just for women, launched its crowdfunding campaign on 15 March to finance this year's surf and snowboard issue. The small independent publisher, led and founded by Anita Fuchs, Nathalie Gandrille and Kristian Kimmel, is suffering from the economic consequences of the Corona pandemic and therefore needs the support of the boardsports community.
Since 15 March 2021, the self-hosted crowdfunding page has been informing the community about the background of the campaign. In the crowdfunding shop, supporters can buy "thank you" packages. From individual magazines to goodie packages, signed first editions, fair-produced T-shirts, individual surf training, a bike adventure in Saalbach and a surf trip to the Philippines, supporters can choose from almost 20 attractive goodies.
Crowdfunding page: www.goldenride.de/crowdfunding
The new surf issue "On the road" – Release April 23th
The surf issue's motto is "On The Road". Golden Ride takes readers on a road trip through Europe and meets unique female surfers!
Snow Issue – "Friends on Powderdays" – To be released in October 2021.
The snowboard issue "Friends on Powderdays" takes us to our home mountains! Because winter was basically cancelled this season, the snowboard adventures will definitely be made up next season!