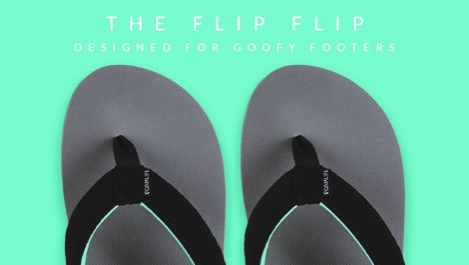 Foamlife To Drop Flip Flop For Goofy Footers: Get In Quick Before There's Nothing Left
Coming mid-April, alongside the brand's official launch, Foamlife are bringing goofy footers into the mainstream with their new flip flop offering. Foamlife's R&D team have spent months developing and refining designs and technologies to create a flip flop that's just right for optimising both comfort and durability. The product will be the sole flip flop available on the market that specifically caters to goofy footers. 
Press Release:
FoamLife release the world's first flip flop designed specifically for goofy footers
Say hello to the 'Flip Flip'.
Due to launch in mid-April, FoamLife are a new flip flop brand taking the industry by storm with their comfort, style, and raw innovation…
Goofy footers have always stood in the shadows and represented a humble minority compared to their regular footed siblings. With the introduction of this ground-breaking new product, FoamLife are seizing the opportunity to develop flip flops specifically for those who choose to put their right foot forward.
"As a new brand we wanted to start off on the right foot so to speak and for too long regular footers have dominated the footwear market while us goofy footers have suffered in silence. It's time to set things right."
Tony Foot I Head of Protoetype Development FoamLife
"This historic announcement had come as welcome news to the often-neglected goofy footed community. A real step in the right direction".
Prof: Fillippe Flope I Head Podiatrist at University of Veruka
Available at: www.thefoamlife.com and all leading retailers.
Contact details: [email protected]