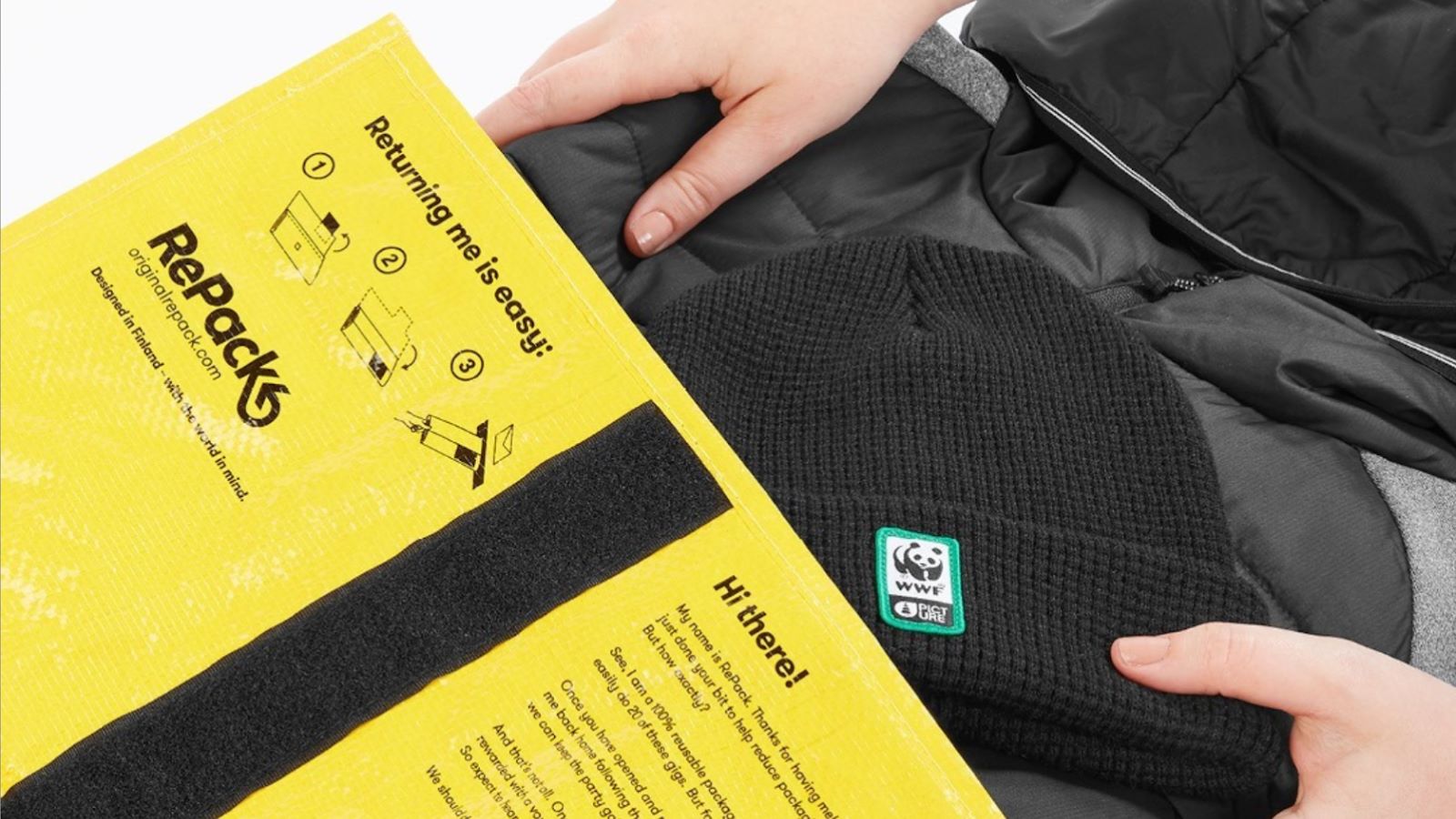 RePack Provides Alternative To Single-Use Packaging With Reuse & Return System
A packaging service founded in Finland, RePack has been fighting the good fight of recycling since 2011. With multiple awards in their pockets, they have partnered up with some of the biggest online retailers to minimise the use of single-use plastic and introduce the return & reuse system. We caught up with communications wizard Clemence Avignon from RePack to talk about the future of product packaging.
How did RePack start?
Online shopping numbers are going up, and so is the single-use trash mountain. No matter if it's made of plastic, cardboard, or corn-starch, it's all waste in the end. Most of it is burnt, landfilled, or is still wandering in oceans and nature. Only 9% of all plastic waste has been recycled… We can do better!
From the start RePack's ambition is big, but simple: Eliminate the waste created by e-commerce. The idea came from the bottle return system in the Nordic countries, which is rewarding and convenient so why not apply it to online shopping? With this RePack and the reusable packaging mission was born.
Repack has won an impressive number of design and innovation awards. Tell us about the sustainable design process?
RePack is designed to be reusable and returnable. All design has been done in-house with co-creation of our customers and partners.
We chose recycled PP from post-consumer waste. Even if RePack's manufacturing has a bigger CO2 footprint than most single-use packaging, the return method makes it unbeatable in environmental performance: RePack is already a winner after its second cycle!
After their long lives – more than 20 cycles- RePacks are upcycled into new products.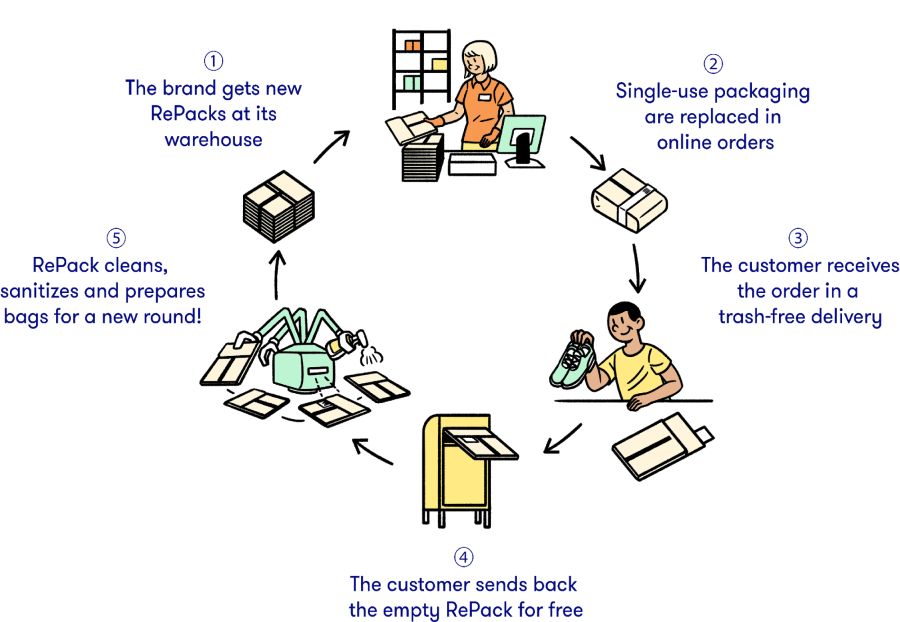 What's the incentive for using the service?
Switching from single-use to RePack allows companies to reduce their packaging carbon footprint by up to 80% and trash by up to 96%. That's a no brainer!
Aside from saving the world from trash, RePack offers brands new customer touchpoints. Our outstanding customer feedback shows people's love for receiving their goods in RePacks AND willingness to pay for the experience.
The cherry on top, most brands reward their customers for returning the Repack. It's a loop of goodness.
How and where does the service work for businesses and their customers?
Today, RePack is used by 150+ brands in the EU, the US and Canada. RePack is a perfect match for web stores shipping soft goods, wishing to reduce their environmental impact while improving their user experience.
With RePack, you pay for the use of packaging, not ownership. The beautiful thing about RePack service is that the same simple principles apply to small businesses and online retail giants. It is effortless to get started.
Brands choose (1) RePack sizes and quantities, (2) Offer to go full hero by shipping everything in RePack or letting their customer make the choice, (3) Rewarding the users for returning RePack. Whatever works for you, we'll make it happen!
For users, it could not be easier. Simply fold and drop the empty RePack in a postbox, anywhere in the world. We take it back, check, clean and redistribute it for reuse.
Reducing packaging waste is one step towards a sustainable planet. However, the logistics seem costly in terms of carbon emissions. What steps has Repack taken to reduce and/or offset these?
We use LCAs to compare RePack to single-use, and we definitely win. LCAs also help us to understand our footprint in detail. For example, you would be surprised that transportation has a marginal impact compared to the material's choice.
To get a deeper understanding of our impact, we teamed up with The Upright Project, whose goal is to quantify companies' net impact on people, the planet, society, and knowledge. Good news: our net impact is positive, aka we do more good than bad. But we cannot ignore our negative effect on the environment. Businesses simply can't be carbon-neutral if they're not and stating otherwise is pretty misleading.
We decided to avoid carbon compensations programs for now, as they lack transparency. Sadly, we cannot yet avoid mitigating the direct carbon emissions. We will however partner with organisations restoring ecosystems and pushing for regulation where it matters.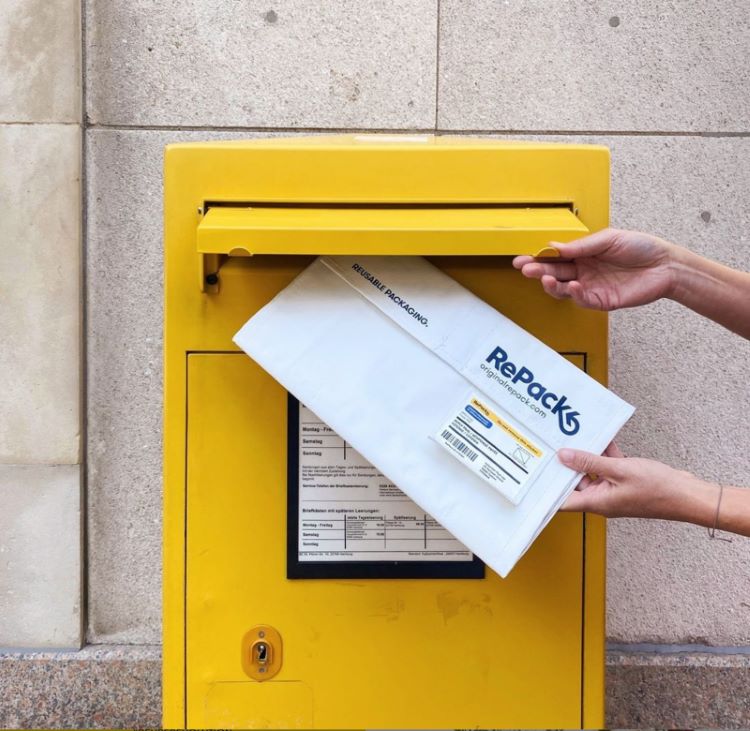 Are you partnered with any projects/organisations to help promote Repack?
We co-develop reuse systems and raise awareness through various initiatives. To name a few, we cooperate with Ellen MacArthur Foundation, Fashion For Good and the Praxpack project.
A concrete example is our French Loop starting this April. We partnered with La Poste (largest French postal company), to closely manage the RePack cycles between the brands and consumers (re)using them.
We also launched a service for circular businesses like rentals (RePack Closed-Loop), where platforms like HURR use RePack to easily exchange products with their customers.
With governments and people worldwide focusing on green initiatives, where do you see Repack in 5 years?
In five years, only the lamest online retailers won't offer returnable packaging as a shipping option 😉