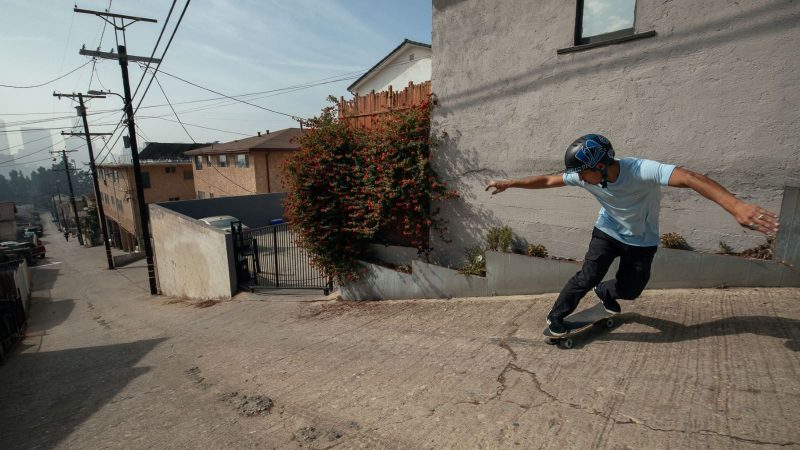 Landyachtz Experiences Stellar Sales & Predicts Boom To Continue
We sat down with Nate Schumacher from Landyachtz for an insight on the boom in skateboarding right now. Pre-orders up 100%, demand outweighing supply… oh, and the Olympics haven't even hit yet. Dive in as Nate talks strategy.
How has this winter been?
Winter has been busy! Our sales are generally seasonal and we have a few months to breath between Christmas and spring, but this year it's been completely nuts. Demand for Landyachtz gear has been strong all year and we're seeing more people getting into skateboarding, as spring approaches. It's been awesome to witness. Production is an ongoing challenge, but we are working through those challenges, which will hopefully lead to a busy winter.
What do you predict for summer 2021?
Growth! We are expecting to see a continuous increase in demand from pent up consumers. People are looking for safe and fun things to do outside, which makes skateboarding a perfect sport for them. There has been a small drought in availability, but once brands and shops get inventory, consumers will gobble it up. We are definitely going to see a ton of new skaters on the streets.
How have you improved your supply chain to match demand needs?
We have streamlined production on some of our simpler manufactured boards without sacrificing quality. By focusing on selected models with a strong sell-through and making a few tweaks to the processes, we have been able to shorten our lead time significantly. Some of our boards are far more complicated to produce, for example – the construction of Hollow Tech or some of our drop thru/drop down decks. They will still be in production but are going to be harder to come by this season, as they just take longer and are more complicated to produce.
What have been the most popular items during the recent boom and why?
Surf Skates are a new category for us and we are seeing a lot of interest internationally. For example, there is a scene developing in South East Asia, which is really exciting to see. It is a new category being embraced by a demographic that may not have latched onto more traditional forms of skating. We are also seeing boards that are good commuters selling well. No surprises here as people are avoiding public transport, they are looking for alternative ways to run errands or get to school. Our Dinghys are really strong sellers and we are seeing boards like Dipper and Ripper, which are 36' longboards also doing well.
How has pricing been affected?
Manufacturing costs are increasing as well as global shipping rates. This is not only affecting the skate industry, so we are expecting pricing increases on pretty much everything else this year. Other industries have already begun increasing MSRPs to combat rising shipping and manufacturing costs. Ideally things will settle down over the next 18 months.
What have been your best performing markets globally? In terms of YoY sales and opening new doors?
We are seeing a Surf Skate trend develop in Thailand. There seems to be a growing scene of skaters, who are keen for all things related to Surf Skate. Influencers in the country have picked up Surf Skating and are promoting it heavily right now. It has been wild to witness, but we are getting a big amount of inquiries with people offering to distribute our brand. We've established a partner and will have a distributor in Thailand going forward! Demand for skateboarding has also grown globally and we are seeing strong sales throughout Europe. Most of our Distributors have pre-booked over twice as much in 2021 as they did in 2020. This is a result of the increased consumer demand for all things outdoor and limitations in production/fulfilment. Our distributors are saying that demand is far higher than supply right now and they don't see demand slowing down in the next two years. We're anticipating this demand to continue well into 2023.
How are you expecting skate launches at the Olympics to impact the market?
Any time you see skateboarding enter the mainstream we see a rise in consumer attention. The Olympics will have a positive effect on skateboard sales globally. It will be interesting to see the effect on the cruiser and longboard categories as the Olympics focus is more on street skating. Although the Olympics will showcase high level street riding, we will see a trickle down to a broader audience with easy skateable boards. It takes years of practice to learn how to boardslide a 12-stair rail, but anyone can pick up a cruiser and have a blast exploring their neighbourhood.