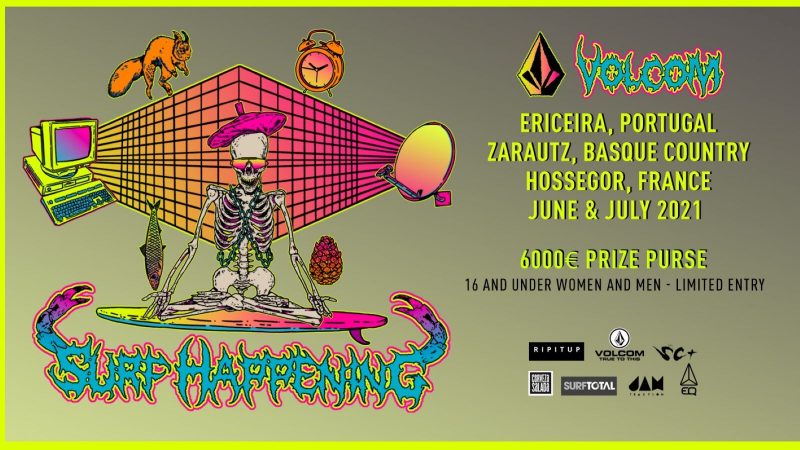 Volcom Introduces European Youth Contest 'Surf Happenings'
Introducing Volcom Surf Happenings: A surf contest for youngsters. The contest combines on-location heats in Portugal, the Basque Country and France, where their best waves are posted on IG for judging.
Press Release:
Volcom brings a new surf contest series for the Youth in Europe!
The Volcom Surf Happenings combine the regular competition heat format with the flexibility of digital tools, offering a proper and fair battle in between surfers, and giving competitors room to find the best conditions (location and time) during contest rounds.
There will be three Volcom Surf Happenings contests in 2021, starting June 1st one at each of the following locations: Ericeira, Portugal ; Zarautz, Spain ; Hossegor, France.
To heat things up, division winners at each comp will get a 1000€ prize money plus a massive prize pack from Volcom and its partners EQ, JAM Traction and SOFTBOARDCENTER.COM ! Yes that is a 6000€ total prize purse!
Registration for each competition is free but limited to 16 competitors in the Men's division and 16 competitors in the Women's division living in the contests areas (40km radius) and born after January 1st 2005.
In each division, 10 slots are open for the top surfers (using federal ranking priority), and 6 local Wild Cards (Volcom's pick).
For more info, go to https://vol.cm/vsrh and follow @volcomhappening!
#VolcomSurfHappening #VSHZarautz #VSHHossegor #VSHEriceira