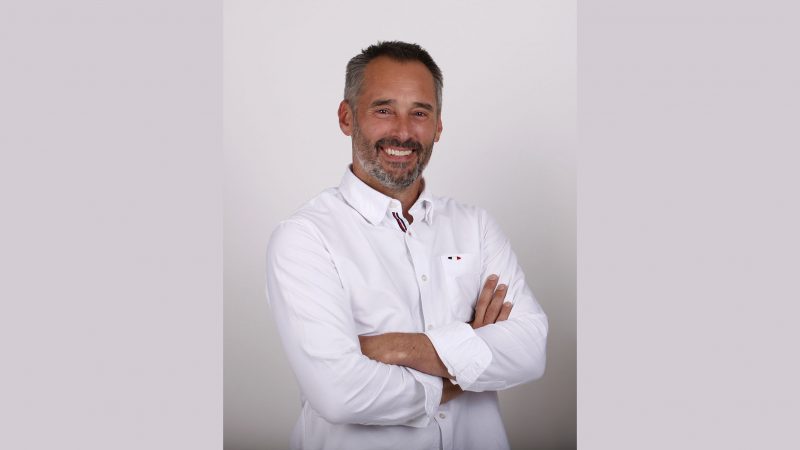 Big Wig: Oxbow CEO Emmanuel Debruères
Emmanuel Debruères and Jean-Christophe Chetail acquired French heritage surf and snow brand Oxbow from Lafuma (Calida group) under their company Rainbow SAS just days before the Covid pandemic struck Europe in February 2020.
Oxbow has a storied history within the boardsports industry going back some 35 years, sponsoring big surf events and some of the best surfers on the planet. We speak with Emmanuel Debruères, their new CEO for this issue's Big Wig interview to find out how the first 12 months have progressed, to talk positioning and brand strategy. Debruères is an industry vet having held senior positions at Billabong, Rossignol, Dakine and Salomon as well as a stint with premium outdoor sports group Idealp.
You have been in the boardsports industry for many years. Please give us an overview of your career.
From 2002-2010, I worked as a product manager in charge of snowboard and technical products (hardware & software) at Salomon, Rossignol and Billabong. Then I moved to Dakine as a European brand manager for 3 years and went to the US in 2015 to take the position of Dakine global VP marketing in Hood River – Oregon. And then I came back to France to lead the new European office located in Annecy.  I spent a few years as a GM and partner At Idealp group (Lacroix, Henri DUVILLARD, Degré7, Arpin). And June 2020, I embarked on my latest venture, as owner and president of Oxbow.
Please tell us about the new management team behind Oxbow.
Since we took it over, we decided to capitalize on the current management team. The team is up and running, they all know their jobs and are experts in their field. The team is used to working together and facing all sorts of challenging situations. The company is well structed with managers from the sports industry, but we also have the chance to enlist people from various businesses that bring a different point of view and experiences. One of the reasons why Oxbow is successful is definitely the quality of our back office. I've never seen such good customer services, buying department and finance department, committed and high performing!
We have been able to maintain a very high level of trust from our suppliers and customers even during the crisis because we have always found solutions to support them. We have been on time with deliveries, bringing fresh products to the market, investing in our own shops for refits and improvements, onboarding riders and developing marketing initiatives.
You sent your offer for Oxbow to Lafuma in February 2020, on the verge of the pandemic. Did the following lockdowns/shutdowns impact on the purchasing process?
Of course, the pandemic has re-defined the initial deal to financially secure the first years of our project. Calida and us have ensured that even with the lack of visibility regarding the business, the project would be secured and strong enough to fit with our ambitions. As smart people all together, we came up to an agreement that makes Oxbow financially strong enough to face the crisis and be one of the strongest brands after it. We always had and still have the full support of Calida in our adventure with Oxbow as they successfully operate our logistics and IT. The main target for us as investors is really to allocate as much resources as possible to the company to develop as a brand. We will be one of the only action sport brands with no debt after the crisis. Financially speaking, cash is key to growth, that's why we made sure to have enough to achieve our plans.
Over the last few decades Oxbow's brand position has changed, from the core audience to a mainstream label, and then back again to a core yet casual image. Which brand values are you aiming to promote from now on?
We totally assume the current brand positioning. As you say, Oxbow is not so core… and that's fine because our business is strong as it is. However, at Oxbow we are all passionate about action sports; we all surf, ski or snowboard and we want to reconnect the brand with these sports more than before. On top of the lifestyle collection, we give ourselves the opportunity to also develop functional products that will allow all Oxbow fans to spend more days in the water or on the snow and have a lot of fun. Oxbow is a 35-year-old French outdoor brand with its own DNA. The brand is known all over the world and has played a major role in the progressive outdoor history. Oxbow heritage is huge, including legendary athletes (Laird Hamilton, Gary Elkerton, Robbie Page, Kaï Lenny, Joel Tudor, Jean Nerva, Patrick Edlinger, JM Bayle) who rode for us in the past as well as the amazing events (World Masters Tavarua, World Championships Biarritz). We want to focus and emphasize on sport, environment, fun and sharing (family and friends).
And why have you chosen this positioning?
That's what we believe in! We are private investors that wants to run the business according to our fundamental beliefs (passion, hard work, trust and respect), no crazy financial strategy to make the most money possible killing the brand after 5/7 years. We are independent and therefore will run the business responsibly. We are just following our passion for outdoor and action sports and so we will apply as much common sense and respect as possible. We are convinced that we have to be true and honest to successful. Our biggest chance is to have our destiny in our hands, every decision good or bad is ours, no one else to blame. This feeling of freedom is so good and gives us the chance to focus on our brand, our people and our passions.
The new motto under the brand's new ownership is "Oxbow become French again". How important is the relationship with France as part of the brand's strengths?
Oxbow is French and we are proud of it. The main reason is that the French action sports scene (brands, riders, events, playgrounds…) is totally legit and very rich from day one. Our mountains and beaches are among the best in the world to surf and snowboard or ski, our culture and lifestyle makes everyone else jealous. Thanks to our French heritage we know how to make good quality and sophisticated products upgraded by years of history – that's what we want to put in our consumer's hands. France is a reference in the world for freedom, environment and culture, which are just more reasons to emphasize Oxbow being French.
Which surf product categories are strongest for the brand?
T-shirts and boardshorts are the key business categories due to the history of the brand.
As any other brand in the business, Oxbow has been hit by the COVID shutdown. How has this affected the company's future strategic plans (local sourcing/manufacturing, online sales vs. brick & mortar, telecommuting etc)?
The strategy we set up from the start of the project already included all the changes that are now mandatory due to the crisis. We will be producing products in France and in Europe soon. The environment was and always will be a deep value at Oxbow. E-comm is a key pillar of our sales strategy and that's why Oxbow will have a brand-new website/e-comm platform in the next few weeks. Physical shops and retailers are also a big part of our business and we want to keep pushing our collaboration with them. It's important for us the keep a strong connection with our consumers in reality. People want to touch and try the products, they want to share and ask questions, they want to have a brand experience to buy more than a product, to buy a legendary brand. We firmly believe that all channels are complementary to offer better service to our consumers.
How do you see the surf market developing over the next few years?
The market will keep developing as it's easy to do, fun, healthy and there will always be waves. I hope a that lot of brands will survive the current crisis to keep investing in marketing to promote surfing, as we need to be strong together to keep people dreaming about our sports in organizing events, sponsoring riders and creating amazing content that only core brands are able to do. As a brand, we also need to support our core retailers selling technical products (wetsuits & surfboards) as they are the best windows for the brands and the sport.
How are you working with retailers to push the brand and product?
It's all about trust. Every season we commit to retailers a certain level of sales turnover with Oxbow products and that's the reason why they place an order with us. Then we have to deliver what we promised: the right products, right price, on time, answer any question and fix any problems. We have to support all our retailers as much as we can to make sure they will put our products in the customer's hands with the right advise and make them benefit from their experience.
How will surfing's inclusion in the Olympics for the first-time impact on your brand marketing?
Nothing. First of all, surfing has nothing to do with the Olympics. Secondly, Oxbow is not into competitions at all, we prefer to emphasize on freedom, fun and friends. Surfing is much more than a sport; it is a lifestyle.
Outside of France which are your key markets?
Oxbow benefits from a strong brand awareness thanks to years of sports marketing including some of the best riders and events worldwide. Our plan is to increase our business step with Europe as a starting point and North America as a longer plan. Due to our deep experience and knowledge of exports, my partner and I know how much resources we have to dedicate to this project either in terms of back office or in sales and marketing structure. We have decided to start with Spain and Benelux to make it easier as Spain is next door and Benelux was one of the biggest businesses for Oxbow back in the day.
Our E-comm is also a powerful tool to sell outside of France. Our new e-comm site will give us the chance to sell products anywhere in Europe from next September on.