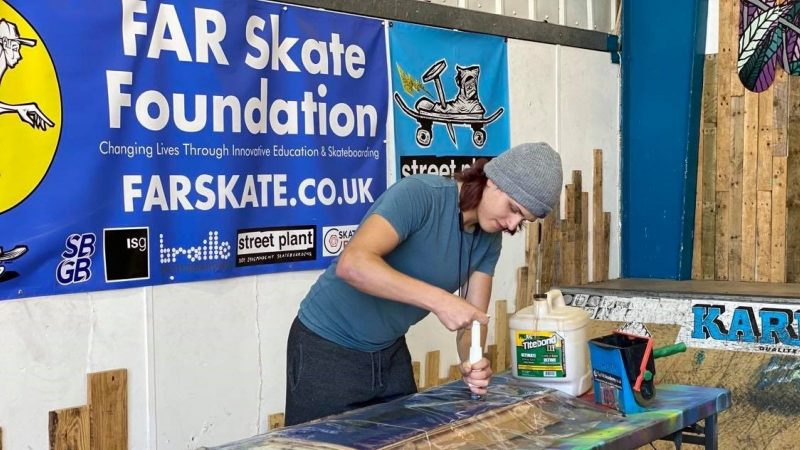 Providing Alternative Education Through Skateboarding To Help UK-Based Youth Go FAR
Introducing a unique approach to alternative education and bringing communities together through skateboarding are only some of the things FAR Skate Foundation is about. We caught up with FAR's CEO Brent Lewis to get a better scoop on things.
What is FAR Skate Foundation, and how did you get started?
FAR Skate Foundation is a charitable organisation passionate about empowering young people. Within the foundation there are two elements: FAR Academy which provides alternative education and required qualifications, and the FAR Skate Shop that supports the educational services that the Academy provides. I came up with the idea in 2009 whilst teaching in a mainstream school. There were so many young people falling through the system because the education setting was so restricting and wasn't providing alternative ways for them to learn.
Who are the people involved and what are their backgrounds?
We are really lucky to have an amazing team with a diverse background of expertise to support our young people. Many of us have grown up within the skate scene and have a passion to pass on the inclusive culture and the positive creativity of the sport.
How does skateboarding influence your approach to alternative education?
We use skateboarding as a channel to engage young people with the positive pathway of learning. Through personal achievement, skateboarding teaches resilience. The ability to better yourself is in your own hands. In a completely practical way, it shows you that the harder you try the more you can achieve. The power of passion and persistence combined with resilience results in growth of self-belief and confidence. Skateboarding is not essential to participation on the course, but the diversity and culture of the sport forms the basis of our educational programme.
What kind of courses do you provide at the Academy, and who are they aimed at?
FAR Academy provides a unique learning opportunity which has been tailored to suit vulnerable young people who struggle to learn in a mainstream school and for those who have an Educational Health Care Plan (EHCP). We provide post-16 education for young people with a range of mental health issues, especially anxiety and depression. We are an independent co-educational specialist provision. Subjects include custom skateboard build and design, Art, Creative Craft Construction, Photography, Business Enterprise and Functional Skills Maths and English.
How does the FAR Foundation help young people get involved with skateboarding?
Skateboarding is introduced at a grass roots level by offering the chance to try out skateboarding, borrowing a board, having lessons, and joining in with events. We immerse the young people in the culture by teaching the history of the sport from its inception in the 60's through how the boards shape and design have changed and how skating styles have evolved.
Can you tell us a little bit about the FAR Skate Shop?
The FAR Skate Shop has been running for six years now and stocks all major brands. Purchases can also be made online; we have customers all over the world who purchase from us because they embrace our ethos and want to support the next generation of skaters. The shop is also used to support the education of our students.
How does the skateboard community benefit from FAR?
Prior to COVID, we had a super busy schedule of community events including skate jams, competitions at different parks, live music events, BBQ's, workshops, birthday parties and community fun days. We are looking forward to getting an exciting line-up organised for the near future as restrictions are relaxing.
FAR Skate Foundation is a non-profit organisation, how do you get your funding?
Funding for any charity is always an ongoing concern. We receive some funding from local grants, national charities and we rely heavily on fundraisers who support us, not just locally but nationally too.
Apart from the Canterbury Skatepark, are there plans for any other locations in the future?
We are always looking at plans for expansion due to the high demands for our service. Having FAR Skate sites throughout the UK would be enormously beneficial to the communities and young people who need support. We are always looking at new opportunities, hopefully this will one day see a FAR Skate in Europe.
Check out https://farskate.co.uk/ for all upcoming things.