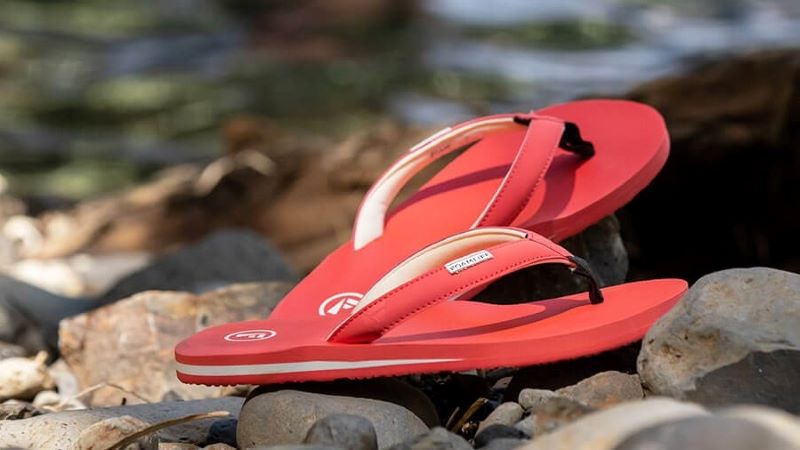 FoamLife Part Deux: New Flip Flop Brand, FoamLife Launches SS21 Collection In UK, Ireland, & France
Unless you've been living under a rock for the past few months, you'll have noticed a huge amount of buzz and hype about a disruptive new player called FoamLife taking the flip flop market by storm. Founded under lockdown and tipped by many industry leaders as the 'one to watch', it's fair to say that expectation levels for the new brand are sky high.
With the weather finally heating up and the SS21 range now in stores, we caught up with FoamLife Founders Daniel Macaulay, Karl Read and Timo Mullen to get the inside line on the brand living life less ordinary…
We first spoke to you guys in August 2020 when FoamLife was about to launch to the trade (read interview here). With the brand now launching to consumers, what's been going on since we last met?
DM: Well, it's been a pretty intense nine months, that's for sure. We managed to secure all of our required investment towards the end of last year and we're stoked have a superstar team backing the brand.
We opened some awesome offices right on the waterfront in Poole. We've also been working closely with our suppliers to develop and deliver a really standout SS21 collection and the reception so far has been epic.
I'm delighted to say that the sun is shining, all of our SS21 stock has now been delivered. Also, our online store (www.thefoamlife.com) has just gone live, and we've taken on a really good logistics partner to ensure the best possible B2B and B2C delivery and ability to service the UE and global market.
We've all been working around the clock for the past few months to pull everything together ready for launch… It's definitely not been easy but I'm super proud of everything that we have collectively achieved
How are sales going and what kind of retailers are you launching with?
TM: We've taken on Cool By The Pool as our UK sales agents as we've always been a big fan of the work they do with brands like Stance, Hurley, and Nike SB. The team there are super passionate about the brands they work with. They also have a longstanding relationship with the more premium stores which is exactly where we want to be. In France, we're stoked to be working with Derek O'Neill and the Vissla stores in the Southwest. We're very much looking forward to the travel restrictions being lifted so that we can get out there ourselves.
The vast majority of the bricks and mortar stores we are working with have taken our free-standing unit that holds the full collection. The stand has real presence in store and shows the Men's collection one side and the Women's collection on the other. We have designed the stand to be made from sustainable and recycled materials and the prongs can be moved around in different formations to account for a more adaptive visual merchandising solution. It's been a big investment in year one but we're adamant that our products are presented in the best possible way.
What are your plans for international sales?
TM: Our focus now is very much on sell through and global expansion over the next 3 years. We have some exceptional partners on board already and want to ensure that we find the right agents/ distributors moving forward particularly in the rest of Europe, Asia-Pacific, and North America
You guys have kept the details of the product range very much under wraps to date. With the product hitting the shops now, can you give us some more details on what to expect?
KR: The Men's offering has 5 unique styles with a total of 12 colourways and the Women's collection has 5 styles and 13 colourways. We felt confident in keeping one silhouette for all the Men's styles with another silhouette for all the Women's. By using colour, prints, different materials and finishes it gives the collection great variety, versatility, and a reason to buy across the range. Price points start at £24.99/ €29.99 and exit at £34.99/ €39.99.
The Men's collection core colours consist of black, grey, olive, navy and white; these easy-to-wear-with-anything colours provide the foundation to build the collection upon. Spearmint & cobalt blue are introduced in the TRAA style as 'seasonal highlight pop colours' to offer styles with contrast. Shades of rich brown and tan are juxtaposed with black to offer a more premium look and feel in printed retro stripe placements and vegan leather options.
The Women's colour palette also includes core staples like black, grey, navy and white; with neutrals still being a focus in SS21. Hot coral pink and spearmint are used singularly and as highlights in detailing and branding for a high summer tropical vibe.
Sustainability is a pretty hot topic in the footwear market at the moment. How are you tackling this issue?
KR: Are we a sustainable brand? Not yet, but we believe that our path to becoming a more sustainable brand is part of our overall journey. The majority of our Men's & Women's collection uses a recycled 'soft to step' EVA foam on the footbed and outsole. Our exit price point is made from a brushed recyclable TPE foam, a toe post made from recycled plastic bottles and the padded upper strap is made from a 100% hemp canvas that is lined with organic cotton for comfort. The whole range is vegan friendly and PVC free.
Packaging is an area we have strived to be plastic free, not only from a consumer facing point of view but also from behind the scenes. The product is shipped in cardboard cartons using adhesive paper tape rather than traditional plastic packing tape from the factory to our warehouse. Individual styles are packed into biodegradable bags made from cornstarch with a non-toxic, natural clay anti-moisture sachet. Recycled card is used for hangers and swing tags, which are attached with recycled paper string. They are small steps towards our longer-term sustainability goal and easier to implement early on when starting a brand.
You may see our display stands in your favourite retail stores, our stands are made in the UK using a blend of recycled and sustainably sourced materials and water based inks. To transport these stands we use packaging by Flexi-Hex®. Flexi-Hex® is on a mission to reduce global plastic production within the packaging industry. Using a patented, honeycomb design made from paper, Flexi-Hex® sleeves are strong and adaptable. But most importantly, they are 100% plastic-free, recyclable and biodegradable.
There has been an exceptional amount of buzz about FoamLife pre-launch. Why do you think that has been?
DM: We believe the industry was definitely ready for a new player doing things differently and the media have really picked up on that. We've been pretty blown away by the amount of coverage and interest we've received both in the core and mainstream media.
For us, authenticity is integral to success especially in a crowded and well evolved market. A lot of flip flop brands originally started out like us with founders that genuinely live the life they are promoting.  We are still just as passionate and engaged as we ever were, perhaps more so now and I think that authenticity resonates and really counts for something. Our 'Live Less Ordinary' brand mantra isn't just a catchy strap line. It's a reflection of our own less ordinary approaches to life and something that really unites us.
How has the marketing developed and manifested itself?
DM: Things are really starting to fall into place on that front now. Having a proactive, empowered, and engaged community is a key priority for us and we really want our community to have ownership over shaping the future of the brand with us.
We are always looking for musicians, artists, and athletes who help us to manifest our 'Live Less Ordinary' ethos. To that end, we are currently launching an influencer campaign called SoleMates. We love it because it really opens us up to creative diversity not just in terms of user generated content but also in terms of some of the eclectic and inspirational characters that are in our world. Their unique 'less ordinary' stories help us to articulate and personify our brand ethos better than anything else.
Running location photoshoots in winter under lockdown was a challenge but we successfully ran 2 x shoots in Hawaii and 1 x shoot in South Africa.  We are super stoked with the end results.
The Red Bull guys are good friends and they have given us amazing support right from the outset. For us, we're stoked to  collaborate with a brand that is always innovating and pushing the boundaries of possibility. They really keep us on our toes and thinking big.
We really admire Nick Houndsfleid and we think what The Wave team have achieved is really unique and remarkable. The Wave leadership team's values very much align with ours and they have really helped surfing to become so much more accessible and inclusive.
We have also recently partnered with an amazing charity called Surfers Not Street Children based in Durban, South Africa. They successfully use surfing as a catalysis for positive change in the lives of disadvantaged and vulnerable children. We are still in the early days but that's a partnership we definitely intend to nurture and grow long term.
For more information on FoamLife, email: [email protected] or check out: www.thefoamlife.com
Photo credit: Adam Simms and Amanda Beenen