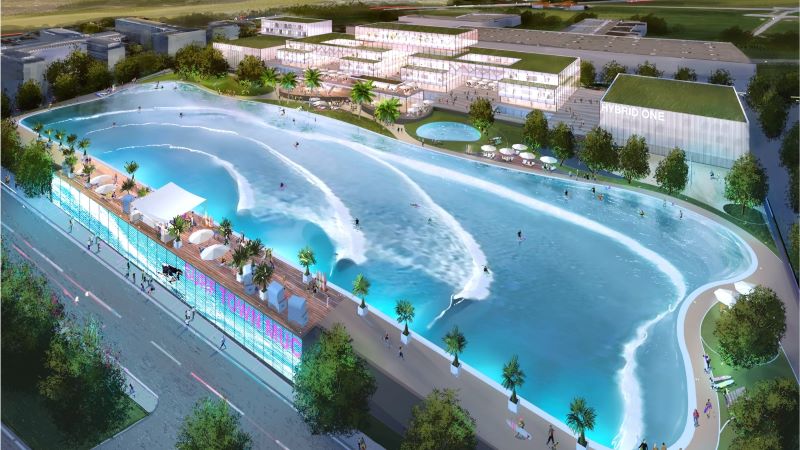 Bringing Surfing To Munich: Co-Founder Michi Mohr Talks Surftown MUC
Michi Mohr, German big wave aficionado and co-founder of the Munich SURFTOWN project, is responsible for the sporting side of the project – the surf experience, technology and the collaborations with the sporting world, from surf contests to training opportunities for athletes. SOURCE interviewed Michi to go deeper into the project.
What sparked the idea?
After many years of flirting with the idea of setting up a wavepool in our landlocked city, the chance finally came up and Chris Boehm-Tettelbach, lifelong surfer and CEO of the agency Planworx, gathered a team of people together. Chris already had a good relationship with the municipality of Hallbergmoos and neighbourhood real estate developer Rock Captial. The opportunity came up to create something very special in the Munich Airport Business Park; not only for the Munich surfers, but for the citizens of Hallbergmoos and the 10,000 people working in the business park as well. It was also an opportunity to create a landmark for the region. Fast forward three years and we are about to break ground and have passed all the legal steps, assessments etc… The founding team have a long surfing background/history, which has created a great environment of business savvy and passion for the sport.
Why is Munich such an attractive location?
Munich has a great catchment area, reaching as far as Austria, the Czech Republic, and many parts of southern Germany. We know people in Munich are highly active and are used to the outdoor lifestyle, such as hiking or skiing in the nearby Alps. It's undeniable that Munich has a certain purchasing power, what with the local economy doing really well and being home to Germany's biggest surf population. For those who didn't know: Munich is the world capital of river surfing, this landlocked form of surfing is where all of the founders have their roots.
Who's in the management team?
The core management team is Chris Boehm-Tettelbach, Conrad Albert, Michi Mohr and Jonas Boehm-Tettelbach. Additional key backers are Dr. Thomas Heinrich, Erik Dahl, Gerfried Schuller and Dr. Jan Ehrhardt.
Please tell us about the wave technology you're using and why you chose the Whitewater West system?
We wanted to set new standards in terms of technology and that's why we chose WhiteWater West, who offer the most authentic surf experience with their pneumatic chamber system. The system offers the highest flexibility in wave shapes (pointbreak, AFrames, tubes, air sections) for all levels, from beginners to pros, and with the setup, advanced surfers and beginners can all enjoy the surf in different sections of the pool at the same time. In the basin, "peeling" waves can be generated every 10 seconds with ride lengths of more than 130 metres.
WWW Endless Surf is a pneumatic system, which uses chamber pressurisation with high-powered fans to mimic how ocean swell is formed. Each chamber ultimately produces one small piece of the wave and the Wave Doctor back-end operation software pieces these chambers together to create an endless variety of waves.
We tested all the available systems around the world while knowing exactly what we wanted: We were after a system for making waves for everyone from beginner to pro, which would ensure that the pool could provide a great surf experience for many people at the same time, with no energy loss due to inefficient power usage or pool space. We wanted to be able to create all different kinds of waves at the press of a button and lastly, we wanted a facility that would remain state of the art for many years to come.
I think it's important to know, that with this very advanced pneumatic technology we can create any wave imaginable – up to around 2,2 metres. Lefts, rights, beginner waves, longboard pointbreak type of waves, barrels, high performance waves for turns, as well as ramps for air sections.
What other facilities around the world will use this system?
La Vague Grand Paris and Parkwood Village GoldCoast, Los Vientos in Punta Cana, with more to come. For more on Endless Surf, go to: https://www.whitewaterwest.com/en/products/surf/surf-simulator/endless-surf/
What are the anticipated footfall numbers annually?
Capacity of the pool within our scheduled opening months is roughly 150,000, which amounts for up to 700 active surfers daily, however we have calculated very conservatively regarding the utilisation rate. Of course, our facility is not only about surf, but there will also be a significant amount of non-surf visitors a year, able to enjoy the restaurant/café, other sporting facilities, retail and our office/event spaces. There is a tremendous amount of interest from companies and brands as well, who want to partner up, so they can spice up their next sales meeting or conference and host it in a different environment, which is why event business will be a fixed part of SURFTOWN® MUC.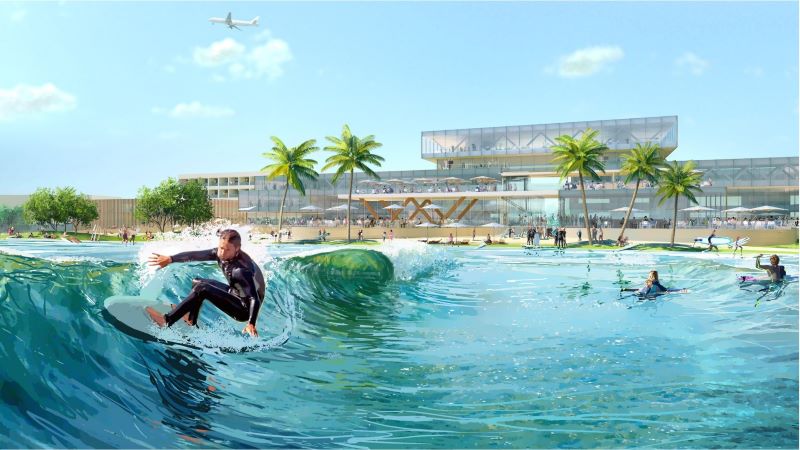 How will you cater for your pro consumer?
The facility is designed for professional athletes as well as beginners, SURFTOWN should have everything it needs to host professional competitions and other events here. We are already talking to organisers and federations about this, and the response is enormous. I'm very confident that we'll be able to announce a lot of exciting things before the opening in 2023. With SURFTOWN, we also want to give athletes the opportunity to train much more effectively: through permanent repetition and "laboratory conditions". Landlocked nations used to have no chance of hosting international competitions, so it would be great to change that. Leon Glatzer, Germany's No.1 surfer, just qualified for the Olympics, who would have thought that? And that might be just the beginning!
What are the variances in water temperatures likely to be year-round?
In our scheduled opening months, the water temp will be between 14 and 24 degrees. We are working with various concepts to help the temperature stay up a bit by using waste heat from nearby buildings and our wave generators. This will ensure surfers will have fun even in the spring or autumn months. The facility's entire system is designed to be CO2-neutral. There won't be single drop of valuably drinking water used to run the surfpool.
Please outline the other facilities within the Wave Park.
We will have our own retail space with a portfolio of surf & apparel plus the following service facilities around the pool: restaurant / café, event space, conference rooms, cpa area, childcare area, other sporting facilities, children's playground and beach area with amazing views and cabanas.
How sustainable is the project?
I think it is important and right that the topics of ecology and environmental protection are discussed openly in the surf scene. We want to make a contribution by implementing the latest sustainable technologies. Ecological standards are a basic requirement today if you really want to be innovative. The SURFTOWN team emphasised the importance of green technology for the entirety of the construction project: The facility's system is designed to be completely CO2-neutral. At the same time, all electricity will be generated from renewable sources, with 80% coming from the company's own photovoltaic systems. Germany's approximately 2,500,000 active surfers still fly around the globe to enjoy riding waves, they will soon find the infrastructure to do so just outside Munich.
Please take us through the construction schedule.
The building plan was approved in May 21, which means we can break ground in autumn this year. The building phase will be roughly one year, testing and commissioning scheduled for winter 22/23 and the public opening of the 20,000-square-meter facility will be in May '23.
How do you think wave pools will impact the surf market?
It will make surfing accessible to a much broader target group and transform it from being just a "travelling individual sport". Roughly 60% of all surfer's worldwide don't live near the coast, this is a huge amount of travelling by a lot of people to pursue their hobby. There'll be less travelling for the sake of only surfing – which means improving the related carbon footprint of each person. I think surfing will change from primarily being an individual sport to enjoyment for the whole family, closer to home and in a safe environment. Other than that, surfing in a pool offers an amazing training effect from constant repetition, with controllable laboratory conditions and the possibility to create any wave you want. There might be future world champs coming from a landlocked country – talent is everywhere. There have been top level ice skaters from warm destinations, who just had constant access to a training facility. Ice skaters don't have to be from Norway or Canada – so that gives us hope for our national athletes as well.
Are there any categories and services for which you are you looking for partners?
There's virtually endless possibilities when you look at SURFTOWN® MUC as a platform for a strategic partnership or as a showcase for brands of all industries. We are open to partnerships across various sectors and will very selectively choose a handful of partners to create a win-win situation. At the end of the day, it is not about plastering a few logos somewhere or running ads on our website. This facility is a huge content vehicle and can be used with real-life showcases for a variety of partners from different industries.