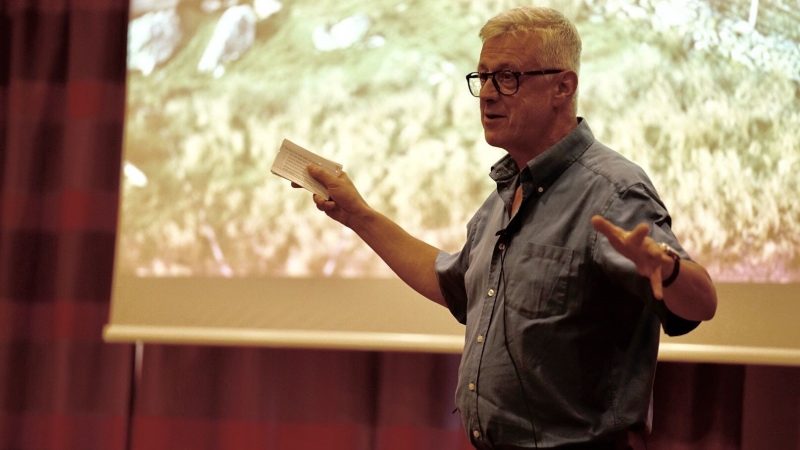 European Outdoor Group: State of Trade Report Shows Impact Of COVID Pandemic
Rather unsurprisingly, trade in the European outdoor sector took a hit last year. The overall wholesale value dropped by 9.5%. The impact on each sub-category is reflective of each country's restrictions, e.g. tent sales only down 1.1% as people stayed local for holidays, compared to a 16.9% value decrease in luggage as international/ long distance travel wasn't permitted. Find more info about the European Outdoor Group's State of Trade 2020 below.
Press Release:
Latest European Outdoor Group trade data reveals impact of COVID in 2020
The European Outdoor Group has shared the latest round of its State of Trade market research programme. Sell-in figures for 2020 highlight the impact that the COVID pandemic had on the sector last year.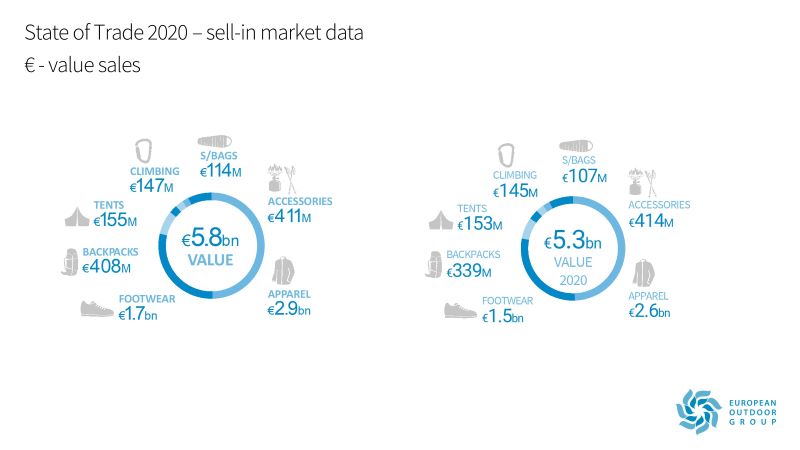 The wholesale value of the market dropped from €5.8bn to €5.3bn (-9.5%), with the hardest hit sub-categories being backpacks and luggage (-16.9% in value), footwear (-10.4%), and apparel (-10.4%). In contrast, there were only small reductions for tents (-1.1%), climbing equipment (-1.4%) and accessories (-0.6%). Sleeping bags and mats experienced -5.9% change.
Every region covered by State of Trade experienced a decline during 2020, with Norway recording the largest drop at -12.9% and Poland the smallest at -2.6%. Looking at the three largest markets, which make up 51% of the value of the European outdoor sector, Germany dropped by 8.9% year on year, the UK by 9.8% and France by 11.9%.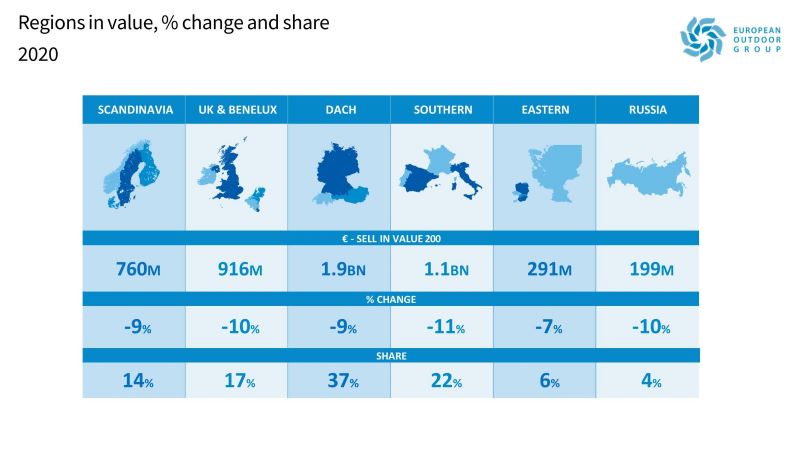 Alongside State of Trade, the EOG also runs the Outdoor Retail Benchmark Report, which collects and analyses sell-through data during the year. Figures so far for 2021 reveal that the outdoor sector is recovering strongly and is currently out-performing many other categories. The current report mainly represents German retail, measuring both online and bricks and mortar sales, and the outdoor segment grew by 18.6% year to date to June 2021, compared to 2020. The EOG is currently developing a pilot to gather data from UK retailers and more retailers across Europe – please contact Pauline Shepherd on [email protected] if you would like more details.
Pauline Shepherd, EOG head of market research, comments: "The figures for 2020 will surprise no-one, both in the overall impact of the pandemic on the market and in the variations across sub-categories. However, it is also clear that the outdoor category proved to be resilient, certainly relative to others. Encouragingly, early indications this year are that our industry is bouncing back well, and better than many other sectors."
The EOG State of Trade report covers products sold by over 100 outdoor companies in the apparel, footwear and hardware markets, and also includes outdoor sell-in figures from multisport/lifestyle brands. The report includes data in seven main categories and 48 separate sub-categories. The Outdoor Retail Benchmark Report collects and analyses sell-through data from outdoor retailers across Europe, providing an in-season indication of the health of the market.
For more information about the EOG, visit www.europeanoutdoorgroup.com