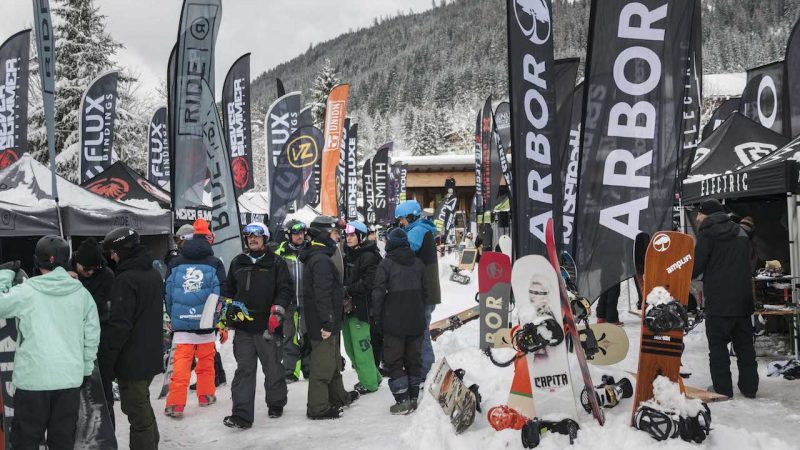 76 Brands Confirmed For Shops 1st TRY 2022
Shops 1st Try is set for January 30 to February 01, 2022 in Alpbach, Austria with 76 brands confirmed for exhibition. After missing last winter, the snowboard industry needs this on-snow event more than ever. Shops 1st Try is Europe's biggest on-snow demo, allowing retailers, brands, distributors, agents and media to meet in one place, maximizing productivity and efficiency.
With many shops placing conservative pre-orders last winter, we're now seeing retailers clamouring for product as we kick into winter. Just as we've seen booms in surf and skate, we expect to see huge pent up demand this winter, while adding the Beijing Winter Olympics factor into the mix means snowboarding could be about to explode…

As always, we advise retailers to book their spot in advance to take advantage of the earlybird offer. Booking early also gives show organisers a better idea of appetite and will ultimately encourage exhibiting brands to pull out all the stops for their b2b marketing activations at the show. Retailer registration opens November 03, 8:00 p.m. at www.shops-1st-try.com.
Brand lineup SHOPS 1st TRY 2022 (in alphabetical order): Academy, Airblaster, Amplid, Amplifi, Anon, Aphex, Arbor, Äsmo, Bataleon, Bent Metal, Bern, Billabong, boa technology, Borealis, Brethren, Burton, Canary Cartel, Capita, Clew, Crab Grab, Dakine, DC, Deeluxe, Dragon, Drake, Easy, Eivy, Electric, Elevated, Fix, Flow, Flux, FW, Gnu, Goodboards, Head, Hovland Snowskates, Icetools, Jones, K2, Karakoram, L1 Premium Goods, Lib Tech, Method Mag, Never Summer, Nidecker, Nitro, Northwave, Now, Oakley, O'Neill, Out Of, Pally Hi, Pro-Tec, Rad Air, RedBull Spect Eyewear, Ride Snowboards, Rome SDS, Roxy, Salomon, Slash, Smith, SP, Spark R&D, Stranda, Telos, Templeton, The Bakery, Union, Vans, Vimana, Volcom, VonZipper, Weston, Xion PG, YES.
Press Release: With a massive brand line-up of 76 brands available for checking out and testing, SHOPS 1st TRY remains the most important snowboarding b2b gathering in Europe.
After a lot of shops went through hell during the last two seasons, the industry is sending a strong signal to all retailers that they are hungry to meet them again in Alpbach!
"The demo area is fully booked. We now cannot accept late registration from brands who have not already confirmed their attendance, even though we expanded the outdoor area due to a change in the whole concept of the event." stated Muck Müller from Munchie Konsilium, the organising agency of SHOPS 1st TRY.
The change is the launch of the new "AfterShred Gathering" on Sunday and Monday right after testing ends. Retailers and industry representatives are invited to stay in the demo area and in the covered Aftershred area. Drinks, snacks, fire pits and the finest DJ sounds will ensure that everyone can continue to have quality time with like minded people and talk shop. The Aftershred Gathering will replace the indoor event that usually takes place in Alpbach's congress centre. This definitely makes sense as indoor activities might still have more complicated Covid regulations than meetings outdoors.
The online registration for retailers will open on November 03, 8:00 p.m. on www.shops-1st-try.com.

Shops will receive their printed invitation with a personal registration code within the next days. If you did not receive it, please let a sales agent you trust know. He will organise the code for you!
We recommend you register as soon as possible as the free packages are limited to 200 shops. In case of Covid travel restrictions, a retailer can always cancel without any cancellation fee.
Of course the organisers will stick to Covid measures applying to wintersport resorts and outdoor events at the time of the event (January 30 to February 01, 2022) in Austria. The organiser will communicate all applicable regulations to the registered participants before the event.
You can also check www.shops-1st-try.com regularly for updates.