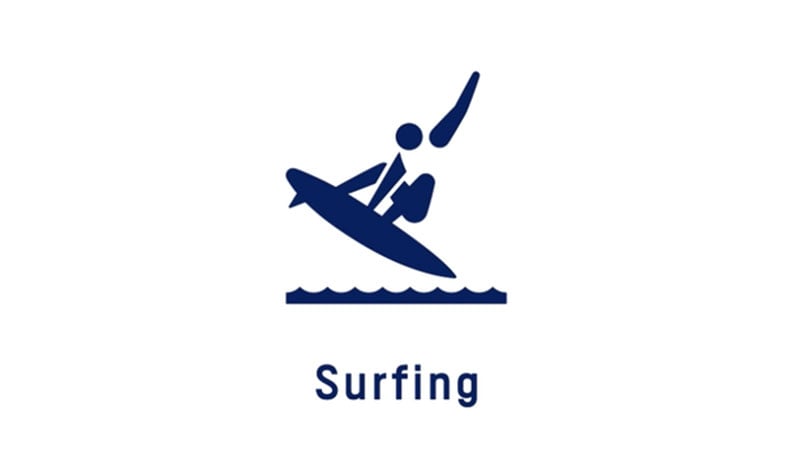 Surf Industry Reflects On The Olympics
After winning Olympic swimming gold in Sweden in 1912, the father of modern surfing, Duke Kahanamoku, dreamt of seeing surfing become an Olympic sport. The creator of the iconic Reef Brazil brand Fernando Aguerre finally made the Duke's dream come true in 2021 in Japan. BoardSport SOURCE reached out to an international selection of 20 surf industry veterans for their feelings on Olympic surfing after the Tokyo Games. The following is a summary of their opinions put together by Dave Mailman, you can read in depth responses on boardsportsource.com.
Text: Pro surfers and industry professionals generally agree the event was a success. But traditional surf nations like Australia, the United States, and Brazil felt the Olympic effect the most. Especially the latter two, whose reigning world champs, Carissa Moore and Italo Ferreira, exited the water at Shidashita with Olympic gold around their necks and sponsorship bonuses in their bank accounts. The medals were a key factor. But prior acceptance of the sport and an established base of surf fans in those countries increased the impact of those medals even more; the time difference with Tokyo made TV viewing easy to access, and audience engagement in the sport guaranteed high-quality coverage and commentary.
In Europe, only France, Portugal, Italy, and Germany qualified surfers, and TV coverage was poor. Therefore, the media impact of the Games was felt unevenly from country to country. The most impactful coverage of Olympic surfing was in the event run-up rather than during or after the contest. The exception was Germany, where Leon Glatzer's participation was such a novelty that it garnered a certain level of mainstream media coverage and product endorsement deals.
No matter the country, all athletes involved gained in numbers of social media followers and engagement. Japan's silver medalist Kanoa Igarashi was the king of surfing social media engagement with a total of 42M interactions. In overall follower and engagement numbers surfing outperformed more traditional sports like golf, road cycling, volleyball, and swimming but lost out to skateboarding in the battle of the boardsports. 13-year old female skateboarders, Brazil's Rayssa Leal and Britain's Sky Brown bested Igarashi with 109M and 68M engagements. 1976 World Champion Peter Townend, now President of The ActivEmpire, summed up the significance: "The social media engagement alone of fans and followers was 1.6 billion. So the global exposure to surfing and its culture has been monumental."
Apart from the medalists and a handful of other athletes, the biggest beneficiary of the Olympic effect seems to be national surfing federations and the International Surfing Association (ISA). Governmental bodies view a sport's Olympic status as a stamp of approval, and surfing's inclusion in the next three Summer Games opens up funding that wasn't there before for national surf programs, even in countries with no surfers in the inaugural event. ASP Co-founder Ian Cairns sees the number of ISA member countries growing to a point where there'll be "Olympic qualifications without WSL rankings," calling it "a pivotal time in surfing."
As for any immediate benefits for the surf industry, EuroSIMA President Jean-Louis Rodrigues stated: "The Games give Olympic sports significance, and an especially positive image on a global level, including for people who know little or nothing about our sport. It's undeniable." He also admitted that where sales are concerned, "we'll see the impact over time." Co-owner of Town & Country Europe, Wilco Prins, said, "going forward maybe, but this year the Olympics had zero impact on our business. No one has come in and said: 'We've seen the Olympics, and we want to start surfing.'" Most everyone questioned involved in retail said Covid had a much more positive impact on sales than the Olympics, especially technical products like wetsuits and surfboards. After being cooped up inside, everyone wants to get out in the water.
All agreed that the choice of spot and the weather did nothing to win over mainstream viewers, even if the challenging surf conditions made "many people aware of the level of professionalism and athleticism involved," as Wavegarden Marketing Manager Andy Higgins stated diplomatically. The question of whether to hold future Olympic events in wave pools divided opinions. Level the playing field and have greater control over when to hold the event? Or is the ocean too essential to be forsaken even if it makes it much harder to present the sport to a mainstream audience? This question brings us to Tahiti, and more specifically Teahupo'o, one of the world's most dangerous waves and the site for the surfing competition at Paris 2024. Hossegor Surf Center Director and Surf Coach Didier Piter thinks "Tahiti could be the catalyst that attracts more mainstream interest and curiosity about surfing." Although if the swell is huge but not too big to paddle, there's a decent chance a competitor could be severely injured or die. That scenario is the worst nightmare of EurosSIMA President Jean-Louis Rodrigues, who, aside from the obvious human tragedy, feels: "The media coverage would be catastrophic for our sport."
For a more in-depth discussion on the Olympic surfing experience, subscribe to the BoardSport SOURCE newsletter, and check out our follow-up article coming soon to boardsportsource.com