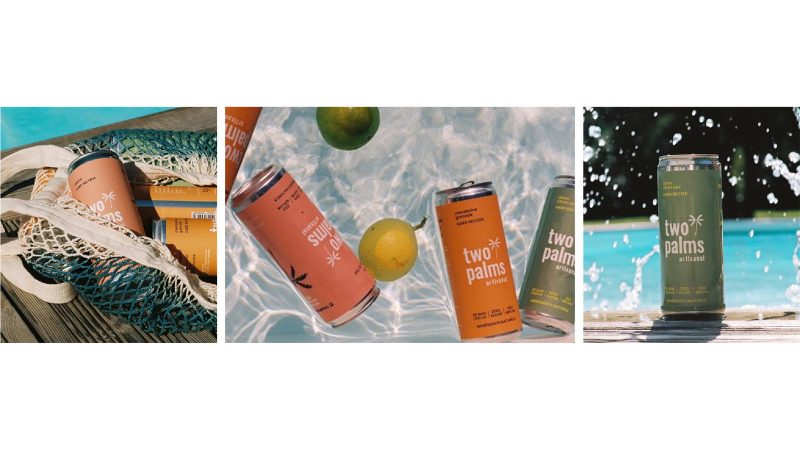 Two Palms Hard Seltzer Launched by Leading Surf & Outdoor Lifestyle Industry Executives
Two Palms Artisanal, which quietly launched in its home town in late April under the guidance of founders Derek O'Neill and Steve Veytia, is now being readied for a broader national and pan-European rollout.
Hard Seltzer is the new power category in the global beverage market, having taken the United States and Australia by storm in the past 12 months.
Mr O'Neill, former CEO of Billabong International and a founding shareholder and chief executive of the European division of surf brand Vissla, and Mr Veytia, a 25-year veteran of the global sport, fashion and wine sectors, have assembled a stable of shareholders/investors that include the recently-retired professional surfer Jeremy Flores from France.
Two Palms is an alcoholic beverage that is clean, simple and uncomplicated. It is fermented sparkling alcoholic water made with all natural ingredients, contains zero sugar, has low calories and is gluten free. Packaged in sleek pastel 330 ml cans, and with an ABV of 4.5%, Two Palms Artisanal is about having fun with a refreshing light-instructure drink, while enjoying the laidback lifestyle of the region from which it is produced.
The Two Palms brand of hard seltzer is currently available primarily in the south west region of France across select bars, restaurants, cafes, beach cabanas and supermarkets, already outperforming the market in key locations with strong early sell through.
With a very strong brand placement and visibility already established in key beach locations like Hossegor, Biarritz and Bidart, the company has plans to roll out across France and other European markets in the near future, starting with Portugal in late 2021.
With three appealing flavours currently on offer – Lemon/Lime, Mandarin/Pomegranate and Peach, Two Palms Artisanal is a refreshing light beverage primed to enjoy anytime– thanks to its somewhat more natural lower calorie recipe in comparison to beverages such as beer and wine and spirits.
Investors in Two Palms Artisanal include world surfing tour athletes Jeremy Flores and Miky Picon, plus Roxy Global Athlete Manager Mathias Maallem. French Rugby star Teddy Thomas and international model Filippa Hamilton are also on board as early investors.
Proudly crafted in the Dordogne region of France, under the eye of its own brewmaster in production with an independent brasserie, Two Palms Artisanal has evolved its own in-house process to create a clean, flavourful product that is ultimately enjoyable to drink. Following the fermentation process, natural aromas of carefully selected fruits are added to give soft, subtle and refreshing notes – making Two Palms your perfect new go-to drink for any occasion.
Two Palms Artisanal is working hard to bring more fizz soon with new flavours and products in development. The future is looking fizzy.
For further information, please don't hesitate to get in contact.
Contact: Yann Fessier – General Manager – [email protected]
Website: twopalms.fr
Instagram: @twopalmshardseltzer