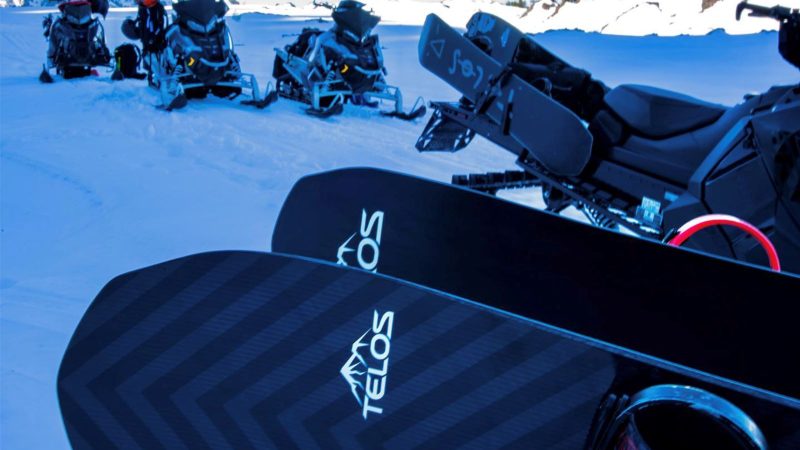 America's Telos Snowboards Moves into New European Markets
New to market four years ago is Telos, an American snowboard brand that has technical innovation at the forefront. Currently available at five retailers across Germany and Austria, the guys behind the brand are looking to continue growing their presence in France and Switzerland, alongside entering new European markets. Co-Founder and Telos President Ben Schwitz gave us the down low.
Who are the people behind the brand?
Telos was founded in 2017 by snowboarders Dan Agundes and Ben Schwitz, who also founded their GP87 factory along with Eric Luthardt, an award-winning board designer who'd previously worked with Ride and Flow. Dan began his career building and designing boards in Northern California near the base of Mt. Shasta which is also home to the City of Telos that, legend has it, is said to exist below the mountain. Telos is a magical ancient city but also very technically advanced and believed by some to be a connection to all that is natural in the world. This legendary city was the inspiration for building a technically advanced snowboard brand that also helps us connect with nature and the mountains that we love and protect. The name Telos also comes from the Greek word Telos meaning 'an ultimate goal or purpose', which for this group of core snowboarders who're striving to make the best riding boards and getting people back to the roots of the snowboarding lifestyle, is just that! Telos is a team of core snowboarders with the goal of creating new and innovative boards that people worldwide will be stoked to ride every day!
Recently there have been changes in how the brand is distributed, please tell us about the new set up.
Aside from our rapidly growing team in the US, we've also been distributing in Russia and Japan for the past few years. Alongside this, Telos is excited to now be available throughout the European markets thanks to our great partnership with Kolja and Nina Keetman over at [kar(:)isma], who are managing sales and distribution throughout the region. Aside from having well established business and great customer service experience, the team at [ka(:)risma] are core snowboarders themselves which fits our Telos brand profile perfectly.
How are you working with retailers to market the brand?
For the 21/22 season, Telos has introduced a new Retailer Marketing Program in the USA through the Quivers platform which allows us to capture sales online and then push them directly to the local retailers for fulfilment which will help build relationships between our customers and their local Telos dealers. For this season in Europe, we are closely cooperating with 5 strong local retailers in Germany and Austria. The Quivers retailer program will be rolled out and available to our EU retailers for the 22/23 season which we are very excited about. We're also currently working on a grassroots campaign, travel permitting, that would include touring throughout the EU with our Pro team for demos, shop tours and filming opportunities. Follow our social media for updates on that!
What are the key products in the new line and why?
For 22/23 we are expanding our line to cover a full range of entry-level, middle, and premium boards and accessories. The key new products this year are filling the mid-level range with the all-new Legend Twin, an all-mountain board that will feature graphics/artwork from pro-team rider, skater, surfer, and snowboard legend Mike Ranquet. To pair with this new board, Telos will offer our new Legend Bindings for the perfect all-mountain setup – ideal for entry-level to intermediate riders! On the higher end of the line there is the all-new Lemurian freeride, in both solid and split, which will be a key new addition; especially in the Alps regions where big-mountain freeride boards are a must-have. With its sleek new design and high-performance technical construction, the Lemurian will get you through the steeps and deeps with a fast and stable ride.
Who's on the pro team?
Telos Athlete Team has an amazing range of riders from the US and all around the globe, as well as riders, we also have worldwide ambassadors and will continue to expand our team throughout the EU. Mike Ranquet, Skylar Holgate, Jordan Nield, Pat Abramson, with former Team USA Rider – turned coach, Nathan Jacobson, all bring decades of pro experience and a range of riding styles to our Telos Team.
Which is your best performing region in Europe, and which has the biggest potential for growth in the next few years?
Currently, our best performing regions in Europe are Germany and Austria with Switzerland and France starting to pick up as well. Since we are new to the game in Europe, there is great growth potential in all countries as we continue to grow our snowboarding lifestyle brand around the world.