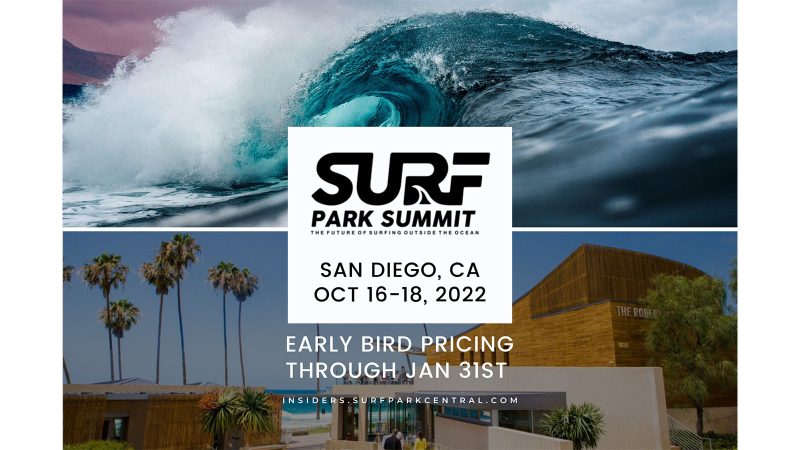 Early Bird Offers & Dates for Surf Park Summit 2022
October 2022 sees Surf Park Summit return to California, USA for 2 days of conferences, panels and presentations from industry experts. Register early to make the most of their 'Early Bird Special' and VIP Experience package.
Press Release:
Surf Park Summit Is Back For 2022!
Join us for the highly anticipated return of Surf Park Summit to the shores of La Jolla, CA on October 17th & 18th, with an exclusive VIP experience to start the event, on Sunday night the 16th. This two-day conference will feature expert panels and presentations from industry leaders and innovators, as well as provide highly qualified and intimate networking opportunities to take your project to the next level.
Exclusive Summit Offerings Now Available
Early Bird Special
When you register before January 31st you can save $500 on your general admission or bundle your package with our Surf Park Insiders membership to keep your finger on the pulse of the industry 365 days a year.
VIP Experience
During checkout don't forget to upgrade to the VIP experience -The VIP package includes an exclusive evening event to kick off Summit on the night of the 16th, as well as a host of curated networking opportunities specifically designed to elevate your industry connections and project progress.
Have questions or want to get more involved with Surf Park Summit? Reach out to [email protected]