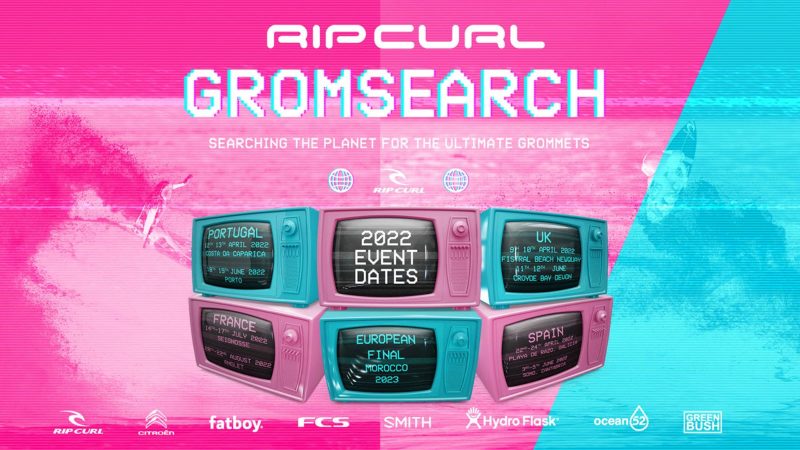 Rip Curl's Search for European Groms Begins Again This April
Rip Curl is heading to Europe in search of the next generation of groms ready to compete on the international stage. Winners of the national events in Spain, Portugal, France and the UK will win themselves a spot at the European final in Thaghazout Bay in Morocco in 2023.
Press Release:
THE RIP CURL GROMSEARCH IS BACK IN EUROPE!
Created in Torquay, Australia, in 1999, the Rip Curl GromSearch is a competition exclusively for young surfers, boys and girls, under the age of 16 with its own unique character. It is held in various regions of the world at the same time: Brazil, Australia, Indonesia, South Africa, New Zealand, USA and Europe, leading to an International Final which traditionally takes place "Somewhere" in spring. The Rip Curl GromSearch is a real hotbed of young talent, having uncovered future World Champions such as Stephanie Gilmore (7 times World Champion and current world #1 in women's surfing), the Brazilian prodigy and WSL 2014 & 2018 World Champion Gabriel Medina, and many others.
For the 2022 edition, French, English, Spanish and Portuguese Groms will go through their National events to qualify for the European Final. 
The under-16, under-14 and under-12 male and female winners from those countries will battle to qualified for the European Final at the beautiful Thaghazout Bay in Morocco early 2023.  
The European Final will take place in January/February 2023 where the 30 qualified Groms will battle to earn 2 tickets to the international final at Bells Beach Australia in Spring 2023.
There also will be 6 wildcards to win through an online event starting in September 2022. Stay tuned!
So, no matter what, this season again, all the European young surfers will have a chance to qualify to the European GromSearch Final and defend their country! 
This 22th edition will also stress the importance of environmentally responsible behavior. Ecofriendly actions, games and beach clean-up will be organized on each stops.
Water fountains will be available for everyone to refill their own reusable bottle thanks to our partner Hydroflask and will help the development of good habits. Recycling bins will be provided on all the events and the organizers will ensure that the ground rules of responsible behavior are respected in each country during all the events.
COME AND ENJOY OUR GROMSEARCH VILLAGE WITH SOME GREAT ACTION OUT AND IN THE WATER ! 
Apart from the incredible action in the water, each GromSearch stop will offer an array of fun and interactive experiences on the beach thanks to our wonderful  partners!
You will also meet our Rip Curl Team Riders, they will come to watch the action on the competition and will be available to share some special tips of their own with all the young competitors.
RIP CURL GROMSEARCH Partners :
·         FCS
·         Greenbush
·         Citroen
·         Hydroflask
·         Smith
·         Ocean 52
·         Fédération Française de Surf
·         FIS
·         Surfing England
·         Federacion Cantabra de Surf
·         Federacion Galega de Surf
EUROPEAN 2022 RIP CURL GROMSEARCH SCHEDULE:
Portugal
12th and 13th of April 2022 at Costa da Caparica
18th and 19th of June 2022 at Porto
UK
9th and 10th of April 2022 at Fistral Beach, Newquay
11th and 12th of June at Croyde bay, Devon
Spain  
22nd, 23rd and 24th of April 2022 at Playa de Razo, Galicia
3rd, 4th, and 5th of June 2022 at Somo, Cantabria
France  
14th, 15th, 16th, and 17th of July 2022 at Seignosse
20th, 21st and 22nd  of August 2022 at Anglet