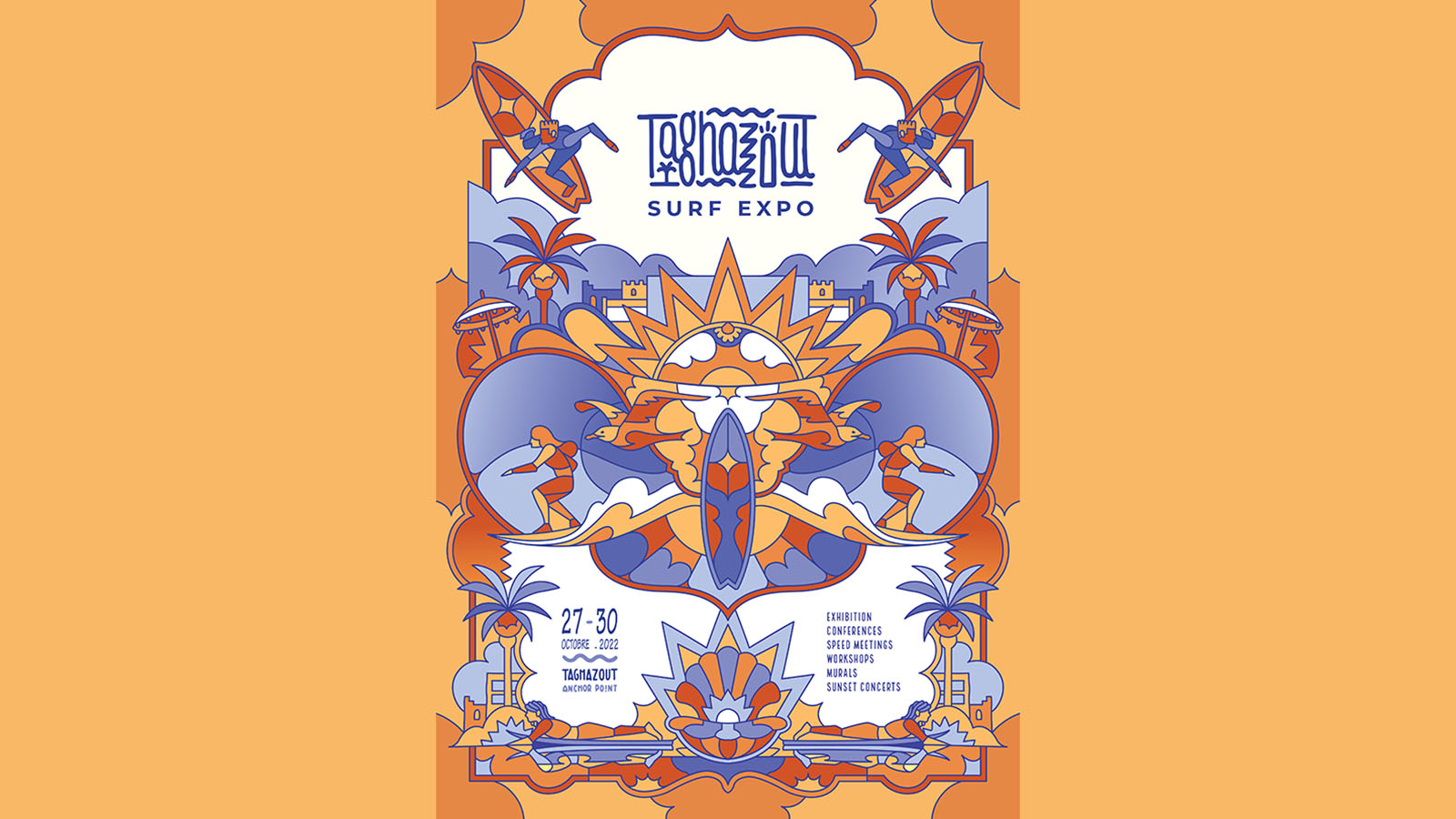 Taghazout Surf Expo, Agadir, Morocco, October 27-30, 2022
From October 27-30, 2022, this first ever professional surf event in Africa, will take place at Taghazout, facing the mythical spot of Anchor Point.
Currently 37 brands from surf schools, specialized travel agencies, clothing, accessories and equipment manufacturers are signed up and negotiations are underway with many more brands to fill the 4000 m2 exhibition village. The Expo is part of the regional government's strategy to put Moroccan surfing on the map and is organized by Saïd Bella and Rachid Moutchou in conjunction with the Mohamed Khilaji and Amine Afal of the Royal Moroccan Surfing Federation.
The village with a design based on recyclable materials that meets all environmental standards, will be the centre point of the Surf Expo and will be open to both business visitors and consumers and other activities will take place down on the beach and in Agadir itself. Moroccan surfing champions will be there in force including Brahim Iddouch, men's Bodyboard champion, Lilias Tebbai Morocco surf champion, Ranya Squalli and junior Morocco surf junior champion and Soukaina El Ghouali Morocco women's bodyboard champion.
The conference area in the Expo Village and will host a number of seminars including one with Hassan Fekkak, the Technical Director of the Moroccan National Olympic Committee, that will focus on the participation of Moroccan surfers in the next Olympic Games and a presentation of the Fast Ware competition scoring system developed by the federation.
The organiser along with the Belgian Ulysses Labnetwork and the Research Laboratory of languages and communication from the University Ibn Zohr Morocco, have analysed the socio-economic impact of surfing on the region. The results of their work will be presented during a one-day conference at the Ibn Zohr University on Wednesday, October 26th, in Agadir and in round tables at the Expo Village scheduled throughout the duration of the event.
According to the organisers there are over 130 shops selling surf products between Agadir and Casablanca so with stand space in the Expo Village costing between 500-1000 euros, brands should consider taking part to help develop Moroccan surfing industry infrastructure and to get their toe in the water of this rapidly developing market. www.taghazoutsurfexpo.com or email [email protected]