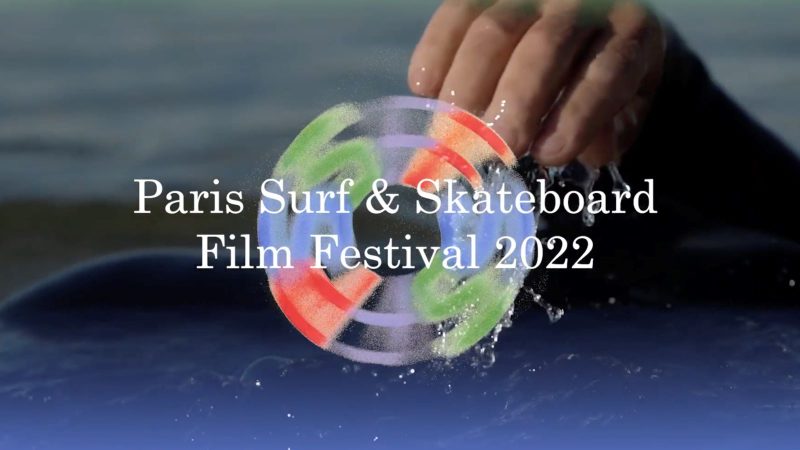 Full Schedule for 2022's Paris Surf & Skateboard Film Festival
The 2022 Paris Surf & Skateboard Film Festival is starts tomorrow and the organisers have announced the weekend's full schedule and film line-up. For more info, see below.
Press Release:
The whole team is delighted to unveil the trailer and the Off of the 7th edition of the Paris Surfing & Skateboarding Film Festival (PSSFF).
The PSSFF is an international competition for new films and documentaries, but it is also the whole culture around surfing and skateboarding!
In the OFF, throughout the festival and in free access, find video projections, exhibitions (art & photos), a bookstore area, stands of our partners as well as the PSSFF shop.
THURSDAY SEPTEMBER 22
– Opening night –
19:30 – Screening of the video Con Duende by Guillem Cruells
20:00 – Presentation of the 7th edition of the festival and jury
20:45 – The Yin & Yang of Gerry Lopez by Stacy Peralta (USA, 100', 2022)
Indoor screening → Reserve your place
22:00 – DJ sets: JC Leuvrey (Hotel Radio Paris) & DVNO (Burbs Lyfe)
FRIDAY SEPTEMBER 23
– 19:00 till Midnight, a special DIY evening –
19:00 – Launch of the SARTHOPIA fanzine
21:00 – Ziggy Land d'Alan Sanchez
VANS PRESENTS
20:00 – Presentation of the two films by Guillaume Périmony and Samuel Partaix. And a discussion in the presence of Lisa Jacob. Moderator: David Couliau
20:45 – Concrete Roll de Guillaume Périmony
22:00 – Set in Concrete de Guillaume Périmony
Vans DIY Exhibition – Photographs by Clément Le Gall. Clément's photos around the film are exhibited in the gallery space and will be visible during the festival.
Screenings of cult DIY videos selected by the PSSFF team
21:30 – THE STRONGEST OF THE STRANGE
– THE COPING MECHANISM
22:45 – IN SEARCH OF THE MIRACULOUS
SATURDAY SEPTEMBER, 24
15:00 – 17:00 – Screenings of the first three episodes of the documentary series Skateboard: Horizon Verticale (66').
18:00 – Realaxe – Queen of the Road #4
20:00 – Screening of the video Wild Dreams (surfing) by Gabriel Boin
22:30 – DJ Set Arthur King
SUNDAY SEPTEMBER, 25
15:00 – 19:30 – The selection of PSSFF surf & skateboard videos
19:45 – Prize giving in the presence of the jury
Art and Photo Exhibitions (surfing & skateboarding)
Gallery space – Exhibitions visible in free access throughout the festival
BIARRIZ ART PULSE
An exhibition presented by Colors of Surfing

PANDORA DECOSTER, OMAR ALABBAR & GEO LEEROY, AUGUSTE FENEZ, Ciel Glue, & Geo Leeroy.
The PSSFF OFF (video screenings, evenings, photo exhibitions, etc.) is freely accessible during the opening hours of the festival.
The PSSFF bar will be open Thursday from 19:00., Friday from 16:30, Saturday and Sunday from 14:30.
The Fulgurances restaurant welcomes you throughout the festival. Reservation required on www.fulgurances.com
Partner spaces
Pop-Up space – Colors Of Surfing
Librairie – Le Grand Jeu
For more info on each film and PSSF event, click here