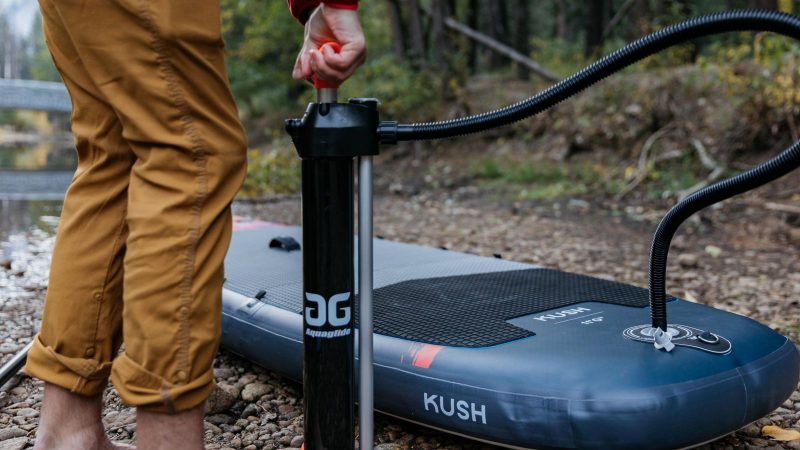 Aquaglide Introduce New Kayak Range & SUP Accessories For 2023
Compact, easy to store and transport, and high performance, Aquaglide offer a vast range of inflatable watersports products. New for 2023, Aquaglide are introducing their Cirrus Ultralight kayak range and in the accessory category, Press-Fit fins.
In 2004, a small team of adventurers wanted more out of inflatable watercraft—and knew they could create better gear than what was already on the market. So they began a new company, one rooted in the Pacific Northwest of the United States, dedicated to making the highest quality inflatable products customers can buy. Now located in Bend, Oregon, the company's access to water—from pristine alpine lakes to long stretches of river and, close by, the Pacific Ocean—is fundamental to product research, development, and (of course) the team's health and happiness.
Aquaglide offers best-in-class inflatable products available in over 70 countries, including kayaks, SUPs, even commercial Aquaparks, and an array of paddlesports accessories. The brand is on a mission to utilize innovative design and patented technology to create the best watersports gear in the world, all while providing unparalleled customer service, support, and retail distribution.
Making waves with a new class of kayak… New for 2023 Aquaglide will introduce the Cirrus Ultralight that represents the ultimate marriage of performance touring and lightweight packability. Weighing just 6,7kg (for the 110 model) and 8,kg (for the 150), the Cirrus Ultralights feature a TPU-Nylon construction with a TPU drop-stitch floor to provide maximum stiffness with minimal weight, for a kayak that doesn't sacrifice an ounce of performance. The Cirrus is the perfect companion for the overlander, backcountry enthusiast, or any paddler who values unparalleled touring function in an ultralight package.
This will bring a total of 22 kayaks and 5 SUPs to the Aquaglide lineup ranging from more budget conscious recreational Hex Shell kayaks to Duratex performance touring models and nearly everything in between. Anglers will love the Blackfoot Angler collection featuring multiple Universal Mounts and fishing friendly features to improve their success on the water. Those looking for quick—and—easy setup, but still made of high quality Duratex PVC should consider the Deschutes Series of kayaks ranging from 11′ to a 14′ 6″ tandem. In addition, Aquaglide makes kayaks for whitewater, backpacking, and even models with deck covers for inclement weather and waves.
Incredibly important to inflatable watercraft performance—though often overlooked—are fins. In 2023, Aquaglide will release brand-new, highly functional Press-Fit Fins designed with Glass Flex Construction, making them lightweight, rigid, and durable. The Press-Fit attachment uses friction for a secure, tool-free attachment to any U.S. fin box.
The entire line of new goods will be available in January 2023. To learn more about Aquaglide, visit aquaglide.com
Photo credit for our header pic goes to @glennleerobinson