SOURCE Issue 113 Cover Interview: Izzy Keene
Issue #113's front cover goes to Izzy Keene, who owns and runs Izzy's Agency in Cornwall, England. Izzy has wealth of industry experience for brands including Quiksilver, O'Neill & Nixon, which led her to starting her own agency four years ago. 

Now representing Deus Ex Machina, Pura Vida, Rhythm, Salt & Stone and Yogi Bare we caught up with our first female surf cover star to talk business. Read on to find out how Izzy juggles being a new mum along with running her own agency.
 
We're really stoked to feature Izzy on our cover, she's one of our industry's friendliest faces and as you'll read, has a work-ethic like no other. Congrats on the cover, shot by Nick Pumphrey for his third SOURCE cover!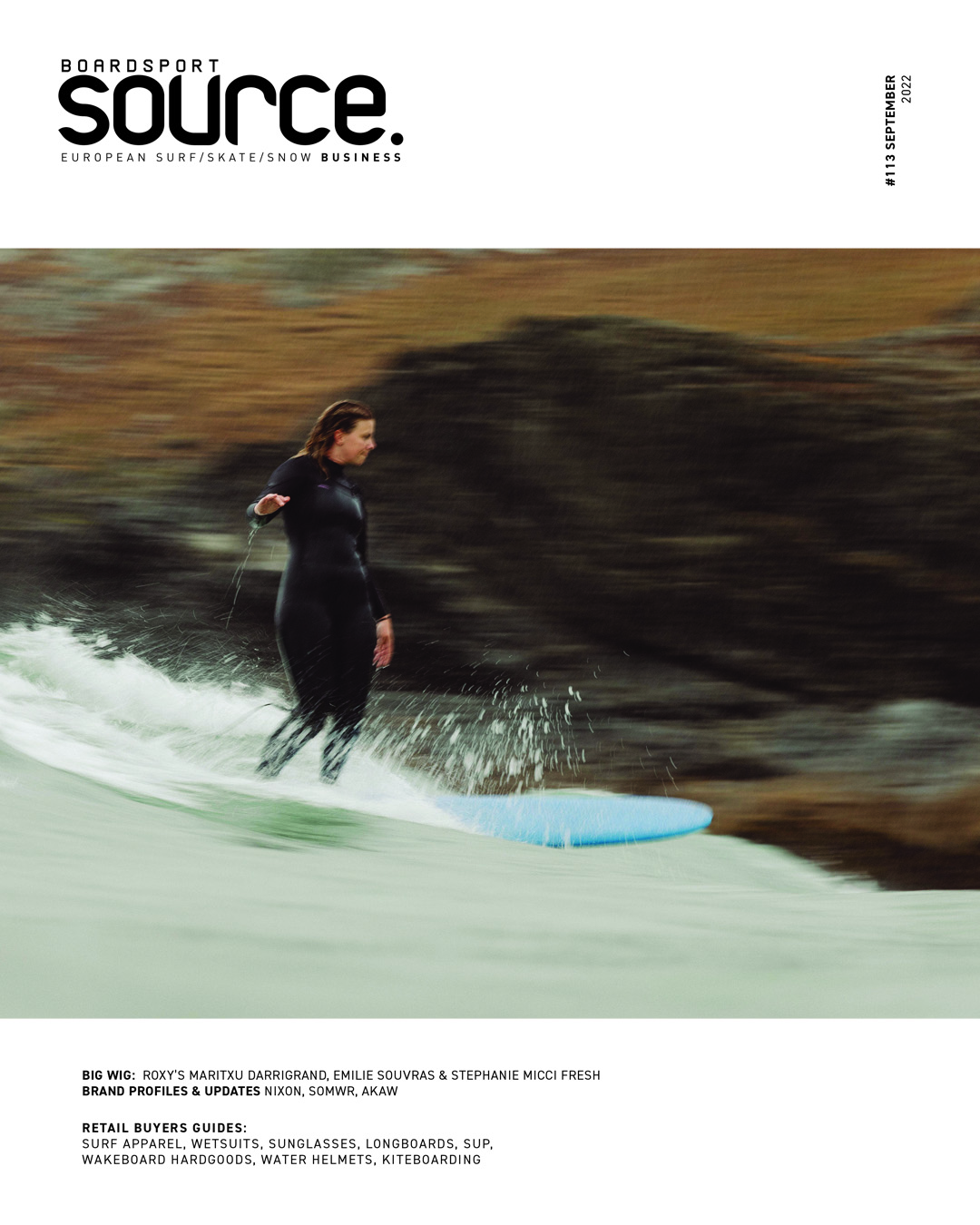 Izzy, tell us about your work background to this point.
From a young age I was always interested in fashion and design. I worked my way through the ranks within both high street and indie retail and then took a breath, I decided to travel. I lived in a camper van surfing up and down the East coast of Australia for over a year with no money, I survived off Weetabix!
When I returned I wanted stability and I felt a drive to graft. I landed a role as manager and buyer for a streetwear store in Newquay called Force Majeure, I learnt so much about the scene, true craftsmanship and heritage. I loved every second but wanted to grow. I was ready to work for a brand direct and dig beneath the surface. At the time, Quiksilver were opening their own retail stores across the UK. I applied and began as manager of their Fistral store before heading all over the country with them; opening new stores, merchandising and training new teams across the UK. Visits to France became frequent, helping the head office team with the UK buying.
Next up was the big leap into wholesale. O'Neill were looking for a Southern Sales Rep, it was time to get out of my comfort zone. I had my own showroom on a cliff top overlooking the sea that allowed me to remain creative, merchandising collections to inspire visiting buyers. I also hit the road every season, visiting stores to understand their space. I focused around the core surf scene and O'Neill's quality and integrity. I met some of the most inspiring people the industry has to offer.
I saw that Nixon were advertising for a Sales Rep, I've always loved the brand and it included major key accounts. I met the team, we hit it off and I ended up covering the South. I grew my network to cover a wider retailer reach from core action sports, spending a lot more time in London. That role taught me a lot!
The European office shifted to an agency model and then I decided to take the leap. I started my own agency with Nixon on the books – The scariest thing I've ever done. I added Stance Women's as a sub agent. Rhythm was just about to launch in the UK and Salt & Stone were also looking for an agent. After signing each brand alongside Nixon, the agency mix and brand combination felt solid and aligned.
Timing was everything and in 2020 as I wound down for maternity leave, the world went into lockdown. Two weeks later my baby boy arrived. I fumbled my way through those newborn months just as the rest of the world tried to find its feet. As lockdowns lifted, stores began to reopen, and retailers were checking in. No one could meet in person but the relationships with my retail network remained strong.
UK-based, eco conscious brand, Yogi Bare were exploring wholesale in the midst of the pandemic, I was brought in to support their retail strategy. Late 2020, Pura Vida were setting up a subsidiary in the UK and I was appointed as their UK sales agent. Deus Ex Machina are my latest addition to my agency portfolio. The brand have recently launched their women's category, SS23 was my first selling season and I'm looking forward to seeing collections hit stores. I've now had my agency for 4 years, it feels like this is just the beginning!
What led you to work in the action sports biz?
I've always loved the sub culture and lifestyle that surrounds action sports. I definitely had a pretty rebellious nature and grew up amongst surf, skate, BMX and snowboarding. I was managing dawnies to Cornwall and back to Plymouth throughout my early retail years several times a week. One day, after another morning starting my Topshop shift with wet hair from the surf, I decided to apply for a job across the road in a surf shop. It had never occurred to me that I could work for a living, surrounded by surfboards and skateboards, helping and advising like-minded people.
The South coast was home but the North Coast was calling. Newquay is the UK's surf industry capital and also offered several surf spots within walking distance from home… I felt like I'd struck gold, I never looked back.
What have been your biggest lessons learnt?
This industry is built around relationships. Look after people. Listen to the retailer, I try my best to understand what would benefit the buyer and their business. Trust my instinct and follow my gut, it's cliche but it's true.
If I have to be away from my son, I better make it count. Being a Mum doesn't have to end your career, if anything having Freddy has only increased my drive. The juggle however, is very real! Balancing mum life vs work life is a constant challenge.
How does the agency model benefit you in the UK?
I never imagined I'd have my own agency, the commission only model always felt a little cold. I was wrong about that, it can be whatever you want it to be. I love being my own boss, controlling my own destiny and setting my own schedule. I take my own risks.
I've always been selective with the brands I work with and strict with myself on the number of brands I take on, to ensure I have the capacity to do each one justice. I want to collaborate with the brands I represent. Each brand is unique and has its place. Each reflects my values, personality and passions. I believe an agency model keeps me sharp and enables me to see the bigger picture. It's a moving and evolving market that pushes me to stay reactive.
It's my role to bridge the gap between brand and retailer. From pre-book to launch, my work never stops at the selling season deadline, it's one big transaction.
My agency model might be built around sales but I've always worked closely with brand marketing. Storytelling, product launches, even team training once products hit the shop floor, it all helps the retailer sell through products. This strategy always helps to build my business model in the long term.
Talk to us about Brexit and how you've negotiated its problems.
The current brands I look after hold stock in the UK which avoids any customs duty and exporting issues. I only have one brand who distribute from France which I've managed to navigate with the team so far. With this brand specifically I issue credit to the retailer to cover the duty charges so there's minimal impact. Everyone works differently and as an agent I need to manage both the brand and the retailer's expectations. It's definitely been a challenge but I feel like we're working towards solutions.
 
How are SS23 orders looking, all things considered?
There's an understandable amount of fear in the market right now but retailers will always need to sell brands they believe in. It's never been more important to have a strong, transparent partnership between retailer and agent/sales rep. The majority of brands within my agency don't rely on pre-book, they sell stock in season so next year is still an unknown. My retailers are showing more commitment across specific categories. Pricing is inevitably a concern and some stores have had to cut back or keep size breaks lean on the riskier pieces. I've opened some new doors for next Summer and my order book is currently positive vs SS22. I'll be working closely with each brand to find ways to support our retailers on the ground.
Tell us about the front cover… how, when where?
Photoshoot with photographer Nick Pumphrey, August '22 at Holywell Bay, a short walk from home. Not classic conditions by any means, but when you have a 2-year-old and your own business to run, you grab what you can.
We were faced with every weather imaginable in this session. I think Nick really captured that rugged Cornish spirit we all know and love in this one. Thanks Nick.