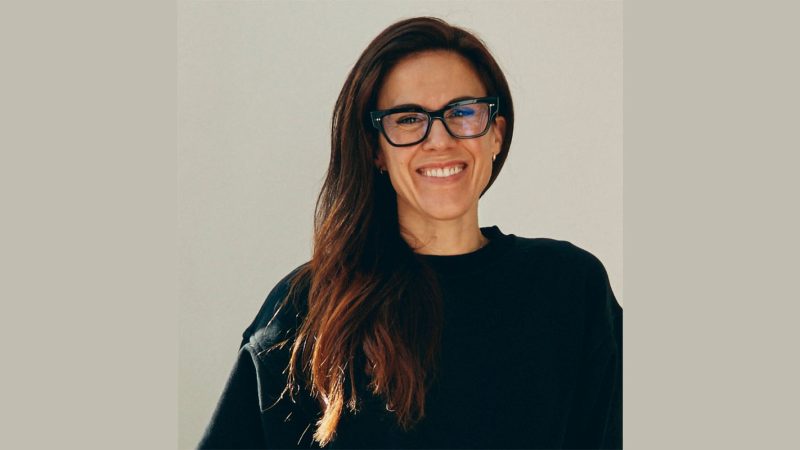 Big Wig: Stephanie Micci, Global Roxy Designer Director
In the second of a series of three interviews with the key personalities behind the Roxy brand we talk to Stephanie Micci creative and design director for women's surf and snow collections.
In 2019 Roxy appointed Stephanie Micci its first Creative and Design Director of women's surf and snow collections. With a background in high fashion she came straight from New York to the French Basque country to work for Roxy and fulfil her childhood dream. As the brand is reinforcing its core values of empowerment, inclusivity and community we sat down with Stephanie Micci to find out how she integrates these values into her designs, about new and exciting collaborations and what's trending on the womenswear market right now.
Stephanie, please tell us about your professional background.
I grew up in Boston, but I lived in New York for 17 years before moving to Biarritz. I went to a business school and worked at ESPN for a little while, doing documentary films on athletes. But then I studied design because design was something I was always very passionate about. Once I got into design I started off in high end couture working for Proenza Schouler and Zack Posen and a bunch of other brands. I also worked for Giambattista Valli in Paris. But I always worked in women's wear and always on the entire collection. I did several years at Macy's revamping the brand and I consulted at a company called Express, which is a huge vertical retailer in the States. Then I started working for the sports division of Tommy Hilfiger which was a perfect fit for me with my background, because I'm really into sports and athletics and design. I spent two years at Tommy before coming to Roxy in June 2019.
Why did you leave the high end fashion industry to work for an action sports brand?
I think it was one of those things where everything in life comes full circle. One of the main reasons that I decided to pick up my life and move halfway across the world was because when I was younger, I used to wear Roxy. Growing up I played sports all the time. I was definitely a Tom girl. I wore a ton of Roxy, I had a bunch of Roxy boardshorts. One of the things that always attracted me to Roxy as a brand was that it was more than just really rad product, it was the fact that they supported women in what ever they endeavoured to do. So even as a young girl, it was something that I really identified with. I came here and my two biggest passions in terms of living an active, healthy lifestyle and then designing are perfectly married. It's really been a dream because when I was a kid, I wore Roxy. I was like, it'll be great to work for them one day. And now here I am.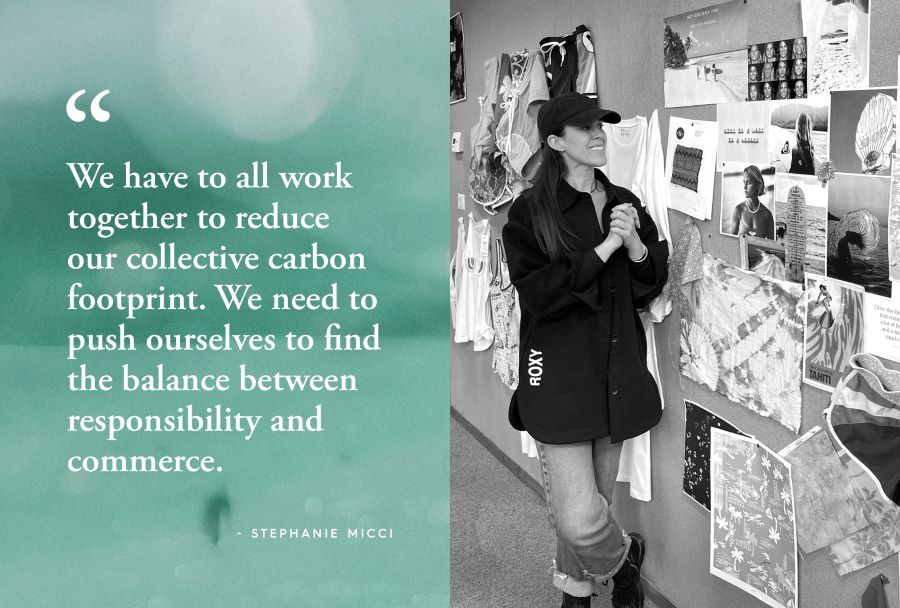 Can you tell us more about the Roxy core values?
First of all we want to support. We don't empower women because women are already empowered, but we want to support women and whatever it is they do. So that's something that we always consider when we're designing. That's one core value. And as a brand, we're so connected to the outdoors, whether it's the mountain or the wave, we want to make sure that we protect our playground.
So another core value is obviously being responsible. How we approach design is something that's really important to us because there's a lot of bad stuff being made out there. And obviously, we're all aware of the effects that it has on the environment. That's not to say that we're perfect. We know we're not perfect, but it is something that we do consider at the very beginning of every single design cycle and really, as a collective team, challenge ourselves to figure out how we can continuously get better on that side of things, moving forward till we get to be 100% responsible throughout all of our categories. The great thing now is with swim, which is obviously a big category for us and specifically special because it's water related, we do use 100% recycled fibres or materials.
The third value really relates to the first one about empowering or supporting women. That goes for all women everywhere from all different backgrounds, all different shapes and sizes. Just anyone with whom the Roxy way of life and spirit resonates and the power of positivity and how we can share that with each other as a community on a global level. To have that conversation and to welcome anyone into that conversation that wants to participate.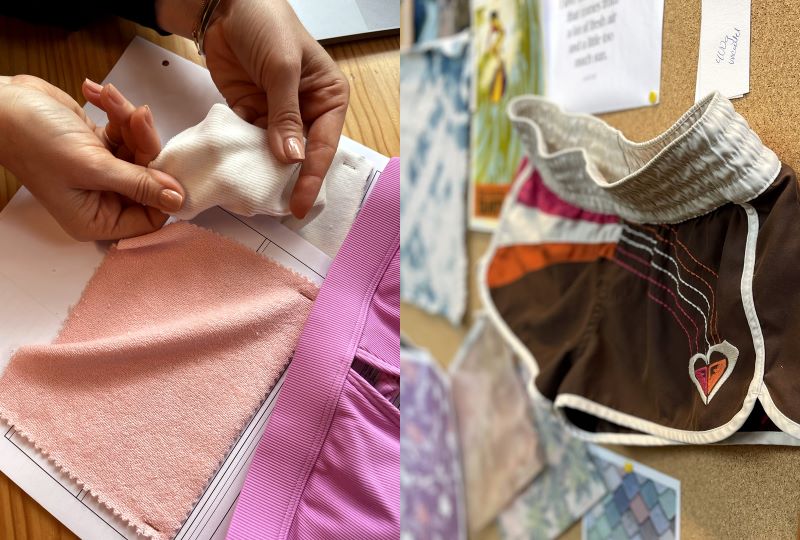 How does that translates into your designs?
I'll use swim as an example because it's a category that we're synonymous with. We expanded our sizing for example, because we wanted to make sure that anyone that wants to participate and wants to wear Roxy products can and feels comfortable. We now go from XXS to XXL. We expanded our sizes not only in swim, but in our other categories as well. There's different cuts for different body shapes so that everyone can find something that they feel really confident when they're wearing it, and also so that they feel covered up  when they're on the beach. Roxy girls in particular, they're not the kind of people that really sit on the beach. They're usually in the water being active. So we also took that into account when we did all the different cuts to make sure not only are they complementary but they feel confident wearing them in terms of how it complements their body shape. Also that when they're in the water and they're moving that they also feel really confident that it's going to stay in place and keep them covered in the water. We've also came out in swim with a small collection called Roxy Love that addressed the need for different types of silhouettes to really complement people's personal taste. And the whole idea and part of the reason we called it Roxy Love was we wanted to show and we wanted to communicate that we love everybody.
What Roxy products are you most proud of?
One of the things I'm really proud of in terms of just being affiliated with the brand Roxy is that we were the first ones to make boardshorts for women. So while it might seem just like a simple product, I think that this product is symbolic of us as a brand, in terms of saying women can do this too, and just as well as men. And of course at the beginning we had Lisa Andersen, the perfect partner, who's still part of the team and really changed the face of women surfing. And that's something I feel really proud about, that as a brand, we did that together with her at a time when it wasn't so easy to make that statement.
If we talk about the snow category, Warm Link is something that we're really proud about and we have it in our jackets, but in the future we will be expanding that to different products. And again, it's identifying something that's specific to women. Women tend to get a little bit colder. So identifying women specific challenges that we face when we're out on mountains or in the waves and finding solutions for that and putting it into the products that we make. Similarly our wetsuits are made slightly differently from men's as our extremities get colder. So we finish the sleeves as well as the legs on our wetsuits in a different way to make sure that we help keep those areas warmer.
What's trending now and what's trending in the close future?
I think that before Covid people were maybe playing a little bit safe with colours, etc. But I think because everyone's been inside and not being able to travel for such a long period of time, they're returning to bright colours, things that are really bold and make a statement. And that could be through prints, through cuts or anything. Ninety's and early 2000s fashion, which again is so Roxy, has been trending for a while and we anticipate that this trend will continue. It really captures those bright, colourful types of pairings that you don't really see in other decades. And again, that's so much a part of who we are, so we've tapped into our history to bring some of that back. Same thing like 90s, early 2000s, it's all about oversized paired with something tight. So if you're wearing a tight top, like a tight little crop top, you want to wear baggie, kind of like cargo pants or wider leg pants, etcetera. If you're wearing bike shorts, you combine it with an oversized boyfriend T with a band graphic. Proportion play is something that's also really important and balancing it within how one dresses and giving options for both bottoms and tops that can be mixed and matched together to create that outfitting.
Please tell us more about the latest Roxy collaboration.
Stella Jean is a Haitian Italian designer based in Italy. She's amazing. She is a force of nature. And that's exactly the type of people that we want to work with. And throughout the course of her career she's made it a point since the beginning to partner with different indigenous artisan groups from remote places around the world, in order to not only celebrate the craft and what they do and keep that alive, but also to provide them with a form of income and to raise awareness. It's really incredible what she's doing and very much aligned with our value set. And everything I was just saying, in terms of bold and fearless and not being afraid to make a statement, that's definitely something that we incorporated between Roxy's point of view as well as Stella's. That's also something that we both felt really strongly about. So we've got these really fun, kind of wild prints that are based on different things in nature. We are capturing all the colours that you see out in nature, but in a fun way.
Any highlights coming up for Roxy in the future?
I cannot share the details with you but we have been working on a celebration of our history because when you look at the marketplace, we're as far as I'm concerned the only surf brand for women, which is a pretty great thing to say, and I think it's something that we don't talk enough about. You will see the Roxy spirit coming back in full force in terms of the types of colours, colour combinations, prints and different silhouettes. And what we've got coming out will be a celebration of everything Roxy has done over the past 30 years. The bold fearless free spirit that is Roxy. So stay tuned.